Betting on MMA with Bitcoins
It isn't new that fight sports and gambling are related and recently this bound has become stronger. This year we saw, for the first time in history, a sport event surpasse the Super Bowl on amount of bets in Las Vegas; I'm talking about Mayweather-Manny Pacquiao fight which were expected to generate over $80,000,000.
Until recent years, online sport betting platforms were dominated by football and soccer, however MMA is rapidly increasing its popularity among online gamblers and several providers offer now different fight sports bets. In resume, if you're a MMA fan and you want to bet online you have plenty options, however there are several things you may want to check out before placing your first bet.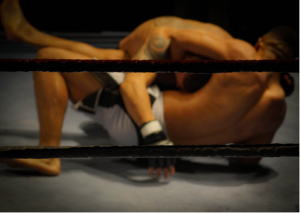 First you need to get familiarized with the betting possibilities in MMA; for fights where you're sure who'll win you're looking to bet in moneyline, for closest fights where you're not sure about the winner you may place a victory bet selecting how the fight will end: knockout, judges decision or submission, you can also create bets more complex by round or even parlays, just make sure you fully understand each concept before placing your bets.
Now you just need to select a betting platform, with the fast growing number of online bookmakers you shouldn't have a problem to find the right suit for you. The funding method is something you'll need to consider when comparing your options, have you considered cryptocurrencies? As well as the MMA appears more often in online bookmakers so does bitcoin which has become a famous trend.
Bitcoin as the most famous cryptocurrency is now accepted as a funding alternative in multiple sport betting platforms. Factors like its extreme volatility make bitcoin to be considered a bet itself, so you may want to get more comfortable with the concept of this funding method before selecting an online Bitcoin casino.
My last advice before starting your MMA online gambling life is to stay informed in the latest MMA news as you already do and to keep a close eye in the fight odds given by professionals.
Follow MyMMANews.com on Social Media
The following two tabs change content below.
Founder of MyMMANews.com - After writing for Ultimate MMA magazine and serving as the editor for U.S. Combat Sports, both of which went on hiatus, I decided to venture out on my own and enlist a staff of writers and photographers that could help me achieve my goal of telling stories that would otherwise go untold. We pride ourselves in taking a deeper look into the fighter, and understanding what makes them tick. - #1 Dad, Marine Corps Veteran, 80's and 90's Pro Wrestling Fan, MMA Commentator, Beer Lover, and avid movie watcher. Seriously..... I watch a lot of movies.
Latest posts by Eric Kowal (see all)