Eric Kowal – Founder of MyMMANews.com   Contributor to Ultimate MMA Magazine and previous editor/journalist for U.S. Combat Sports.
Follow me on Twitter @MyMMANews
---
---
Allow me to introduce myself. My name is William McKee. My love and passion for photography began in 1998 when I received my first digital camera and I haven't been able to put it down. When MYMMANEWS gave me a chance to shoot my 1st fight i was instantly hooked! It's been a privilege and honor to be part of this team and will continue to capture all the action to bring to our fans.
Follow me on Twitter @bdogmckee33
---
---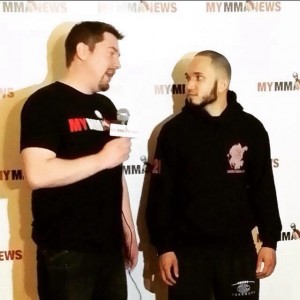 Currently studying Broadcast Journalism at Wilmington University, Adam's passion for the sport only grows stronger when a fighter's voice can be heard. He thrives on asking detailed questions to inspire the thoughts behind the punches in hopes that each fighter can find their proper justice. Specializing in pre and post fight interviews for MyMMANews, Adam strives to keep the fight fans up to speed with the most recent and authentic MMA news possible.
He is Co-promoter of Delaware's premier kick-boxing and Muay Thai organization, IBF Promotions. Recently he has also accompanied MMA organization Global Proving Ground as Co-host and ringside commentator.
Follow me on Twitter @AdamCrist
---
---
Over 10 years experience on the PA/NJ regional MMA circuit. Commentator/post fight interviews. Television/media/event production.
The story of the fighter is what Bob loves about the sport.
From the lowest level, to the highest, he only cares about the two warriors who do battle once the cage doors close.
Everything else is secondary.
Without their blood, sweat, and tears, he would not be here enjoying every minute.
Follow me on Twitter @Bob_Meloni@MyMMANews
---
---
Kyle Carroll is a Long Island, N.Y. native and avid MMA and amateur wrestling fan.
He has been a part of the wrestling community for nearly 20 years.
Carroll has six years of experience coaching high school wrestling.
Follow me on Twitter @jiblitz77
---
---
Laura Kent is a 10th Planet jiu jitsu blue belt who trains at 10th Planet Bethlehem in Easton, PA.  She competes regularly and is an avid follower and fan of the submission only competition scene.  Laura tries to make an effort to cover some of the local submission only events that get less coverage from mainstream MMA and jiu jitsu news outlets and will regularly cover the Eddie Bravo Invitational and Combat Jiu Jitsu events.  Laura is an MMA fan as well, which is a large part of what led her to start her jiu jitsu training.
Follow me on Twitter @lauralies10p
---
---
Bryanna "Pink Ranger" Fissori is a professional female fighter based in Honolulu, Hawaii. Fissori has been working as a professional journalist for well over a decade in a number of industries as a general reporter and legal analyst. Along with a mean left hook, she also has a law degree. Fissori trains out of the BJ Penn UFC Gym in Honolulu with Team Women of War and actively competes for top level promotions such as Bellator MMA and PANCRASE MMA in bantam and featherweight divisions.
Follow me on Twitter @PinkRangerMMA
---
Follow MyMMANews.com on Social Media