Daniel "Big Kansas" Gallemore Returns to the Cage for Bellator 150
Daniel "Big Kansas" Gallemore is one of the most exciting heavyweights in the sport. With an unorthodox style for a big man, fans and opponents can't be sure what to expect. His next bout will be at Bellator 150, which will be his 5th performance under the promotion.
Gallemore is a big man from a small town with less than 600 people. It's upbringing that is increasingly more rare in this day and age.
Big Kansas
"I was raised in an little bitty farm town in Kansas called Eskridge," Gallemore tells MyMMANews.com. "That's where most of my upbringing took place, lots of good memories and some bad memories in that little town." 
"I'm sure many of the people that I grew up with are still surprised to see the kid from a small town in Kansas fighting in big venues for some of the largest promotions in the industry. Came a long ways from fighting in the backyard pretending we were ninja turtles."
Gallemore has always been known by those in his inner circle, to live life on the edge. With a mentality akin to that of a super-size Donald Cerrone he told MyMMANews.com, "If is not at least a little bit crazy and dangerous, I'm probably not interested. Being locked in a cage with a big guy who wants to kill me seemed like a natural fit."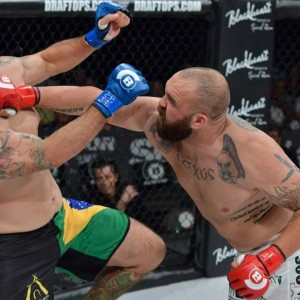 "I started training in mixed martial arts nearly ten years ago. It was a way o blow off some steam and put my athletic ability to good use. I didn't know how far I would take it but now I am professional MMA fighter about to have my 5th fight for the 2nd biggest promotion in the world and am a professional boxer continuing to climb the ladder having won my 4th fight of 4 just last month."
There are some things that you just need to be on a mat or in a cage for, but whenever he gets the chance Gallemore likes to put in the roadwork in the open air. "I like the outdoors, when I'm not in the gym I prefer to be kayaking, hiking up mountains or dormant volcanoes, fishing or eating," said Gallemore. "I'm a heavyweight. We eat."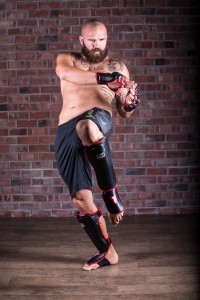 Gallemore has trimmed down quite a bit because of the active lifestyle has been able to maintain through the "harsh winter" in Hawaii, where he currently lives and trains.
As if he wasn't noticeable enough by his 6'5" athletic frame, Gallemore is also easily identifiable by his awesome beard (aided by his sponsor Gnarly Beard Co.) and his large Mushroomhead back tattoo. Speaking of tattoos, just a month or so after moving to the island, Gallemore attended the Honolulu Comic con. It was there that he was able to meet comic book legend Stan Lee. In unorthodox fashion, Gallemore received an autograph, not on a comic book, but on his right leg next to his Hulk tattoo. He had it made permanent by a local tattoo artist in Waikiki just an hour later.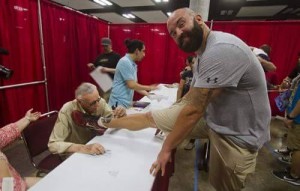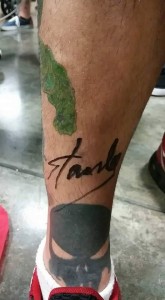 "I called a local tattoo place right afterword, trying to get in as fast as possible," said Gallemore. "I told them what I needed and they said to come down. At least five guys were actively tattooing clients when I got there. When they found out I was the guy with the Stan Lee signature they all stopped what they were doing and left their clients to check it out, before arguing who got to ink it." 
The backstory for Gallemore's next fight is worth mentioning. This is a rematch between he and Fredrick Brown. The first time they met was at Bellator 113 in March of 2014. Gallemore was scheduled to fight someone else. Weigh-in happened and both fighters were at weight. The next day Gallemore was told his opponent slipped at the breakfast buffet and hit his head. After having a full camp and with well over a hundred fans on their way to the Kansas Star Arena to see him perform, Gallemore informed Bellator officials that he didn't care who they put in front of him, but there better be someone across that cage.
"Fred stepped up on a five or six hour notice," said Gallemore. "If anyone deserves a rematch it's him." 
Gallemore won that fight by TKO 3:34 into round one, and on many forums it ranks as one of MMA's worst late stoppages. Though Gallemore expects to get the W again, he has nothing but respect for his opponent.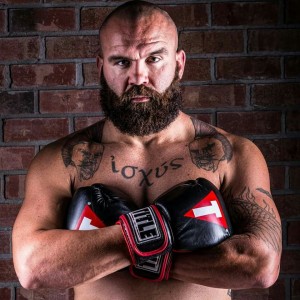 "People think training to fight is all fun, games and getting punched in the face, but really it is a struggle much greater than just the physical fight. It's tough to work and make ends meet with all the expenses that come with the fight life and trying to provide for those with you on the journey. My sponsors are lifesavers and I'm grateful for everyone who believes in me and supports me."
Gallemore is sponsored by Power Plus Mouthguard, Carver Consulting and Resource Management, Nature's Paradise Health Food Store, Gnarly Beard Co., Juke Performance, Goss Plumbing, DPP Manufacturing, Cold Cock Whiskey, K-Lawn, Midwest Roofing and ExperTees
Look for Daniel "Big Kansas" Gallemore February 26th,  on Bellator MMA 150 on SpikeTV.com.
Follow Daniel "Big Kansas" Gallemore at www.facebook.com/BigKansas
Twitter: @BigKansas65
Instagram: @big_kansas 
SnapChat: bigkansas265
Bryanna "Pink Ranger" Fissori is a professional female fighter based in Denver, Colorado. Fissori has been working as a professional journalist for well over a decade in a number of industries as a general reporter and legal analyst. Along with a mean left hook, she also has a law degree. Fissori trains out of Elevation Fight Team and has competed for top-level promotions such as Bellator MMA and PANCRASE MMA in bantam and featherweight divisions.