DeAnna Bennett: "I had gotten too comfortable in Utah and stopped growing as a fighter"
[themoneytizer id="23967-1″]
Photos by Angelo Carchesio
A new Invicta Fighting Championship flyweight champion will be crowned at Invicta FC 34 on Feb. 15 when the night's main event pits top-ranked contender Vanessa Porto (20-8) up against surging Pearl Gonzalez (9-3) for the vacant Invicta FC flyweight title.
In order to determine the division's No. 1 contender and next 125-pound title challenger, Invicta will host a tournament the very same night, featuring four talented flyweights: UFC veteran Milana Dudieva (12-7) battles undefeated Brogan "Killer Bee" Walker-Sanchez (6-0), while The Ultimate Fighter season 26 competitor DeAnna "Vitamin D" Bennett (9-4-1) tangles with 21-year-old prospect Miranda "Fear The" Maverick (4-1).
The winners of each semifinal bout at Invicta FC 34 will then meet in the tournament's final round at an event later this year.
Serving as the flyweight tournament reserve bout, streaking Tracy Cortez (4-1) takes on submission artist, Erin Blanchfield (3-0).
We caught up "Vitamin D" DeAnna Bennett just after she got done putting in some preparation for the fight at Renzo Gracie NYC.  The 34-year old fighter recently made a huge life adjustment in moving from Utah to New Jersey following her time on the Ultimate Fighter.  Now with a plethora of gyms and training partners at her fingertips, Bennett is a rejuvenated competitor.
"It's one of the things that I really like about New Jersey and this metro area in general is that there are so many great gyms," Bennett said.
There's so many different people, and training partners, and just looks.  My main coach is Brian Wright out of Killer B Combat Sports Academy, that's a big change that I made in the last few months.  It was right before my last fight and I wasn't able to take him to that fight.  This is my first full camp with him.  He's been amazing with helping me become a full-rounded fighter.  Then I go up to Renzo's in the city.  I get some sparring in up there, actually with one of the girl's on the same card, Erin Blanchfield.  It's great to get a different look from my main training partners that I normally spar with.  I go to Nick Catone's and I do sparring there.  I do some of his MMA class too.  The guys are really great there.  I get a different look as far as wrestling and stuff that goes on there.  Then I go to Bulldog Strength and Conditioning.  My coach there, Keith, he's been a complete game changer for me.  I've always been like this fat kid that doesn't like lifting weights.  I never really placed an emphasis on my strength and conditioning, but in the last year I've realized that it is something that I needed to focus on.  I want to be the best fighter possible and to do that you have to train your body to the best of its ability.  He's great with agility, with strength, really pressing his fighters to be the best athletes they can be.  I love him for that.  I do the bulk of my jiu jitsu at Ricardo Almeida's in Robbinsville.  If you know Ricardo, which you should, it's the best jiu jitsu that I can get.  I learn so much from being in that room, having such amazing partners and him just having such a knowledge of the sport.  I have a little bit of everything from everywhere and it is great."
You mentioned Erin Blanchfield.  There is a possibility with her serving as an alternate in this tournament that you two could end up fighting.  Have you discussed that with her, seeing that she is a friend and training partner?  If one of the other girls gets injured and Erin has to step in, would you two fight?
"Yeah, of course.  It's a sport, it's a competition.  I've fought friends in the past and I know I'm going to fight again in the future.  It's not that I take it personally, and we're not turn down a great opportunity just because we've trained together in the past, or cause we are friends.  We both see the opportunity for what it is.  We both want to be the best in the sport that we are in.  We both want that Invicta belt around our waist, so if something happens to somebody… I don't wish that on anybody… but if something does and it puts her in the competition, then I'm happy for her, even if it means we get match up against each other.  It sucks, but in the cage is a different story then fighting outside of it.
You are fighting Miranda Maverick, a young lady that Invicta has placed some hype behind.  What do you know about her?  Is there anything that you see in her fight game that you specifically have to prepare for in this camp?
"She's definitely a tough fighter.  You take one look at her and you know she is a strong individual.  I've been following her career for a while.  Not because of any other reason but that I watch all the Invicta fights.  I think we were on the same card together before.  I've seen her in competition.  I just thought that she was somebody that is really awesome and is a tough competitor.  I love watching and supporting other female fighters.  Having said that, we follow each other on Instagram, we are Facebook friends, and I've always supported her from afar.  I've seen how tough she really is.  She's getting started in the sport basically.  I've had a lot more fights than her.  Her career is young.  She is young.  If in middle school I was a real big floozy, I probably could be her mom (laughs).  I'm pretty sure I went to middle school with people who have kids her age.  I'm excited to see where her career goes after this but right now it is me and her matched up.  I want this fight more than anything.  Obviously everybody has little things or instances that you can play into your advantage, and so I've been preparing myself to be the best well-rounded fighter that I can be.  I'm definitely prepared for the challenge and for somebody that I consider to be a tough fighter."
You spent some time on the Ultimate Fighter a few years ago.  What would you say was the most important thing you learned about yourself as a competitor through taking part of that experience? 
"Besides the fact that I am bat shit crazy and I can stay alone in a house for six weeks and talk to myself, and all my multiple personalities…..besides that part…(laughs) no biggie right there.  I would say that is probably that my heart and soul are still in the fight game.  I had a little bit of a rough go before the show and going on there kind of renewed my passion and my drive to want to compete.  I knew that is where I needed to be and I knew that is where I wanted to be.  I wanted to be inside that cage, I wanted to be competing.  I wanted to be going for my ultimate goals and my dreams for the sport.  It was great.  I would have stayed there forever if they would have let me.  All I had to do was focus on fighting and training, and then they gave me free food.  That's like my dream right there like 'Oh, you are gonna make free food?  Can you just make it a hot guy with tacos?'  That's like the ultimate dream right there.  It's perfect.  That's why when I got from the show I switched up everything because I knew that I had to make some changes in my fight career and my training to get to that next level.  It was wonderful.  I would never take back that experience for the life of me."
"You are not originally from New Jersey, but now you are training at some of the best schools on the east coast.  How did it all come about for you after the show where you kind of just picked up and moved?
"That was one of the things that I realized after the show was that I was missing some aspects to the game and I needed to switch things up. I had gotten too comfortable in Utah and stopped growing as a fighter.  I needed to put myself outside of my comfort level.  I needed to have that extra push to get put back on the bottom of the totem pole.  I needed to be able to build myself up and grow as a fighter.  I had a few different options and I was looking at things, where I wanted to go.  There were some schools in California that I had trained at before.  After the show they always give that blanket statement, 'Hey if you guys are ever in the area, come out and train with us in Jersey.' I was like 'alright, they put it out there.'   It's funny because after the show they pay for your flights back to your home state or wherever it is you are going.  Instead, I had my friends come down and they picked me up.  They drove my car down and picked me up from Vegas.  What I did was, I took my flight that was supposed to be from Vegas to Utah, and I switched it to a flight that was three weeks later from Utah Jersey.  I did that because I wanted to come out here and try it out, see if it would actually be a good fit for me and see if it was actually somewhere I needed to be at.  I did that and after a week I was like 'this is where I am supposed to be if I want to keep fighting and I want to be serious about the sport.  This is the location I need to be at.' And so, I did that for a week.  I went back to Utah and my friend was fighting for Bellator in California.  I drove from Utah to California, drove back to Utah, was there for two days and then got in my car and did a solo car ride across the United States to Jersey.  Having looked back I originally thought I would just come out here for that one fight, for the Ultimate Fighter Finale fight, and I just…. there was something special about the gyms and about the training out here, and about the caliber of fighting.  I told myself 'you can't leave.' As much as I miss my friends in Utah, my training partners in Utah, my dogs in Utah, I know that Jersey is the place that I need to be at."
The main event on the Invicta FC 34 card you are fighting on, is for the title.  Vanessa Porto meets Pearl Gonzalez for the flyweight belt.  Do you have a prediction for that fight?
"I've thought a lot about it honestly, mostly because like I said I'm a crazy person and my mind is going like a mile a minute.  I think about lot of things.  Usually when I'm in bed, trying to sleep, my brain is like 'what if?' And I'm like 'dang it brain, why do you do this to me?'  Pearl has been on such an upswing since going back with Invicta, since being in the UFC.  It's been great seeing her growth as a fighter, going from a 115-pound fighter, then to 125, and building her way towards that belt.  It's great.  I love seeing success stories like that.  I understand her heartbreak when she lost her dad.  That is something that I personally went through and it was super hard.  Seeing that upward swing for her has been great.  She has an amazing team there in California.  She has amazing coaches and everything.  She is a tough competitor who keeps getting better every fight.  Then on the opposite side you have Vanessa who is just a constant force to be reckoned with.  She is the person you need to fight to be able to get to that title.  She's fought for it a few times and she is the best of the best up there.  I watched her compete for years. She is somebody who I personally would love to fight.  After my fight last March, she was the name that I threw out there because I want to test myself against the best and I see her there at the top of that division.  She's tough and well-rounded.  I can go so many different ways.  You can have Vanessa come out with heavy hands and get a TKO and I can also see Pearl going out there and getting a submission or a TKO of her own.  It just depends on who is the best fighter on that day, who is the most focused, and who is the most prepared."
Has Invicta given you ladies a hint as to when the next stage of the tournament will be?
"They haven't given us an exact timeline.  Just the way that it is built, I have a feeling that it will be fairly quick.  I haven't even thought too much about it.  My whole focus has just been on this fight. Then when this is over we will focus on the next step.  I'm assuming it will be a rather quick turnaround which would be amazing.  I would love that personally.  For my last fight I was ready to get back in there the next day.  I would love to see it, but they haven't given us a heads up as far as that goes."
Any prediction for this fight with Miranda?
"Well, we're just gonna have to see.  There's things that I have been working on.  I know that it is going to be a good fight.  She is going to come at me with everything that she has.  I'm gonna bring everything that I have.  There's so much on the line with this being the first fight in the tournament.  We're bringing the best version of ourselves into the cage and it is going to be exciting for the viewer.  How it plays out once we get in there, that's a different story, and you'll have to tune into Invicta on February 15 to be able to see how that one goes.  No matter where it goes it is going to be a good fight.  It is going to be something that people are gonna want to watch."
Shout out to any sponsors, friends, coaches, teammates?
"Yes, always!  I mentioned him before, my coach Brian Wright.  He took me in as a fighter, somebody who was looking around for some structure and trying to find some balance with my fight game.  He's an amazing, amazing coach.  Anyone in the area, I highly recommend him to.  He's great with developing you as a fighter and then he helps with your mental frame of mind.  He's somebody that I really click with the way he coaches and the structure at his gym.  It's been great, I love going to train there every single day.  I have to thank him and all my teammates there.  Even at the basic Muay Thai and Kickboxing classes that we do.  Every person that I drill with and train with there has been great, especially when I get tired and I decide to rage grapple, I throw them over my head.  That's probably one person specifically (laughs) but I want to thank all of my teammates that I train with everywhere here in this area.  I'm so thankful to have such great training partners and people that help push me.  I try to be the best training partner that I can to help grow them as a fighter.  I have my recovery people, Thrive Spine & Sports Rehab.  They have been great in getting my body prepared.  Bulldog as I mentioned before.  Keith is so great.  If you are looking for a good strength and good conditioning coach in New Jersey, I highly recommend him.  He really develops fighters and knows what you need to do to be the best athlete possible.  I have New Jersey Nutrition.  They have been great with keeping me healthy with supplements.  I have the people who do my fight kit, Defila.  They are amazing and I can't wait to show my fight outfit for this one.  I know that is a really girl thing to say, but I don't really care.  And just so you know, I put my hand on my hip and tilted my head when I said that (laughs).  It's going to be fabulous, but she is fabulous. I know there is like a million other people, friends, family, fans.  I'm just grateful to have such great people around me, that support me and want to see me continue.  It's been awesome."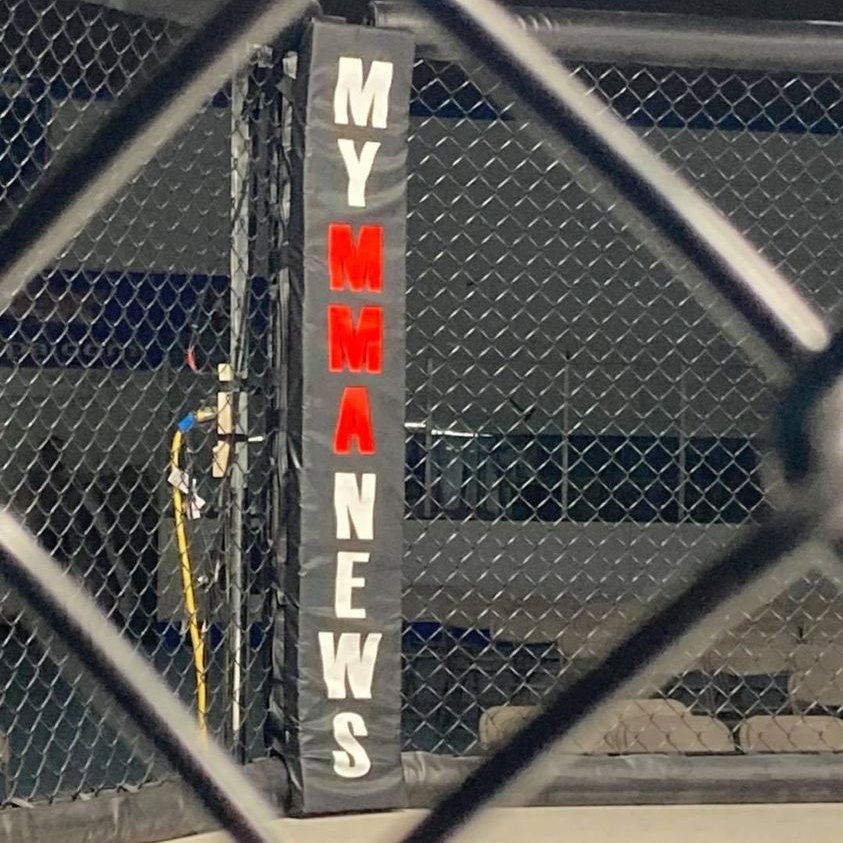 MyMMANews.com – We cover everything from MMA, BJJ, Bare Knuckle, Wrestling, Boxing, Kickboxing, and Judo
News, Opinions, Videos, Radio Shows, Photos and more.