PFL 1 Results: Harrison vs. Tuerxun from Hulu Theater at Madison Square Garden
The Professional Fighters League holds PFL 1 today, June 7, from the Hulu Theater at Madison Square Garden in New York City, N.Y.
In the main event, PFL featherweight champion Andre Harrison will square off against UFC veteran Jumabieke Tuerxun in a featherweight contest. Former WSOF featherweight champion Lance Palmer meets Bekbulat Magomedov in the co-main event.
The 2018 PFL season will feature 126 fights on Thursday nights in seven regular-season events, bracket-style "win or go home" playoffs, and a $10 million post-season prize pool—the largest prize pool in the history of MMA. The season will begin with 12 athletes in each of six different weight-classes. Eight fighters from each class will earn their way into the playoff round, and one fighter in each division will earn the title of champion.
U.S.-based and international fans will be able to watch all PFL regular season, playoff, and championship fights—over 66 hours of live action—for free. In the United States, all of the PFL regular season events will air live on Thursday in primetime exclusively on NBCSN, and stream live on NBCSports.com, the NBC Sports app, and pflmma.com. Outside the U.S., Facebook will stream up to six hours of free, live coverage for each event. In the U.S., fans can watch the first three hours of coverage of each event on Facebook.
Former UFC fighter Francimar Barroso kicked off the night taking on former Victory Fighting Champinship heavyweight champion Daniel Gallemore.  The bout starts with a low blow to Gallemore but he declines to halt the action.  'Big Kansas' begins to fire an assault of heavy hands.  Barroso fires back with a kick to the body that leaves a welt on Gallemore's side.  Gallemore pressing forward, his strikes more powerful than his opponent.  They continue to brawl.  Barroso connects with a combo and Gallemore's previously injured eye immediately swells and begins to bleed.  Barroso lands a few more shots, Gallemore throws, and referee Big Dan Miragliotta takes a look at Gallemore's eye.  A ringside physician is called in and the fight is waived off.  Barroso advances in the tournament.
Next up Alexandre Almeida took on Lee Coville in featherweight action.  Blink and you missed this one.  Strikes right out the gate.  The fight works to the ground and immediately Almeida works to torque the arm, submitting his opponent by way of armbar at just 1:22
Magomed Idrisov and Steven Siler put on a stand up war for the first two minutes of their scheduled three-round affair.  Idrisov gets Siler down with a foot grab and punch combo and lashes out an assault with his hands.  It looked as if referee Keith Petersen was going to stop the contest but Siler survives.  They work back to the feet and the fun continues.  Idrisov keeps finding a spot with his left hook.  Out of nowhere the fight hits the canvas, Siler locks up a triangle choke and the fight is over.  Steven Siler wins by way of submission.
HOLY Hell did Kelvin Tiller just knock Caio Alencar into tomorrow.  The fight was going in Alencar's favor on the ground.  The crowd grew restless and Dan Miragliotta stands them up and immediately Tiller knocks Alencar out cold with a big right hand.  WOW!!!!!
Marcos Galvao and Nazareno Malegarie were up next after a short break.  This first round was contested entirely on the feet.  Both competitors working to edge the other out with their striking prowess. Very tough round to score but the edge would likely go to Melegarie.  Second round sees the stand up brawl continue.  Galvao split in the middle of his forehead, although it does not appear to be a large cut.  Malegarie secures a takedown around the three minute mark in the second frame.  This second round definitely a win for Malegarie.  Let's see what Galvao can come up with here in the third and final round.  Galvao coming back, Malegarie cut at his left eye.  Does't appear to be impacting him.  This fight goes to the scorecards and Malegarie wins a unanimous decision.
Heavyweight action returned with wrestling standout Jared Rosholt taking on Valdrin Istrefi.  Istrefi brings to the cage a professional 12-1 records with most wins coming by way of finish.  Rosholt (15-4), a former UFC heavyweight, looking to use his wrestling en route to a victory. Not the fight that fans want to see at this point.  The third round is more of the same, wrestling by Rosholt.  Rosholt wins decisively.
The first televised bout was between Alex Nicholson and Jake Heun.  Leg kick seem to be the thing here in the opening round.  Heun throwing plenty.  Nicholson using his hands to settle the score.  Heun has a small abrasion under his left eye.  Heun connects with a big left to the cheek of Nicholson.  Great action back and forth from both men.  Round two gets off to a start and WHAM!!!! flying knee from Nicholson knocks Heun out.
Timur Valiev and Max Coga are next out of the gate.  Hands are flying at the start, big knee from Valiev rocks Cora early.  He survives.  Fight goes to the ground, not much done down on the canvas.  They stand again and begin to exchange.  Cora seems to be looking for the big knockout, loading up his punches.  They trade shots up until the ding of the bell.  Round two is fire.  Cora drops Valiev with a left and follows up with a knee.  Moments later Cora gets Valiev down to the ground and begins the ground and pound.  Back on the the feet they duke it out until the final second of the round where Cora connects at the bell. Valiev, bloodied, smiles it off.  In between rounds Ray Sefo yelling at a NYSAC inspector, telling him to learn how to do his "damn job."  Not sure exactly what is going on here yet.  The fight continues into the third and final frame.  This is a street fight.  These two are rocking each other back and forth to the final bell.  What a war.  Valiev wins a unanimous decision.
The scheduled co-main event between Lance Palmer and Bekbulat Magomedov came up next.  Team Alpha Male's Palmer working his wrestling but Magomedov no stranger to the game did not completely left his opponent dominate him.  A full minute expires in the second round without either fighter connecting and a "boring" chant breaks out.  Magomedov sets the pace and comes blazing with a few shots, pressing Palmer up against the cage.  Palmer works out, gets the fight to the ground on the opposite side of the cage and locks in a rear-naked choke, submitting Magomedov in the second.
In the main event Andre Harrison dropped Jumabieke Tuerxun with a leg kick but then did not go in for the finish so the fight continues.  Harrison grabs on to Tuerxun's head but can't complete the choke while on the ground.  They return to their feet where the two men begin to exchange hands and feet.  Harrison tries his D'arce choke but cannot complete the submission.  Harrison finishes the round by smashing his should into his opponent's face over and over.  Harrison keeps grinding in the final round, working his way toward a unanimous decision.
Josh Copeland vs. Jack May was a dark match held after the main card.  The heavyweight fight was originally scheduled the headline the Facebook prelims.  These heavyweights are throwing bombs.  Copeland connects to the mid-section of May.  May, the taller fighter throws a long kick, Copeland blocks.  They clinch.  When the break free May tees off with big shots.  Copeland bloodied.  May finishes the fight with a body kick followed by a flurry of punches.  He then curses out media row, says everyone wrote him off.
PFL 1 results below:
Main Card (NBC Sports Network, 9 p.m. ET)
Andre Harrison defeated Jumabieke Tuerxun via decision (30-27, 30-27, 30-26)
Lance Palmer defeated Bekbulat Magomedov via submission (rear-naked choke) – Round 2, 3:21
Timur Valiev deeated Max Coga via unanimous decision (30-27, 30-27, 29-28)
Alex Nicholson defeated Jake Heun via KO (flying knee) – Round 2, 0:58
Preliminary Card (Facebook, 6:15 p.m. ET)
Jack May defeated Josh Copeland via TKO – Round 1, 4:31
Jared Rosholt defeated Valdrin Istrefi via unanimous decision (30-26, 30-25, 29-28)
Nazareno Malegarie defeated Marcos Galvao via unanimous decision (30-27, 29-28, 29-28)
Kelvin Tiller defeated Caio Alencar via KO – Round 1, 3:34
Steven Siler defeated Magomed Idrisov via submission (triangle choke) – Round 1, 4:19
Alexandre Almeida defeated Lee Coville via submission (armbar) – Round 1, 1:22
Francimar Barroso defeated Daniel Gallemore via TKO – Round 1, 3:57
Below are the current season standings based on the results at PFL 1:
Featherweight:
Alexandre Almeida: 6
Steven Siler: 6
Lance Palmer: 5
Andre Harrison: 3
Nazareno Malegarie: 3
Timur Valiev: 3
Jumabieke Tuerxun: 0
Bekbulat Magomedov: 0
Marcos Galvao: 0
Magomed Idrisov: 0
Lee Coville: 0
Max Coga: 0
Heavyweight:
Kelvin Tiller: 6
Jack May: 6
Francimar Barroso: 6
Alex Nicholson: 5
Jared Rosholt: 3
Jake Heun: 0
Aldrin Istrefi: 0
Josh Copeland:0
Caio Alencar: 0
Daniel Gallemore: 0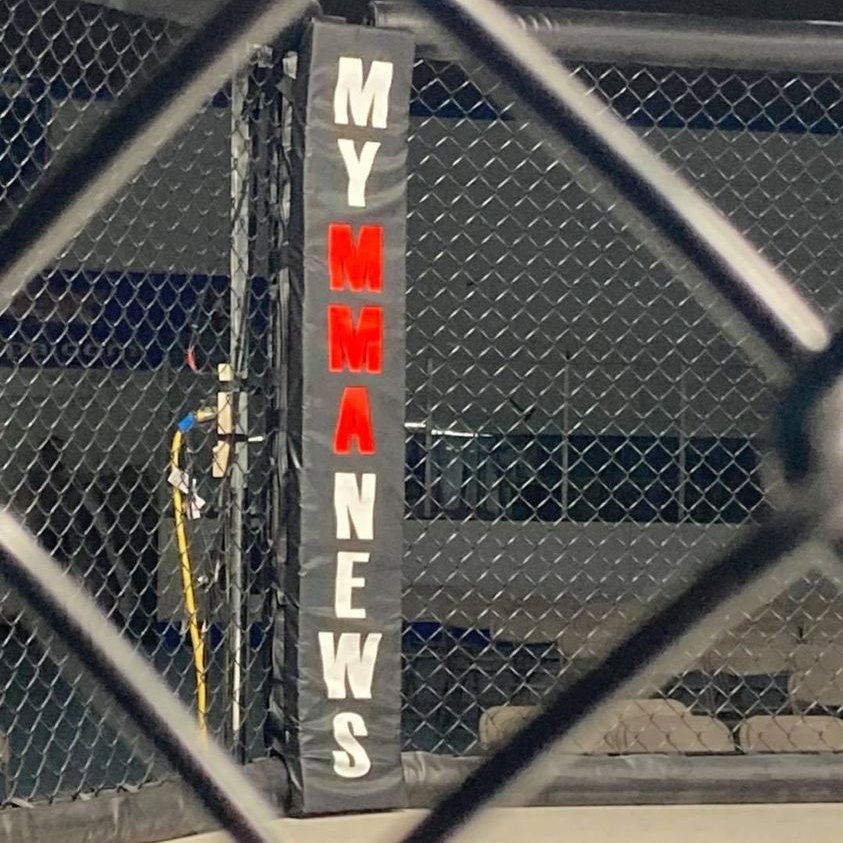 MyMMANews.com – We cover everything from MMA, BJJ, Bare Knuckle, Wrestling, Boxing, Kickboxing, and Judo
News, Opinions, Videos, Radio Shows, Photos and more.