UFC Boston Results – UFC on ESPN 6 – Reyes TKO's Weidman in First Round
The UFC returns to the TD Garden in Boston, Massachusetts on Friday, October 18, headlined by a light heavyweight contest between former middleweight champion Chris Weidman and undefeated Dominick Reyes.
The action kicks off tonight at 6 p.m. ET with the preliminary card on ESPN 2. The night's main card takes place at 9 p.m. ET, also on ESPN 2.
UFC Boston results below:
ESPN 2 Main Card:
Dominick Reyes def. Chris Weidman via TKO (Strikes) in round 1, at 1:43. 
Round 1: Weidman failed to score a takedown after changing levels and getting deep with a duck under against the natural light heavyweight. Then Reyes clipped Weidman with a straight left countering Weidman's right hand. It dropped the former champion and then he followed up with a few backhand hammer fists that put Weidman out, forcing Herb Dean to end the main event fight.
Yair Rodriguez def. Jeremy Stephens via unanimous decision (29-28, 29-28, 29-28).
Round 1: In the clinch, Rodriguez pushing the pressure. Stephens turns him around. The clinch breaks and they are standing in the center of the octagon. Rodriguez throws a few kicks, and Stephens tries to answer. Stephens trying to counter, Rodriguez, loading up on his shots. Stephens eats a couple and tries to counter again. Another clinch that doesn't last long. A couple attempted strikes by each fighter and back to a clinch before it breaks again. Rodriguez continues to throw heavy shots from all directions. Stephens catches Rodriguez and then Rodriguez answers with a stiff straight that dropped Stephens, and he recovers quickly as they get back to their feet and the round ends as Rodriguez smirks at Stephens running off.
Round 2: Round two was full of action as the two fighters wasted little time to get going. Rodriguez caught the American dropping him. As he pounced on Stephens, Rodriguez assaulted him with a barrage of strikes. Stephens did the minimum to prevent the fight from being ended. After he recovered and got to his feet the tides turned for Stephens. He took over for the rest of the second round as he pummled Rodriguez on the canvas.
Round 3: IN round three, Stephens owned the round. A takedown put Rodriguez on his back where he pretty much remained for much of the round. When on their feet. Stephens showed what kind of animal he is as he pushed the pace. The two fighters put on a show in the city of Boston.
Greg Hardy def. Ben Sosoli via Unanimous Decision (29-28, 29-28, 29-28). 
Round 1: Hardy and Sosoli felt each other out most of the first round. Hardy showed much improved striking accuracy when he threw one of his few strikes throughout the first round. Sosoli had some success early in round one with a kick to the outside calf and landing an overhand left strike. Hardy left some damage on the face of his foe at the end of the round.
Round 2: Sosoli struggled to land much through round two. He kept swinging big with the left hook and couldn't find a home for the haymaker. Hardy did an excellent job setting up the strikes with his leg kicks. The lack of volume though has the fans frustrated and booing.
In between the rounds, Hardy asked and used an inhaler. It seems he was given permission to use it. INSANE.
Round 3: Hardy continues with the leg strikes against his foe. Very little volume from the former NFL Defensive End. The Aussie picked it up at the end of the third round. He struggled to put to punches together, but when he finally did, he connected, but it was too late. Hardy was fine with using his footwork to run for Sosoli to coast it out.
Joe Lauzon def. Jonathan Pearce via TKO (Gound-and-Pound) in Round 1, at 1:33. 
Round 1: Lauzon lands numerous strikes to Pearce. Catches Pearce with one right down the barrel and stuns Pearce. Lauzon goes in for the kill, as he body-locks Pearce and brings him to the canvas. Once on the ground, transitioning to mount, Lauzon sinks in a deep reverse half, and pounds down on him with beastly punches forcing Herb Dean to end the bout in favor of the Boston native.
Maycee Barber def. Gillian Robertson via TKO (Strikes) in round 1, at 3;04.
round 1: Barber comes out swinging, Looking confident. Barber lands a couple of rights as Robertson circles away. Barber pushes forward, Roberson and Barber in the clinch against the fence. Barber breaks away and applying pressure with big shots. Robertson weathering storm against the cage. Barber beats her up against the cage with a flurry and the fight is stopped!!
Darren Stewart Def. Deron Winn via Split decision (29-28, 29-28, 28-29). 
Round 1: Winn looks for the takedown and is successful. Lands in full guard. Takes Stewart's back after Stewart tried to scramble to his feet. Winn lands knees to the body. Back to feet, after a monster punch overhand punch is thrown, Winn scores another takedown. Winn on top pressuring before Stewart stands to his feet with Winn Draping over his back. Stewart throwing elbows. Winn with another takedown, in full guard, trying to get ground and pound, but Stewart cuts Winn with an elbow from the bottom as the round ends.
Round 2: Stewart coming out trying to more offensive and keep his distance as he throws strikes from the outside. Accidentally lands a nut shot on Winn. Winn comes back from recovering and scored another double leg takedown. In full guard, he takes back after Stewart gives his back trying to stand up. Back against the cage, Stewart finally pushes Winn away. Stewart trying to get something going against Winn. Winn shoots again and fails as he drives Stewart to the cage. Stewart sprawls and is finally taken to his back after fighting hard. Stewart keeps the elbows and fists coming as his back is against the cage. Winn lands a couple of uppercuts before they break apart. Stewart lands two big right hands as the round ends.
Round 3: Stewart looking fresh in round three. Winn lands a big hand and tired. Stewart lands a big takedown. Winn goes for a reversal and is stuck under Stewart hanging on a leg before he finally gets to full guard. Winn trying to stay busy throwing g&p. Winn takes the back of Stewart and another big takedown with a high-crotch after Stewart gets back to his feet. Standing in the middle, both fighters trying to exchange. Winn lands a couple of decent shots before grabbing a leg at the end of the fight.
ESPN 2 Preliminary Card: 
Charles Rosa def. Manny Bermudez via submission (armbar) in round 1, at 2:46.
Molly McCann def. Diana Belbita via Unanimous Decision (30-26, 30-26, 30-26).
Sean Woodson Def. Kyle Bochniak via. 30-26, 30-27, 30-27 via Unanimous Decision.

Randy Costa def. Boston Salmon via TKO (strikes) In round 1, at 2:15.
Sean Brady def. Court McGee via 29-28, 30-27, 30-27, Via unanimous decision.
Brendan Allen def. Kevin Holland via Submission (Rear-Naked Choke) in round 2 at 3:38.
Round 1: Allen pushing forward. Body lock and takes down Holland. Takes Holland's back. Holland back to feet. Allen brings him back down with leg-hooks. Holland shakes Allen off, but Allen leaps to a leg seeking a leg-lock position. Holland lands a monster right elbow. Allen pouring blood out of the forehead. Allen still seeking leg-lock. Holland on top and sitting down on Allen forcing pressure. Holland takes top and then back of Allen and jumps into Rear-naked choke for Holland. Allen escapes with strong wrist control. Allen takes Holland's back. Sinks rear-naked choke. Holland escapes RNC and then armbar as round ends.
Round 2: Allen comes out swinging. Holland responds with his own strikes and earns a takedown. Allen doesn't defend grabbing the head trying to attempt a guillotine choke. Transitions to a triangle. Kevin Holland pushes through attempts and starts applying ground and pound. Allen takes the back. Throwing punches to head and body. Now in half guard and get a small scramble, Allen takes the back of Holland and sinks a rear-naked choke for the victory. Holland taps in round two at 3:38 via submission (Rear-makes choke).
Tanner Boser def. Daniel Spitz via unanimous decision (30-27, 30-27, 30-27)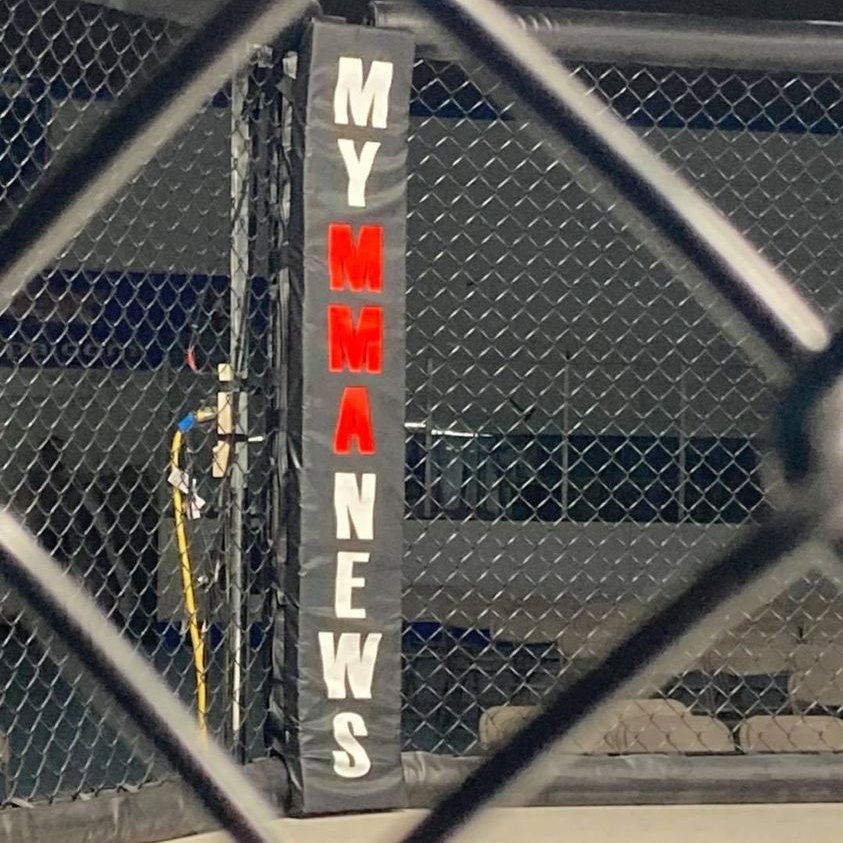 MyMMANews.com – We cover everything from MMA, BJJ, Bare Knuckle, Wrestling, Boxing, Kickboxing, and Judo
News, Opinions, Videos, Radio Shows, Photos and more.