At the end of each year, MMA awards get doled out left and right without the MMA calendar having officially concluded. RIZIN FF provides about as perfect of a fight scene sendoff as one could as for – yet never reap the rewards via public acclaim.
This likely won't change in the foreseeable future. However, there are still many possible nominees that can be added or bolstered to the long lists 2021 has accrued. RIZIN 33 takes place on Dec. 31 with a total of 16 thrilling battles set to unfold.
Upset of the Year: Seika Izawa
2021 has been a batshit crazy year in MMA to put things mildly. One of the primary reasons for that is the multiple massive upsets.
In April, the legendary former UFC flyweight king Demetrious Johnson suffered his first career loss via finish when challenging ONE Championship titleholder Adriano Moraes. Less than a month ago, the consensus greatest female fighter of all time, Amanda Nunes, was stopped in the second round against unlikely successor, Julianna Pena. Ayaka Hamasaki returns at RIZIN 33 after having already put together a great year of her own. A divisional great like Johnson and Nunes, a Hamasaki loss would be a stunning sight on New Year's Eve.
That lofty task falls on the 24-year old shoulders of arguably the best prospect in the sport, current Deep Jewels strawweight champion, Seika Izawa.
Izawa is just 4-0 in MMA and began her professional career as early as Halloween 2020. Hamasaki, on the other hand, began her journey in October 2009 and still finds herself as one of the best in the world 11 titles and 23 wins later (23-3 overall).
Possessing a very strong wrestling and judo background, Izawa has done nothing but amaze in her burgeoning career. Recent highlights for Izawa have come in the form of her title-winning effort against Miki Motono or her tag team grappling showcase where she singlehandedly made easy work of accomplished pioneers Emi Tomimatsu and Mika Nagano.
Izawa is the future of the sport in whichever division she decides to compete in in the long term. A prodigy of her caliber absolutely has the ability and skill set to pull off such a feat in her RIZIN debut – that wouldn't make it any less of a monumental potential upset.
Ultimately, Pena has this award locked up in most peoples' minds no matter how you cut it, but an Izawa win would be right up alongside it.
As for an honorable mention in this category, Takenori Gomi is also competing when he takes on the seemingly unstoppable Tenshin Nasukawa. Though, that's a "special standing bout" matchup (essentially a boxing match with spinning backfists) rather than MMA so should it count if it happens? You be the judge.
Submission of the Year
RIZIN 33 has 16 fights in total with 14 of those being MMA contests. That allows for plenty of opportunity for several of the various talented submission artists competing to do what they do best.
The most likely candidate would be the BJJ wizard himself, current RIZIN lightweight titlist Roberto "Satoshi" de Souza who has never seen the judges' scorecards in 13 bouts – eight ending via submission. RIZIN super atomweight champion Ayaka Hamasaki also has a knack for forcing the tap with her superb grappling abilities. The same can be said for her aforementioned opponent in the tenacious Izawa which makes their matchup all the more compelling.
Naoki Inoue, who could potentially fight twice, is well rounded enough and capable of finishing fights anywhere. A man he's submitted in the past, Yuki Motoya, having felt that firsthand.
Motoya kicks off the night and should be watched closely as it wouldn't be his first time pulling off a late nominee for this category. Fans will remember RIZIN 14 to close 2018 when the veteran made former UFC contender Justin Scoggins tap to a rare teepee triangle choke.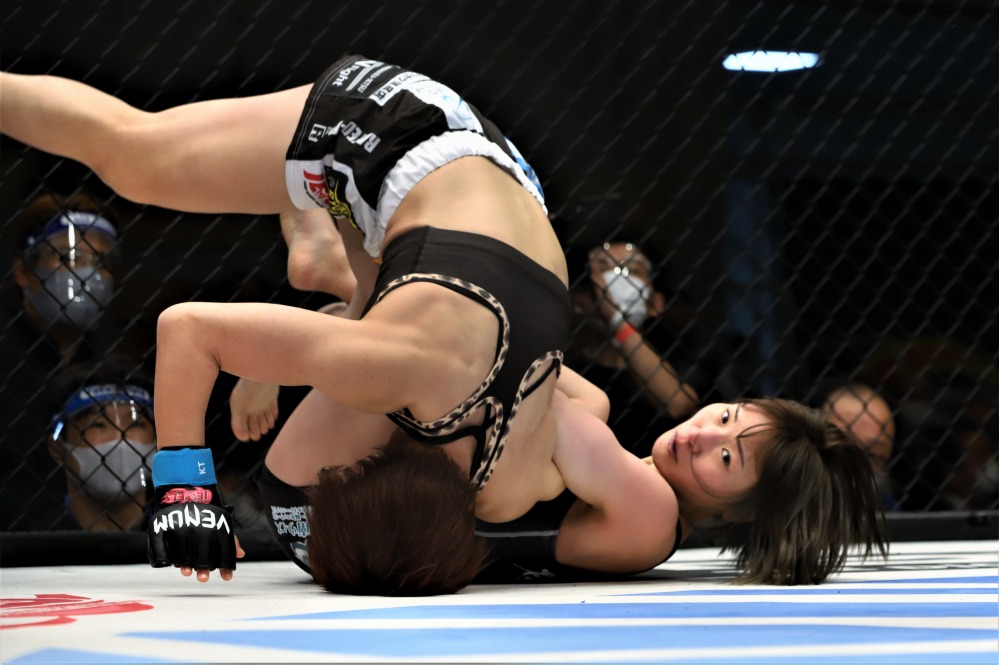 Breakthrough Fighter of the Year: Saori Oshima, Juri Ohara, or Seika Izawa
Out of all the potential winners to come from RIZIN 33, Seika Izawa has the opportunity to rack up the most nominations – her best shot likely being the breakthrough fighter of the year. A massive upset win over the champion in Hamasaki would cap off her excellent 2021 totaling out to three wins, one title victory, then the highly ranked atomweight victories over Si Woo Park and, in theory, Hamasaki.
Despite the RIZIN 33 omissions of Izawa's fellow Deep champions in interim lightweight titleholder Juri Ohara and double champion Saori Oshima, they deserve mentions as well.
Before RIZIN 33 takes place, Oshima should perhaps have the strongest consideration for the overall winner of 2021 breakthrough fighter with Izawa potentially taking it from her.
2020 ended with Oshima suffering a competitive defeat to the aforementioned Park before going 4-0 in 2021. The Deep Jewels 97-pound microweight champion added the atomweight title to her resume through the Deep Jewels atomweight Grand Prix where she avenged her loss to Park and took out Hikaru Aono on the same night. All before another one of 2021's big upsets when she debuted in RIZIN in October to defeat divisional staple, Kanna Asakura.
The RIZIN lightweight crown will be defended on New Year's Eve but not against Juri Ohara who has made as strong a case as one could ask for. Currently riding a six-fight winning streak, one of those wins coming over next RIZIN title challenger Yusuke Yachi, Ohara is 4-0 in 2021. Winning the interim strap and scoring two devastating finishes has proven that the 49-fight vet has really begun coming into his own, and fight No. 50 should be for a grand prize.
Event of the Year
It's no secret that RIZIN puts together their biggest and best shows for the conclusion of each calendar. More often than not, these year-closing events have delivered time and time again. RIZIN 33 likely won't be an exception.
Last year's RIZIN 26 event still managed to provide the action in many different ways despite the promotion being limited by the pandemic. Either way, it had tough acts to follow in the forms of arguable yearly bests in RIZIN 14 and RIZIN 20 – an all-timer of an event.
There's nothing like a New Year's Eve MMA event in Japan. The fans know it, the promotion knows it, and most importantly, the fighters know it. Thus making the Dec. 31st events likely nominees every single year no matter who they consist of.
Female Fighter of the Year: Ayaka Hamasaki or Seika Izawa
A particularly tough category this year as no one seems to stand above and beyond all else. Valentina Shevchenko scored two dominant title defenses over good challengers. Julianna Pena had two big finish victories, both of which could be considered comebacks with one being arguably the greatest upset ever. Marina Rodriguez solidified herself as a future title challenger with three big wins over ranked competition – two that she was underestimated in.
Then there's the atomweight division's all-time best, Ayaka Hamasaki.
Aging like a fine wine, the 39-year old RIZIN champion seeks her third win of 2021 by teaching the youthful Izawa her first learning lesson. Prior to that, she's added second wins over past rivals in two of 2021's most underrated fights against Kanna Asakura, and strawweight queen of Pancrase Emi Fujino.
Then, of course, there is Izawa who can skyrocket into MMA superstardom with a win – much quicker than anticipated.
Promotion of the Year
2021 has been a big year for RIZIN all things considered.
In addition to the normal numbered events, the promotion has started up their own versions of UFC fight nights – so much so that they've even started using a cage.
The new RIZIN Landmark and RIZIN Trigger events are set to double RIZIN's event numbers going forward and the inaugural events for each series got off to hot starts with great action and your typically violent finishes.
In total, RIZIN will end 2021 with nine events – each possessing its own varying degrees of uniqueness as always. 2022 is expected to continue with the return of the Grand Prix tournaments as 2021 has highlighted the 16-man bantamweight tournament.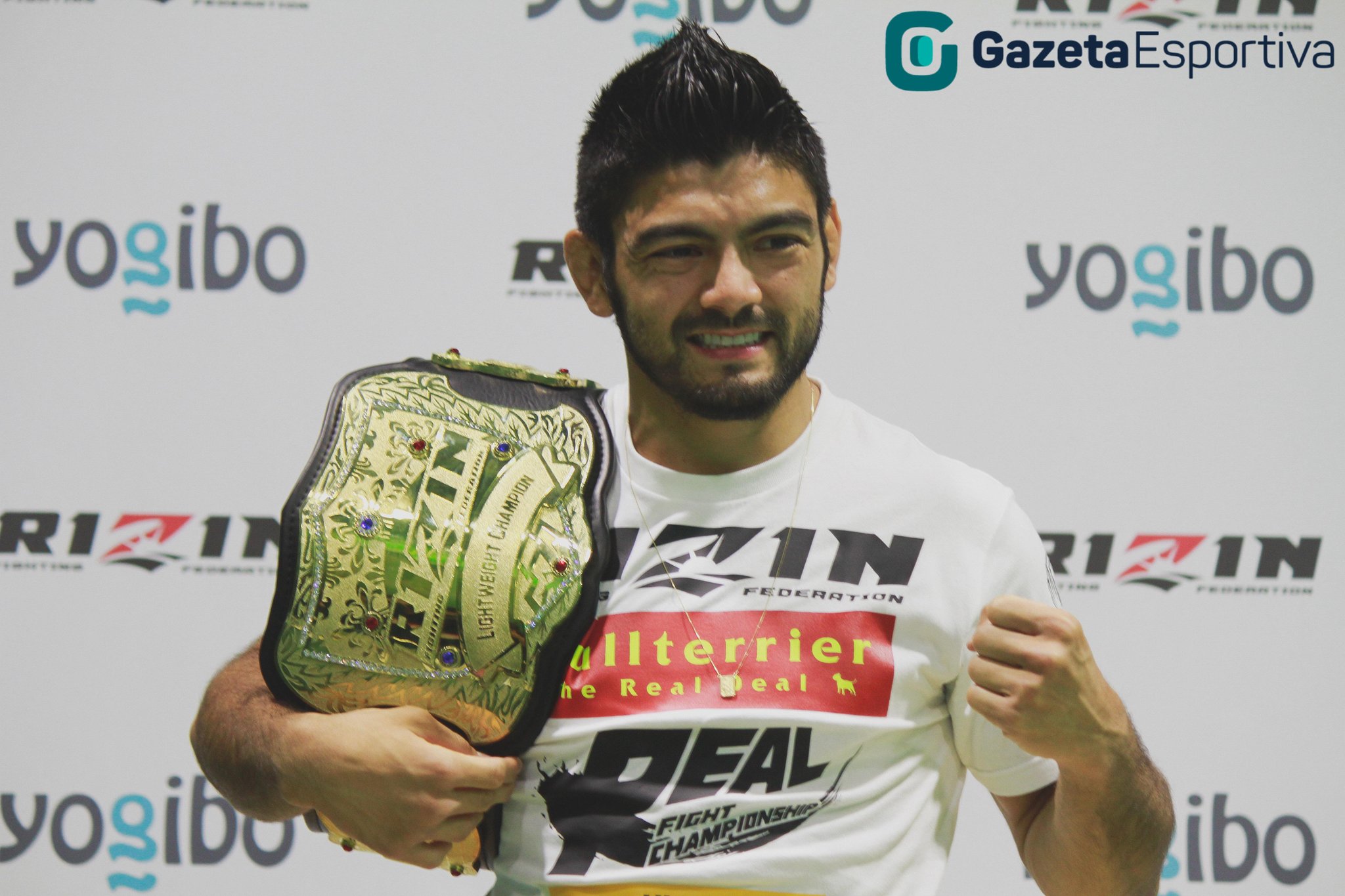 Male Fighter of the Year: Roberto Satoshi or the bantamweight Grand Prix winner
Roberto "Satoshi" de Souza has wasted next to no time in 2021 continually showing people how much of a monster he is on the ground.
At back-to-back events with RIZIN 27 and RIZIN 28, Satoshi scored ultra-impressive triangle choke victories in less than two minutes each. The first coming against former UFC and ONE veteran Kazuki Tokudome – the quickest and only third-time Tokudome had been submitted in 32 fights.
Satoshi's second win was his title win against Tofiq Musayev. Needing only 72 seconds, Satoshi snapped the dangerous Musayev's 14-fight winning streak. He can add a third at RIZIN 33 when picking up his second career win over Yusuke Yachi who he pummeled in August 2020 to score a ground and pound TKO eight seconds under two minutes.
Wrapping up on New Year's Eve will be the 16-man bantamweight Grand Prix. With four combatants remaining, two will have to defeat two men in one night to come out on top, therefore, resulting in their yearly total of four wins.
The obvious expectations here would be either Kai Asakura or Naoki Inoue but truthfully, if either Kenta Takizawa or Hiromasa Ougikubo can pull off their respective upsets – once and maybe twice – they very well should be in consideration as well.
Fight of the Year
RIZIN 33 has a little of everything that a combat sports fan could ask for. Scratch that, it has something for anyone seeking any type of entertainment period. We are getting the return of YouTube star Hikaru "Shibatar" Saito, after all.
Accompany that by a heavyweight banger between Shoma Shibisai and Hideki "Shrek" Sekine, title fights, tournaments, kickboxing, legends vs. prospects, etc. Each and every fight has some type of flare to it which could lead to a fight of the year unfolding before our eyes.
Well, maybe not the Shibatar bout, but even with that one you'll be in for a treat of sorts.
Knockout of the Year
It took us this long to mention Rena Kubota. That's when you know a RIZIN card has a lot going on for it.
The iconic Shootbox queen and perennial atomweight contender already notched a knockout of the year contender her last time out and could be poised to do so again. Either that or be on the receiving end of one as she takes on a more than capable striker in Korea's Si Woo Park. If this fight hits the mat, it would be a shock for many.
Kyohei Hagiwara also competes on the card and like Rena, his last fight provided violent results when soccer kicking Shoji Maruyama to a W. All of Hagiwara's MMA victories have ended via strikes, and when meeting with Hiroaki Suzuki, the same can be expected.
We've already mentioned Kai Asakura and Kenta Takizawa who could very well have two nominations by night's end. Plus the heavyweight bout, something sad in Tenshin vs. Gomi, or chaos in the rematch between Kai's brother, Mikuru, and the man who defeated him for the featherweight title in late 2020, Yutaka Saito.
BeyNoah also takes on Deep lightweight champion Koji Takeda… the possibilities for a knockout of the year are limitless with RIZIN 33.
Gym of the Year: Abe Ani Combat Club or Bonsai Jiu-Jitsu
Happy 20 years to Mr. Hiroyuki Abe and the Abe Ani Combat Club! AACC has played a critical role in the development of past and current legends as well as future stars. This year, in particular, RIZIN super atomweight champion Ayaka Hamasaki, Rena Kubota, and Deep Jewels microweight and atomweight champion Saori Oshima.
Also continually making waves are the Bonsai brothers, Roberto Satoshi and Kleber Koike Erbst. The duo has truly submitted their ways to the tops of their respective divisions. With one title already earned, it isn't far out of the realm of possibility for Koike to challenge for featherweight gold in early 2022.
Aside from the two leaders of Bonsai, Shrek Sekine who competes at RIZIN 33 has had a strong 2021 as well. A Shibisai victory would make him 3-0 in 2021. Although he lost, Alan Yamaniha put up a valiant effort against Kai Asakura after his opening-round Grand Prix win over Kazuma Kuramoto.
Drake is an MMA writer based out of Brush Prairie, Washington, USA who specializes in feature pieces, the women's fight scene, lists, news coverage, and rankings. He has been a passionate fan of MMA ever since 2009. Drake has most notably written for BJPenn.com, FanSided, The Body Lock, South China Morning Post, MyMMANews, WhatCulture, Cageside Press, Sherdog, The Scrap, and MMA Today. He has also written for and created video content for RT Sport. As for other sports, Drake is a longtime fan of the NFL's Green Bay Packers and Jacksonville Jaguars.
You can follow him on Twitter and Instagram: @DrakeRiggs_ . Also check out all of his video content on YouTube at YouTube.com/DrakeRiggs where he uploads fighter interviews, podshows, and various other types of content.