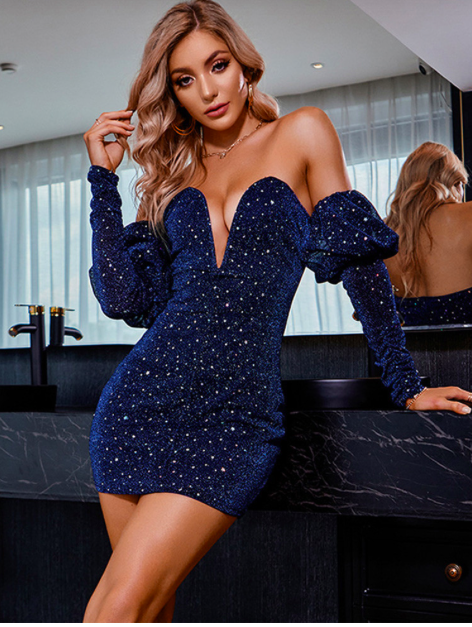 15 Elegant Formal Evening Dresses For a Black-Tie Wedding
Did someone say a black-tie wedding? Well, it's time to pull out your best of the best attire that only sees the light of the day only when there's some formal event.
 If you don't know what a black-tie event is, don't worry, we've covered it for you. It's a formal event that has a dress code, usually tuxedos and floor-length dresses. You cannot attend this exclusive event if you are not following the dress code. 
Wearing a formal dress to an event like a black-tie wedding is an unmatched experience, where you are surrounded by the most sophisticated, poised people, all dressed in glistening and glimmering outfits. 
 Formal outfits like floor-length gowns seem to be most fitting for the fall and winter weddings as around that time, people like to alter their dressing style and move towards darker colors and shades. 
 If you're confused about where you can find such dresses, and for an affordable price, don't worry, we've got it all sorted out for you. 
THINGS TO KEEP IN MIND BEFORE SELECTING A FORMAL DRESS
#1 The Occasion
It's essential to determine the occasion; only then can you figure out whether you have to dress up or dress down, keep it casual or classy.
#2 The Weather
Weather is an essential factor that plays a key role in choosing whether you should go for something dark or light and airy. Typically for winters, people go for darker and deeper colors like black, maroon, bottle green, etc., whereas for summers, people opt white-ish hues. 
#3 The Type of Cut That Accentuates Your Body
To look fabulous, you must wear what suits your body type. Wearing the correct type of cut will accentuate your body features instead of making them look weird. 
#4 The Fabric and Length
Before selecting a dress, it is good to know what kind of fabric you want to opt for; silk, satin, velvet, etc., and your choice of length; short, midi, or floor length. This can streamline the options available to you 
#5 The Tailoring
A well-tailored dress will always look classy and elegant, hugging your body in all the right places instead of a poorly stitched one that does not sit well on the shoulders, waist, and hips, etc. It's imperative to check for alterations, if any, before going to any big event. 
OUR GUIDE OF 15 FORMAL EVENING DRESSES FOR BLACK-TIE WEDDING
They say you play safe when you wear a black outfit to an event, but we'll stop wearing black when there's a color deeper than black. You can never go wrong with a black dress. If you're not about making statements and want to remain subtle, and lowkey, black will be your safest option, but that doesn't mean you won't look stunning.
Pair your dress with gold or silver accessories, and you're good to go. However, if you want to play a little bit, then go ahead by all means.
Is there any better and fiery chemistry than between the colors red and black? So wear a pair of red heels and put on some red lipstick, and you're all set to break hearts.
#1 Christmas Prom One Shoulder Asymmetric Maxi Dress 
This gorgeous one-shouldered, floor-length dress with ruffle details by SHEWIN would be perfect for a black-tie event. You can pair it with silver accessories, or you can go with gold accessories as black and gold always look classy. Whether it's a black-tie wedding or a movie premiere, you'll rock the final look. 
#2 Christmas Prom Solid Spaghetti Midi Dress
This midi length, spaghetti strap dress is perfect to be worn with your hair-up and some statement gold or silver earrings and a necklace, as the deep plunging neckline will draw attention towards your jewelry.
Pairing this dressing with some elegant, sparkly strappy heels will nail your look. A sparkly makeup with nude gloss or a neutral makeup with red hot or burgundy lips will make you the star of the event. 
#3 Christmas Prom Off Shoulder Dobby Mesh Glitter Bodycon Mini Dress
This sparkly, glitter mesh dress is truly a head-turner. Do not expect not to make a statement at the event when you walk in wearing this beautifully crafted mesh dress, with off-shoulder ruffle details and a deep plunging v neckline. You'll surely raise a few brows and create drama with this dress.
If you're all about making headlines, then opt for this gorgeous short-length dress and pair it with some beautiful V-shaped pumps and a long sparkly necklace that brings attention to the cuts of this dress. As this dress is sparkly and detailed enough, we recommend you not to over-accessorize it. 
#4 Prom Party Spaghetti Thigh Split Sequins Maxi Dress
A black floor-length sparkly gown can never go wrong. This ravishing gown with a high-slit detail and spaghetti straps is undoubtedly a yes. You can wear this dress to a prom, a black-tie wedding, holiday party, or even a new year party. This dress goes with multiple occasions. 
Pair it with black heels and a black clutch for a fierce, bold all-black look and sparkle like a diamond. 
#5 Prom Party Wrap Neck Criss Cross Bodycon Mini Dress
This V-neck, wrap-around deep emerald-colored velvet dress looks like a dream, paired with some silver jewelry. It is the perfect choice for a black-tie wedding, a girl's night out, or a prom night. You can even pair this dress with some sheer black stockings and gold heels to complete the look.
#6 Lace Sleeveless Deep V Neck Bodycon Midi Dress
This glamorous green lace dress is unquestionably something you would not want to miss. A perfect mid-length dress with lace details and a V neck is something that will work for all events. Pair it with a gold bag and some dangly hoop earrings to complete your glamorous look. 
#7 Prom Surplice Neck Bodycon Midi Dress
Bodycon dresses are always the best option when you want to accentuate your curves, giving you the perfect hourglass figure. This emerald green mid-length bodycon dress is an ideal option for formal events, like weddings and parties. You can wear this outfit with mid heels or high heels, depending upon the look you're going for. If you feel like dressing down this look a bit, wear ankle boots and a leather jacket over it for that casual-chic party look. 
#8 Deep V Neck Sequins Split Midi Dress
This sapphire-blue is undoubtedly a statement color to wear when going on a night out! It's the color that will make you stand out from the rest and give you a sudden boost of confidence. The combination of velvet and sequin together gives the most iconic touch to the dress. Sapphire blue goes best with silver, so don't forget to pair silver and sparkly accessories with this dress to pull off a glamorous, boss lady look. 
#9 Prom Square Neck Velvet Split Thigh Maxi Dress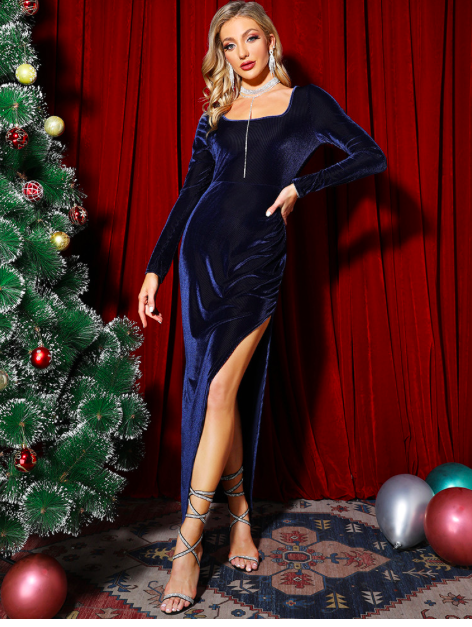 This long, sapphire blue velvet dress with a scoop neck and side slit is perfect if you want to be elegant and classy with a bit of sass! The velvet gives the illusion of the most luxurious look. Style this dress with some sparkly black stockings, strappy heels, and some dangly jewelry to complete the look. 
#10 Deep V Neck Rhinestone Bodycon Evening Dress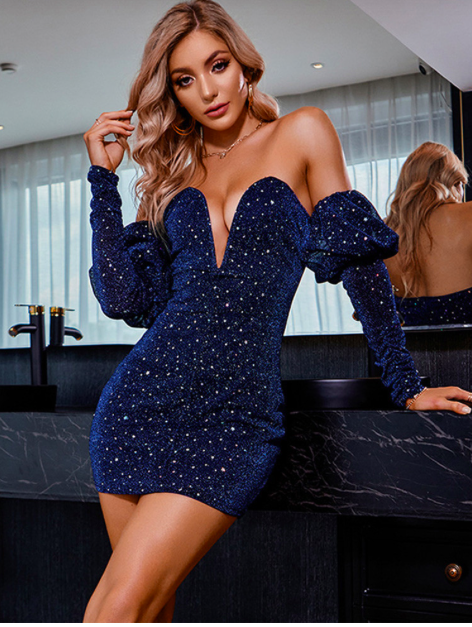 This beautiful velvety short dress with sparkly details is perfect for weddings, dance parties, and a night out. The deep V plunge with puff sleeves gives a dramatic touch to this dress. Wear this dress with some thigh-high boots and a black purse to pull together your look. 


#11 Prom Deep V Neck Glitter Spaghetti Bodycon Dress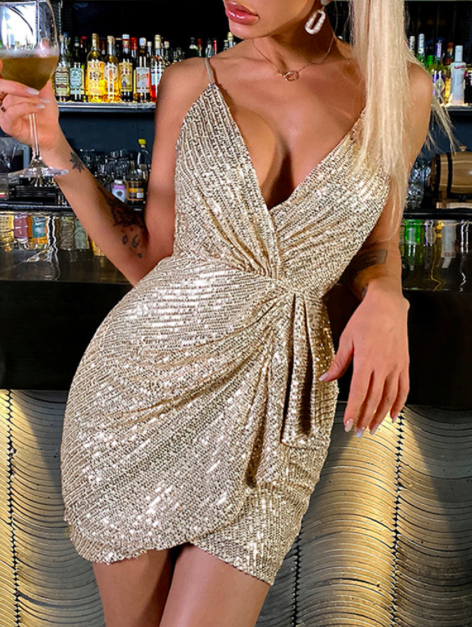 This beautifully adorned dress with sequins is perfect for formal events. The V neck with spaghetti straps and waist detail gives the most flattering illusion to the dress, giving the ideal hourglass shape to your body. 
Wear this look with some gold accessories, some bronzy eye makeup, and red lipstick, and voila, you're ready to bedazzle everyone.
#12 Christmas Prom Deep V Neck Side Split Sequins Mini Dress
Shine bright like a diamond in this sparkly, heavily sequined silver dress, and prepare yourself to turn a few heads. Complete your look with some long silver earrings and a choker necklace, and pair this dress with thigh-high suede boots to nail the look!
#13 Christmas Prom Satin Spaghetti Mini Dress
If you're aiming for that ultimate spring fling queen bee look, this is it. This dress should be your 'go-to' choice. The silvery satin gives the most luxurious vibe. Pair this dress with some red heels or if you want some pop of color, go for fuchsia to make a statement. 
#14 Silvery Sequins Bodycon Split Prom Dress
This stunning dress with a split cut is for those who do not want the plain old cuts but instead like to try out unusual, bold cuts. Style this look with some dainty silver jewelry and some ankle strap black heels, and you're ready for the most ultimate black-tie event look. 
#15 Apricot Sequin Fringe Sleeve Maxi Evening Dress
Last but not least, this ethereal dress gives off the classiest yet dreamy vibes. If you want to stay elegant and do not want to be boring, go for this dress. The beautifully adorned dress with gold sequins and sleeve fringes is perfect for nighttime occasions as the sequins glisten and sparkle in the night lights. 
The Takeaway!
All of the dresses mentioned above are perfect for a black-tie wedding, depending upon which cut, length, and color you would like to choose for yourself. Dress it up or dress it down, that entirely depends on you.
At the end of the day, no dress or accessory makes you shine better than the inner confidence you have when you feel your best. So make sure to review the wide array of designs in the most affordable price ranges at SHEWIN and get ready to be a head-turner! 
If you're contemplating wardrobe options for a Black-Tie Wedding, click to view the exclusive collection of evening dresses and gowns or explore through trending fashion pieces to get more options to decide from after navigating through the website.
DISCLAIMER:
We may receive commissions and other revenues from this article. We are a paid partner of organizations mentioned in this article.