Boxing champ Adrien Broner indicted by grand jury
Boxing champ Adrien Broner indicted by grand jury
According to attorney Michael Tranter, Hamilton County (Ohio) Court of Common Pleas, multi-divisional world boxing champion Adrien Broner (32-2, 24 KOs) was indicted by a grand jury on Thursday.
Earlier this week Broner was arrested and jailed for a probation violation in an unrelated reckless driving case.  The boxing champ who most recently fought on April 1, stopping Ashley Theophane in the ninth round, could face up to 26 years in prison if found guilty.  Despite having two warrants for his arrest Broner was permitted to fight and later turned himself in to authorities.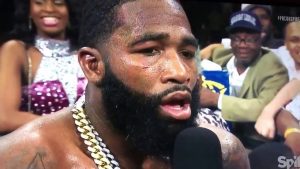 Broner was indicted on assault and robbery charges and a bond was set for $100,000.  No date has been set from a pre-trial hearing.
The assault and robbery charges stem from an incident in which a man alleges that he had a high-stakes bowling session with Broner.  He states that he won thousands of dollars from Broner, however when he tried to leave, Broner pulled a gun and assaulted him, taking the money in the process.
Broner is charge with a  first-degree felony for aggravated battery which carries a maximum 10-year prison sentence, and two maximum eight-year sentences for second-degree felonious assault and robbery.
Broner plead guilty on Tuesday of the reckless driving charge and was sentenced to 10 days.