Aggressive Combat Championship 15 Results: Gonzalez, DeCoursey, & Fazzino Take Home Titles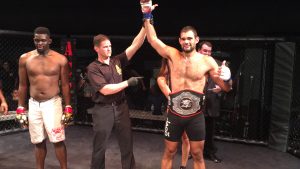 Aggressive Combat Championship 15 delivered once more in front of their sixth sold out crowd. ACC 15 show cased 14 fights on June 25, 2016. The fans witnessed four title bouts, five K1 fights and nine MMA bouts. Luis Gonzalez and Jillian DeCoursey take home belts for ECU BJJ. In addition, Dan Fazzino and Carolos Rodriquez won titles as well. ACC 15 took place at the Queens Theater in Flushing Meadow Park, in Corona, Queens, New York. Doors swung open at 6 p.m. and the fights kicked-off promptly at 7 p.m. est.
Aggressive Combat Championship 15's main event between Luis Gonzalez and Ron Leon lived up to the hype that hovered leading up to the fight. Through the first two rounds, Leon made it a fan favorite fight with his scrambling. Gonzalez and Leon didn't waste anytime feeling each other out before swinging for the fences. Leon, whom fights out of Kai Next level MMA, tried making the main event into a brawl as he launched hay-makers. The East Coast United BJJ fighter, Gonzalez engaged in the brawl for a bit, but showed great awareness and returned to his strategy. In the third round, Gonzalez clipped Leon in the temple, sending him to the canvas. Gonzalez defeated Leon in the third round via TKO.
While in the co-main event, Jillian DeCoursey battled Marisa Messer-Belenchia through three rounds of clinch grinding action. These two women showed up to fight. DeCoursey finally met an opponent that controlled her against the cage for nearly the entire bout. While in the clinch, the former 115-pound champion landed numerous knees to Messer-Belenchia's body. While out of the clinch, Messer-Belenchia displayed strong striking as she delivered an abundant of shots straight down the barrel to DeCoursey's chin.
The Ultimate MMA fighter defended DeCoursey's takedown's as well. When the official decision was announced it was a split decision in favor of DeCoursey, it left the Ultimate MMA camp unhappy and many scratching their heads. A rematch between these two women would be a great solution and way to hush any critics of that decision. DeCoursey defeated Messer-Belenchia via split decision.
Dan Fazzino of Black Hole BJJ showed up to fight in his light heavyweight title bout against the champion, Dami Powerson. Fazzino showed off his skilled grappling-game when he slapped on a leg triangle that ended the bout with only 29-seconds remaining in the first round. Fazzino was applying pressure on Powerson against the fence. Powerson scored a takedown landing in full-guard. It didn't take long for Fazzino to swing his legs over Powerson's head, locking in a triangle and squeeze his opponent to the finish. Dan Fazzino defeated Dami Powerson via submission in the first round.
Kai Next Level strawweight, Destiny Quinones, over powered her opponent on her way to a finish. Quinones threw Anastasia Bruce to the ground and immediately slid into full-mount. The Aggressive Combat Championship strawweight contender began hammering down on Bruce until USMTA referee Phoenix Alexus saw enough. Quinones earned a first round finish via TKO at 1:51.
Fight of the Night honors started off as a clear decision, but quickly became a blur once the final six bouts happened. My MMA News presents Fight of the Night honors to two bouts & four fighters. The final fight on the under card, a 145-pound match-up between Neil Gonzalez of East Coast MMA and Noah Donawa, of Kai Next Level. These two fighters delivered a great three-round battle.
The second FOTN is handed to the main event between Luis Gonzalez and Ron Leon. The last bout of the evening lived up to all the hype and both fighters were not afraid to backup their pre-fight talk. If anyone tuned into My MMA News' Carroll's Corner MMA Podcast Thursday night, they would have witnessed the tension between these fighters. A back-and-forth battle through two and a half rounds before Gonzalez tags Leon for the finishing touches.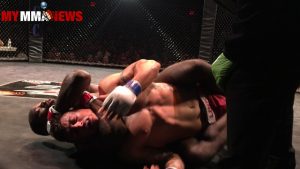 Aggressive Combat Championship 15 held 14 bouts. Eight of the fourteen bouts were finishes. Four ACC championship belts were handed out Saturday night. Tom Kilkenny and Eugene Perez, the co-owners of ACC, sold out their sixth show at the Queens Theater in Flushing Meadow Park in Corona, Queens, New York. ACC is sanctioned by the USMTA. The most respected sanctioning body in for MMA in the state of New York. Aggressive Combat Championship's 16th installment will take place on September 24th, 2016 at the Queens Theater.
Side Note: Congratulations to Eugene Perez on beating his battle with Cancer and being declared complete remission. FUCK CANCER!!
Official Results: 
*-Title Fight
135*- Luis Gonzalez (ECUBJJ) def. Ron Leon (Kai Next Level) via TKO in Round 3 at 1:27.
105*- Jillian DeCoursey (ECUBJJ) def. Marisa Messer-Belenchia via Split Decision 30-27, 29-28, 27-30.
205*- Dan Fazzino (Black Hole JJ) def. Dami Powerson (Striking 101) via Submission (Leg Triangle Choke) in Round 1 at 2:31.
115- Destiny Quinones (Kai Next Level) def. Anastasia Bruce (Team Redd) via TKO in Round 1 at 1:51.
135*-K1- Carolos Rodriquez (MCF) def. Steve Inoshima (TSMMA) via Unanimous Decision – 30-27, 30-27, 29-28.
145- Neil Gonzalez (East Coast MMA) def. Noah Donawa (Kai Next Level) via Unanimous Decision – 30-27, 30-27, 30-27.
170- Raheem Stevens (UNA BJJ) def. Jordan Boisvert (Team Link) via Submission (Rear Naked Choke) in Round 2 at 2:05.
155- Chris Nicoleau (East Coast MMA) def. Suraj Persaud (Kai Next Level) via TKO in Round 2 at 1:27.
170- Oscar Vera (MCF) def. Randy Laski (Notorious) via TKO in Round 3 at 1:29.
170-K1- Kenneth Rayside (Kai Next level) def. Chris Rodriguez (Striking 101) via Unanimous Decision – 29-28, 29-28, 29-28.
185- Dan Coleman (Striking 101) def. Marcus Chen (Apprentice MMA) via TKO in Round 1 at 5:00, Couldn't answer the bell due to extensive swelling under his right eye.
115-K1- Jamie Butcher (Journey Martial Arts) def. Jessica Ruiz (OMMA) via Unanimous Decision – 30-27, 30-27, 30-27.
145-K1- Elmer Reccions (Rossies Gyme) def. Jay Drayton (Kai Next Level) via TKO in Round 3 at 0:49.
155-K1- Brandon Murray (OMMA) def. Francisco Gonzalez (Striking 101) via Majority Decision – 29-28, 29-28, 29-29.
Follow MyMMANews.com on Social Media
The following two tabs change content below.
Kyle Carroll
Kyle Carroll is a Long Island, N.Y. native and avid MMA and amateur wrestling fan. He has been a part of the wrestling community for nearly 20 years. Carroll has six years of experience coaching high school wrestling. His father coached high school wrestling over 35 years, passing on his strong knowledge. Carroll has been reporting MMA news since January 2011. The former wrestler's coverage includes the 2012 U.S. Olympic Wrestling Team Trials, 2013 & 2016 NCAA D1 Wrestling Championship, and numerous MMA events (Bellator MMA, King of the Cage, North American Fighting Championship, and Glory).
Latest posts by Kyle Carroll (see all)