Bellator 222 results – MacDonald vs. Gracie, Machida vs. Sonnen
Bellator MMA will hold one of the biggest fight cards of the year as Bellator 222 invades Madison Square Garden in New York, New York, June 14. The star-studded event was headlined by a welterweight world grand prix semi-final title bout between champion, Rory MacDonald, and challenger, Neiman Gracie.
The two welterweights felt each other out on the feet for much of the very first round.  The champion was dropped but immediately popped back up.  Moments later Gracie threw a kick, MacDonald caught it, stalked him, waiting to release the punch, and blasted him but nothing came of it.  Gracie applied a nasty leglock in the second round, but the champion was able to maintain his composure and work out of the submission.  MacDonald worked out yet another fast submission attempt by the challenger in the third round.  MacDonald not really inflicting a lot of damage from the top position but likely doing enough to win the fight on the scorecards.  We now move to the championship rounds.  Another hard fought round these two warriors.  Gracie applies a tight body lock around MacDonald, crushing his insides, while working for various submissions.  MacDonald, an accomplished grappler himself, is not fazed by attempts.  The fifth and final round is where Gracie applies the most pressure but once again is unable to finish the fight.  We move to the scorecards for a decision.  MacDonald advances in the tournament and retains his title.
In the evening's co-main event, former UFC light heavyweight champion Lyoto Machida met "The American Gangster" Chael Sonnen in a light heavyweight contest.  Sonnen was having success in the grappling and clinch early on, even tossing Machida on the side of the head, drawing a pop from the crowd.  Machida landed a big flying knee that put Sonnen down, followed by brutal strikes on the ground.  Sonnen survived and the contest moved to the second frame. Early in the round Machida drops Sonnen with a big right hand and continues the assault on the canvas before the referee steps in. Sonnen announces his retirement from the sport following the loss and gets a standing ovation from the crowd.
The ride is over. @ChaelSonnen announces that he is retiring. ✊ pic.twitter.com/kNMQEIdIKq

— DAZN USA (@DAZN_USA) June 15, 2019
Brazilian Jiu-Jitsu ace Dillon Danis returned to the cage to take on Max Humphrey. Danis gets Humphrey down and immediately looks for a submission.  Humphrey does a fairly good job in defending all attacks up until the final seconds of the first round as Danis turns him belly down and locks in a deep armbar for the win.
New Jersey's Ricky Bandejas looked to hand New York's Patrick Mix his first career loss.  Mix was 10-0 as a pro, and also recorded 11 amateur victories going into tonight's contest.  It was a super quick fight as Mix hopped up on the back of Bandejas and forced the tap in little more than a minute.
Patrick Mix Wins Sub R1#Bellator222 pic.twitter.com/UFX8RkeEH9

— Jonnyboy (@JBNeverDies) June 15, 2019
Former Bellator MMA bantamweight champion Eduardo Dantas met the surging Juan Archuleta in a scheduled three-round affair.  Back and forth pace between these two and with just seconds left in the second round, Archuleta pulls out a stunning KO win.
Juan Archuleta KOs Eduardo Dantas at #Bellator222#JuanArchuleta #MMA pic.twitter.com/mFLocVqP4W

— Eric Kowal (@MyMMANews) June 15, 2019
Current Bellator MMA bantamweight champion Darrion Caldwell opened up the main card on DAZN against RIZIN champion Kyoji Horiguchi.  The two men met last year in Japan with Horiguchi coming out on top.  The Bellator champ hurt Horiguchi very early in the fight.  The size difference between these two bantamweights is remarkable.  Prior to the contest there were talks of Caldwell moving up to 145-pounds, and rightfully so.  Caldwell controls Horiguchi on the round for most of the first round.  The referee stands them up with just seconds left in the first frame.  Horiguchi connects and Caldwell smiles.  We move to the next round.  Horiguchi begins to take control in the third round and just like that Caldwell gets it back. "USA" chants break out in the fourth round as Caldwell presses Horiguchi up against the cage, but just like that, they turn to boos as the action has stalled.  This title fight works its way to the fifth and final round.  The crowd is booing here again as not much action taking place.  Caldwell holding Horiguchi up against the cage.  The RIZIN champ begins to elbow the Bellator champ in the head before attempting an inverted triangle choke.  Caldwell moves back to pressing Horiguchi against the cage again.  This one will go to the judges but not a good look for the Bellator champ.  The judges felt the same way apparently as Horiguchi wins the title become the first fighter to hold titles in both RIZIN and Bellator simultaneously.
In the first fight of the night, Phil Hawes, a veteran of Dana White's Tuesday Night Contender Series, dropped Mike Wilcox in the first round, cutting him above his right eye.  Bruising intensified almost immediately but they were able to get the entire first round in.  Bit of a delay before the second round started as the cageside physician tended to the cut.  The bout was eventually waived off and Hawes was declared the victor.
Huge pop for Marcus Surin as the ground-and-pound he delivered to Nekruz Mirkhojaev grew stronger with each strike. Referee Kevin MacDonald allowed the fight to continue and Mikhojaev was able to block every other shot. Moving in to the third and final round the scorecards should all be in favor of Surin.  This is one hell of a back and forth scrap that goes the distance with Surin coming out on top.
The first of two Gracie's to compete on the card, Robson Gracie Jr., showed fantastic submission abilities as he finished Oscar Vera by way of armbar in the very first round.
Gracie things #Bellator222 pic.twitter.com/ZTEgPVXedX

— MeMeAmusement (@MeMeAmusement) June 14, 2019
Mike Kimbel was forced to take a brief pause in action after being on the receiving end of a low blow by Sebastian Ruiz.  Once the action resumed, Kimbel meant business, coming forward with his strikes.  Ruiz did drop Kimbel near the end of the first round but he immediately bounced back up.  Kimbel once again kicked in the groin in the second frame and signals to his opponent to keep his kicks up.  Once they start back up the fighters hug and then slug it out once again.  Gotta love this sport.  Now it is time for retribution, as Kimbel lands a kick to the cup area and the fight temporarily halted for a third time.  They continue to duke it out to the bell in a very close fight that has just one just rule in favor of Ruiz, and the other two in favor of Kimbel.
Haim Gonzali looked superb with a first round submission finish over Gustavo Wurlitzer.  His fight was followed by the RIZIN vs. Bellator matchup between Rena Kubota and Lindsey VanZandt.  VanZandt appeared to be the aggressor early on, coming forward with her punches and taking Kubota down to the canvas.  VanZandt locks up a rear-naked choke and puts Kubota to sleep in the very first round.  Lindsey VanZandt never looked better.
Lindsey VanZandt (6-1) spoils the stateside debut of Shoot Boxing queen RENA, sleeping the RIZIN starlet to score her first sub win! The promising young atomweight has stopped three straight and finished each of her wins. #Bellator222 pic.twitter.com/5OiCq9SFKz

— Kyle Johnson (@VonPreux) June 15, 2019
Valerie Loureda and Larkyn Dasch were up next at flyweight.  Dasch comes into the contest on 10 days notice.  The ladies go the distance with the nod going in favor of Loureda.
Madison Square Garden woes continue for wrestling star Aaron Pico who was knocked out by flying knee from Adam Borics in the second round tonight.  Pico was also KO'd here in his Bellator MMA debut when he fought Zach Freeman two years ago.
Ádám Borics KO's Aaron Pico with a flying knee. #Bellator #Bellator222 #MMA #Fights #Flyingknee #KO #knockout https://t.co/YfV0w5ELDu pic.twitter.com/pGlhUcS8me

— wildmatt (@wildmatt) June 15, 2019
Kastriot Xhema had his hands full with Whitney Jean Francois.  Xhema held in there, weathered the storm, and was able to pound out his opponent in the second frame.
Complete Bellator 222 results below:
Bellator 222: MacDonald vs. Gracie Main Card:
Welterweight World Grand Prix Semifinal Title Bout: Rory MacDonald defeated Neiman Gracie via unanimous decision (49-46, 48-47, 48-47)
Light Heavyweight Co-Main Event Bout: Lyoto Machida defeated Chael Sonnen via TKO – Round 2, 0:22
175-Pound Catchweight Main Card Bout: Dillon Danis defeated Max Humphrey via submission (armbar) – Round 1, 4:28
Bantamweight Main Card Bout: Patrick Mix defeated Ricky Bandejas via submission (rear-naked choke) – Round 1, 1:06
Featherweight Main Card Bout: Juan Archuleta defeated Eduardo Dantas via KO – Round 2, 4:59
Bantamweight World Title Bout: Kyoji Horiguchi defeated Darrion Caldwell via unanimous decision (48-47, 49-46, 49-46)
Preliminary Card:
Flyweight Undercard Bout: Brandon Polcare defeated Brandon Medina via submission (guillotine) – Round 1, 4:33
165-Pound Catchweight Undercard Bout: Kastriot Xhema defeated Whitney Jean Francois via TKO – Round 2, 3:17
Featherweight Undercard Bout: John Beneduce defeated Kenny Rivera via unanimous decision (30-26, 30-27, 30-27)
Women's Catchweight Undercard Bout: Taylor Turner defeated Heather Hardy via TKO – Round 1, 3:53
Featherweight Undercard Bout: Adam Borics defeated Aaron Pico via KO – Round 2, 3:55
Women's Flyweight Undercard Bout: Valerie Loureda defeated Larkyn Dasch via unanimous decision (29-28, 30-27, 30-27)
Women's 112-Pound Catchweight Bout: Lindsey VanZandt defeated Rena Kubota via technical submission (rear-naked choke) – Round 1, 4:04
180-Pound Catchweight Undercard Bout: Haim Gozali defeated Gustavo Wurlitzer via submission (triangle choke) – Round 1, 4:02
Bantamweight Undercard Bout: Mike Kimbel defeated Sebastian Ruiz via split decision (28-29, 30-27, 30-27)
Welterweight Undercard Bout: Robson Gracie Jr. defeated Oscar Vera via submission (armbar) – Round 1, 3:15
Lightweight Undercard Bout: Marcus Surin defeated Nekruz Mirkhojaev via split decision (30-27, 27-29, 29-27)
Middleweight Undercard Bout: Phil Hawes defeated Michael Wilcox via TKO (doctor's stoppage) – Round 1, 5:00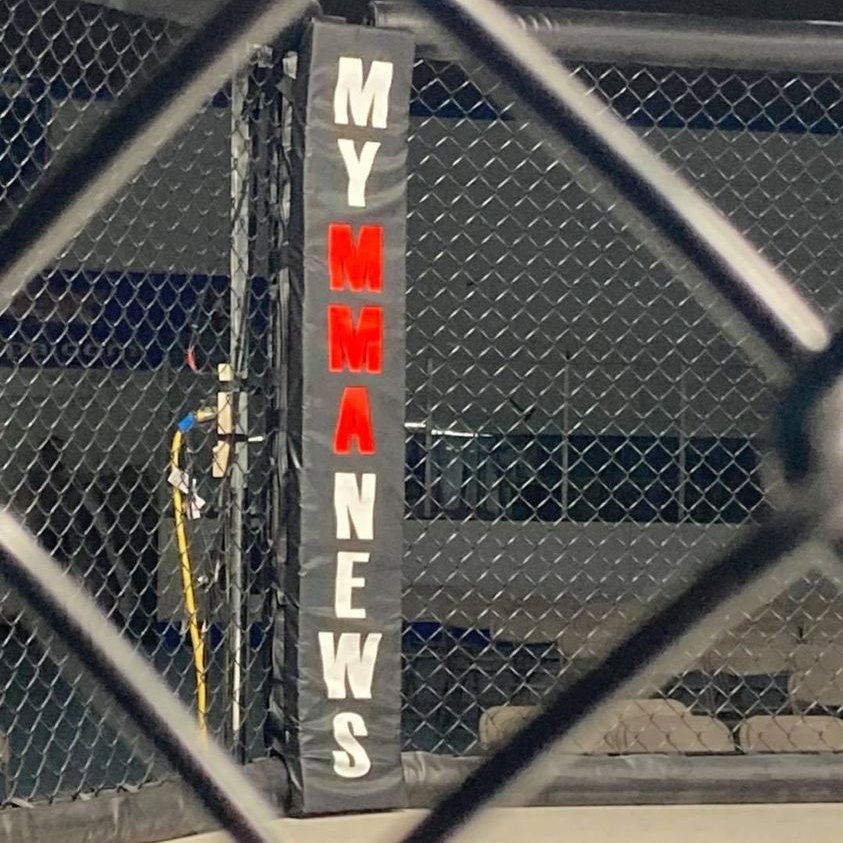 MyMMANews.com – We cover everything from MMA, BJJ, Bare Knuckle, Wrestling, Boxing, Kickboxing, and Judo
News, Opinions, Videos, Radio Shows, Photos and more.