We have a very exciting main event coming this Thursday, November 5, at Bellator 251, as former top five UFC light-heavyweight contender Corey 'Overtime' Anderson makes his Bellator debut against one of the most dangerous strikers in all of MMA, Melvin 'No Mercy' Manhoef.
Honestly, it's a bit of a surprise this is the match up Bellator came up with for Anderson's promotional debut, but it's a great fight and will be a good test for him to see where he fits in the division.
Anderson has shown some weaknesses in Manhoef's strengths, and Manhoef has shown some weaknesses in Anderson's strengths. That's why this fight is so compelling. On one hand, we have one of the best wrestlers in the entire sport in Anderson, and on the other hand, we have one of the best strikers in the entire sport in Manhoef.
Manhoef went 38-14 as a professional kickboxer, he's as dangerous on the feet as they come. He went 37-7 initially, until he got a little older and the L's started catching up with him. He even KO'd the iron chin Mark Hunt in just 18 seconds in their MMA fight back in 2008.
He's also one of the hardest hitters and kickers in the sport, everything he throws is a devastating strike intending to seriously hurt his opponent.
Of those 38 wins, 27 came via knockout, and he's the former It's Showtime MAX Middleweight Champion. He's replicated that success in mixed martial arts, going 32-14 thus far with 29 knockouts, having won the Cage Rage Light-Heavyweight Championship, a title he defended twice.
He hasn't been a champion in mixed martial arts since however, which was back in 2005 and 2006; he fought then Bellator Middleweight Champion Rafael Carvalho twice, losing the first via split decision, as well as the immediate rematch via knockout in round four.
'Overtime' hasn't been a champion for some time either, not since winning The Ultimate Fighter 19 back in 2014. After going 3-0 on the show, Anderson stormed through Matt Van Buren (who also went 3-0 on the show) via TKO in just 61 seconds to claim The Ultimate Fighter trophy.
Anderson had a good amount of success in the UFC, improving his record from 3-0 to 9-2 through his first eight fights, one win of which was over current UFC Light-Heavyweight Champion Jan Blachowicz.
He was then brutally knocked out by both Jimi Manuwa and Ovince Saint Preux, dropping his record to 9-4.
'Overtime' has looked incredible since this however, as he defeated Pat Cummins, Glover Teixeira, and Ilir Latifi in his next three fights, winning all three via unanimous decision. Latifi was a bit tougher of a fight for him than Cummins and Teixeira, as he out-struck him throughout the fight.
Cummins and Teixeira he just mauled, which was incredibly impressive considering Cummins' wrestling abilities from his extensive background in the art and the Teixeira fight, no one was able to do that to him aside from Phil Davis. It was a dominant, incredible performance.
Then came Anderson's breakout performance, his fourth-straight victory, a first-round TKO over the highly regarded Johnny Walker, who was 3-0 in the UFC at the time with three very flashy and impressive first-round knockouts.
His last fight with the UFC showed him get knocked out by Jan Blachowicz in the first round of their rematch, dropping his record to 13-5.
He went into that fight with too much confidence after the Walker win and it cost him. He thought he deserved a title shot, he wanted Jon Jones, and he'd already beaten Blachowicz, his head wasn't in that fight.
As you can see, 'Overtime' has been knocked out a few times, four times in his five defeats to be exact, the last three of which were KO's. Manhoef is certainly capable of knocking any man alive out. He's not a big man frame wise, but he's so incredibly violent with his attack.
'No Mercy' hasn't really lost many fights that have gone to the ground recently. He's been submitted earlier on in his career, but just once since 2011.
He has however been knocked out a few times recently, and with his size, he has to worry about that from Anderson as well, not just the wrestling.
After a successful high school wrestling career, Anderson went to an NJCAA college, where he won regional championships in his freshman and sophomore years. He then transferred to an NCAA Division II school, where he went 14-6 in his junior year.
Anderson again transferred schools, this time ending up at an NCAA Division III college, where he placed second at the national championships. He also has a purple belt in Brazilian Jiu-Jitsu under Ricardo Almeida, though none of his wins come via submission.
Manhoef is a brown belt in Brazilian Jiu-Jitsu under Caio Terra, but he's more of a brown belt defensively, not offensively, none of his wins come via submission either.
Of Anderson's 13 wins, eight come via decision with five knockouts, and of Manhoef's 32 victories, 29 come via knockout with three decisions. This next part may be the deciding factor of this fight.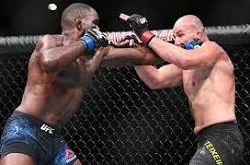 'No Mercy' is 44-years-old. He stands 5'8" and has a 71" reach, he's a tiny light-heavyweight. 'Overtime' is 31-years-old, and stands 6'3" with a 79" reach.
No one's ever been in their athletic prime in their forties aside from Randy Couture, and most athletes are right in the middle or start of their prime in their early thirties, especially wrestlers.
Anderson has got to be weary of Manhoef's power and leg kicks. He'll need to make Manhoef respect his striking, then go to his wrestling after he's shown enough feints and hit him a few times. If he doesn't do this correctly and gets caught, he's going out. There's no salvaging anything when Melvin Manhoef just hurt you.
Manhoef has got to somehow figure out to land a big shot on Anderson, because it's going to be hard picking him apart, having a seven inch deficit in height and an eight inch deficit in reach. Bellator took a different direction than most of us anticipated for Anderson's promotional debut, and it's very exciting!
Who wins this epic light-heavyweight main event?
I became a fan of combat sports when I was 12 years old. I was scrolling through the channels and landed upon versus, where WEC was televised. Urijah Faber fought Jens Pulver for the second time that night. That's the first fight I saw, and the fight that got me hooked on the sport. Since then, the sport has grown so rapidly, and my goal is to enlighten everyone on what's going on in the sport today.