Bellator MMA: "Unfinished Business" Conference Call Highlights
Bellator MMA: "Unfinished Business" Conference Call Highlights
SANTA MONICA, Calif. (June 10, 2015) – Less than 10 days ahead of Bellator MMA: "Unfinished Business," Kimbo Slice, Ken Shamrock and Bellator President Scott Coker took part in a media conference call to discuss the June 19th event.
"Bellator MMA: Unfinished Business" takes place Friday, June 19 at St. Louis' Scottrade Center and airs live on Spike. Tickets for "Bellator MMA: Unfinished Business," which start at just $30, are currently on sale at Ticketmaster.com.
On October 4, 2008, a freak accident robbed the MMA world of one of the most anticipated fights in the history of the sport. On Friday, June 19, Bellator MMA will right that wrong.  Street fighting legend and YouTube sensation Kimbo Slice and "The World's Most Dangerous Man," Ken Shamrock, have agreed to renew their rivalry and will now meet in the main event of "Bellator: Unfinished Business."
Below are quotes from today's call:

Bellator President Scott Coker:

"This is a fight that should have happened many years ago. I know that it's a fight that's been under everybody's skin for several years. At the news that Kimbo had signed on, I called and asked [Ken] if he was interested and he said 'hell yeah.' Both sides jumped in to fight each other without hesitation."

"At the direction of Mr. Tim Lueckenhoff, our main event fighters were subject to pre-fight drug testing and we were informed that both fighters passed their tests. We're less than ten days away from finally watching Kimbo Slice and Ken Shamrock settling the score at 'Unfinished Business,' which goes down at Scottrade Center in St. Louis."
Ken Shamrock:

"Mentally I'm strong, I always push myself to the highest level. I've been at this for six months now and it's been the hardest and the most humbling thing I've ever had to do. I am a different human being. I am more appreciative of the opportunities I have and for the people that train with me."

"Now that I'm back where I want to be and where I can hold my own at 51, I'm able to push people to where they can't go with me. This all comes through hard work and humbling myself and bringing myself back to my grass roots. Come June 19th, people are going to get to see the results of that and I promise you that everything that I am, my career on the line, you will not be disappointed."

"I really understand what it's like to be the underdog, it's been a humbling experience but at the same time it's really built me as a human being and it's really put me in a different place when it comes to conditioning and when it comes to my motivation and my strength in this fight."

"I enjoy preparing, I enjoy game planning, setting strategies, and working with a group of people to accomplish a goal. In the end when you accomplish that goal, there's no better feeling in the world than to have a group of people who set out on a journey and they accomplish the goal they set out on together with all the plans working out the way you wanted to. You're standing there at the end getting your hand raised and everyone is in the zone, endorphins are running, it's a great feeling. I don't know what to compare it to but it's a feeling you never want to lose but you know it's going to have to go away. I'm going to live this thing as long as I can live it. I'm going to enjoy this thing as long as I'm allowed to enjoy it and I wish that people would enjoy it with me.

I don't think it's a secret that Kimbo Slice brings the fight. Everything I know about him and respect about him, is that when he gets in the ring, he brings it. I don't think there's any question about what kind of fight this is going to be. There's a strategy on the mind of both men in a fight and they come in to see which one will work best. Right now there is no tomorrow, I'm focused on Kimbo and that's it."

Kimbo Slice:
"I've always had it in the back of my mind that I wanted to fight this guy again if the opportunity ever presented itself."

"I tip my hat to Ken Shamrock who's still fighting at 51 — even though I'm a stud and I'm going to knock his punk ass out. I tip my hat off to Bernard Hopkins who's still fighting in his fifties. That's really not even that old and I'm right around the corner from there."

"I relate to my fans and they relate to me. I just say it's the beard and the gold the teeth and me being genuine with people. I don't walk around with a chip on my shoulder."

"This is not a one time deal with me. We're going to see how long we can go with it. I'm in it for the long haul."

"I've always had love for MMA. I was tempted to throw a few kicks and takedowns in boxing. Now that this opportunity came, I have the love for the training and the passion to fight. I'm a well rounded martial artist now in the cage, I'm no longer one dimensional."
"Bellator MMA: Unfinished Business" – Friday, June 19, Scottrade Center, St. Louis, Mo.
Main Card (9 p.m. ET)
Bellator Heavyweight Main Event: Kimbo Slice (4-2) vs. Ken Shamrock (28-15-2)
Bellator Featherweight Title Fight: Champ Patricio Pitbull (23-2) vs. Daniel Weichel (35-8)
Bellator Featured Heavyweight Fight: Bobby Lashley (12-2) vs. Dan Charles (9-2)
Bellator Featured Featherweight Fight: Daniel Straus (22-6) vs. Henry Corrales (12-0)
Bellator Featured Lightweight Fight: Michael Chandler (12-3) vs. Derek Campos (15-4)
Preliminary Card (7 p.m. ET)
Bellator Strawweight Prelim Fight: Dan O'Connor (5-4) vs. Miles McDonald (0-1)
Bellator Featherweight Prelim Fight: Justin Lawrence (7-2) vs. Sean Wilson (34-25)
Bellator Lightweight Prelim Fight: Eric Irvin (9-3) vs. Hugh Pulley (4-2)
Bellator Lightweight Prelim Fight: Rashard Lovelace (debut) vs. Demagio Smith (1-1)
Bellator Featherweight Prelim Fight: Kain Royer (1-1) vs. Enrique Watson (1-0)
Bellator Bantamweight Prelim Fight: A.J. Siscoe (0-1) vs. Garrett Mueller (1-0)
Bellator Welterweight Dark Prelim: Adam Cella (6-3) vs. Kyle Kurtz (3-0)
Bellator Welterweight Dark Prelim: Steve Mann (10-1) vs. Justin Guthrie (17-8)
Bellator Lightweight Dark Prelim: Garrett Gross (6-3) vs. Chris Heatherly (8-3)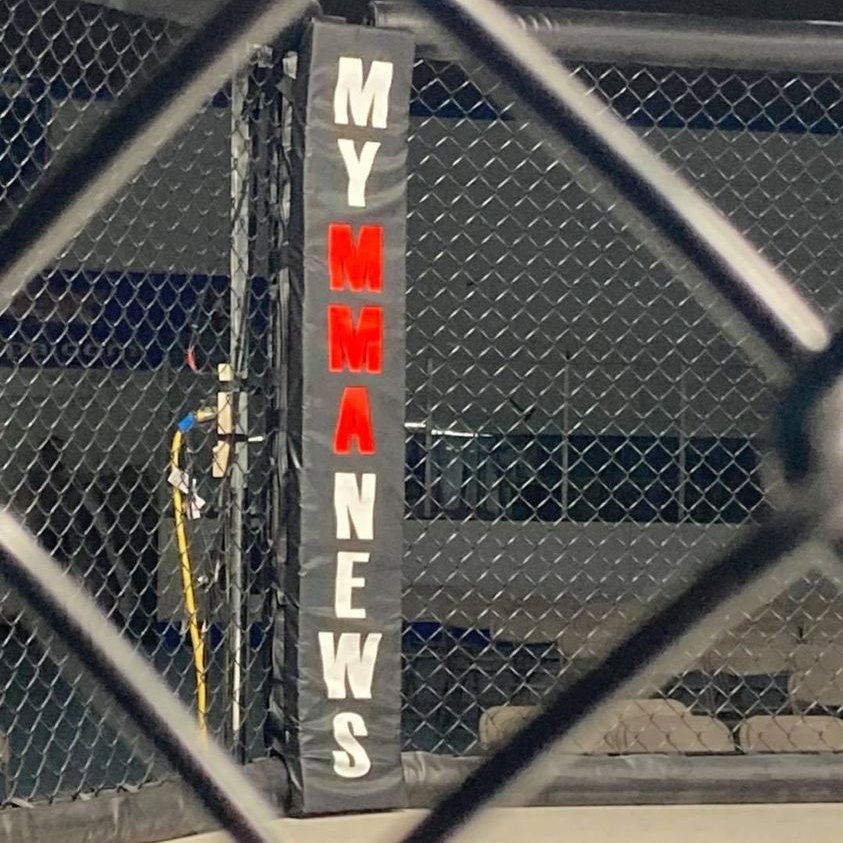 MyMMANews.com – We cover everything from MMA, BJJ, Bare Knuckle, Wrestling, Boxing, Kickboxing, and Judo
News, Opinions, Videos, Radio Shows, Photos and more.