How Can Ronda Rousey Lose?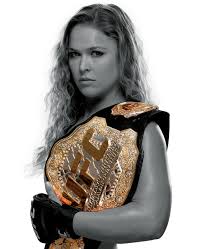 With this weekend's 14 second submission win over Cat Zingano at UFC 184, Ronda Rousey not only broke another UFC record (fastest submission win, dethroning Frank Shamrock's 16 second arm bar victory over Kevin Jackson), she also solidified her case as arguably one of the best overall fighters in mixed martial arts.
The numbers are surreal. Rousey is now 11-0, finishing all of her opponents with nine submissions and two TKOs. Of those 11 fights, only one fight has gone passed the first round (against Miesha Tate at UFC 168, where Tate survived into the third round and then submitted).
You want to watch highlight clips of Rousey to prepare against her? You won't get that much footage. In her 11 total fights, the Olympic bronze medalist in Judo has amassed a total of 25 minutes and 2 seconds of action inside the cage. That is just two seconds over a five-round championship fight. Rousey is simply cleaning out the women's bantamweight division and no one has yet to give her a real challenge, an eerie similarity to Royce Gracie or Anderson Silva's runs.
Aside from a potential "super fight" between Invicta featherweight champion Cristiane "Cyborg" Justino (which is being heavily negotiated and Cyborg must agree to drop to 135 to fight Rousey), there still are worthy opponents in the women's bantamweight class to try and solve the Judo-Rubik's cube which is Ronda Rousey.
Jessica Eye is the next highest ranked fighter who has yet to fight Rousey. Eye is ranked at number six (yep, the top five bantams have lost to Rousey six times). Eye is a tough fighter and can hit. The problem is, so can Rousey if she doesn't decide to take you down and take your arm from there.
Bethe Correia is ranked at number seven just under Eye, and she is also undefeated. Correia has been asking for a fight with Rousey after defeating two of the "four horsewomen", who are Rousey and her teammates (Jessamyn Duke, Marina Shafir, and Shayna Baszler. Amanda Nunes and Marion Reneau are ninth and 10th in the rankings, but they might not be ready for a shot against Rousey yet (or that marketable yet for a main event on a PPV card).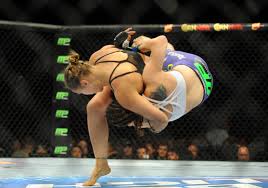 Rousey with a Harai Goshi on Alexis Davis from UFC 175
So, the question still remains, how does one defeat Ronda Rousey? With women's mixed martial arts, the ladies are still progressing and gaining experience. The truth is, there are not many women on Rousey's grappling caliber yet, and with the quick work that Rousey is making of her opponents, she is sustaining her durability and prolonging her mma career. Rousey has not taken many significant strikes in her 11 fights. She has been hit only 55 times in her last nine fights according to the fight metric (that is only six hits sustained per fight).
Whoever wants to survive against the champion inside the cage will need to work extensively on their judo and grappling. More than likely, Rousey will not get taken down, however, the training will benefit in defending against her vicious throws and takedowns, and countering with crisp and clean striking, potentially landing a critical strike to gain momentum and test Ronda's chin.
Zingano (on paper) matched up very well against Rousey. Zingano is a purple belt in BJJ and can strike. Where Zingano went wrong was "bum rushing" Rousey, she tried to open strong and surprise the champ, and Rousey had none of that. Hindsight truly is 20/20, that being said, had Zingano paced herself and felt out Rousey, she could have given the champ a run for her title. A rematch against Rousey would be worth watching, but Zingano may have lost that opportunity by her gameplan in rushing the champion as if it were her last-ditch effort for a win (which Zingano certainly had the tools and skill set to do much better).
It is much, much easier said than done (hence why Rousey is the current Queen of women's MMA): a fighter with great grappling and takedown defense, good striking, and patience will need to come around in order to have a shot of dethroning Rousey. At only 28 with all of her current accomplishments, Rousey may possibly go down as one of the best fighters ever to compete.