Cassius Corrigan's Huracán highlights the fights outside the cage
Fear is an emotion within us all. It has various effects ranging from motivation to seclusion. The complexity of fear runs deep. For Cassius Corrigan, he's tackled the emotion in several ways as he gets ready to see his first film, Huracán, premiere on HBO and HBO Max.
Growing up in Miami, Florida, Corrigan was surrounded by a unique family culture. Just some of the blendings of his relatives included those who were Colombian, Irish, Lithuania, Jewish, and Catholic. Always hustling his way through his early years and grinding to go that extra mile, Corrigan eventually wound up studying entrepreneurship at the University of Southern California.
"I took a film class and in the film class, they exposed me to this idea that I hadn't really understood before, which was to be a filmmaker, to be a writer/director… You effectively had to be both an entrepreneur on one side and of course, an artist and a creative on the other," Corrigan told MyMMANews, "And that really helped concretize my interest in it because it showed the two things that I have this deep passion for, the foundation of who I am and how I like to spend my time. I saw it, then combined them in film making."
After graduating from USC in 2014, Corrigan's journey into the film world was ready to truly begin.
Premiering on September 11, Huracán is a psychological thriller about an aspiring MMA fighter who suffers from multiple personality disorder. Corrigan took up the challenge of directing as well as starring in the film. For the former of the two roles, he noted that the pressure forced execution or failure and how successfully pulling off your first movie is the hardest thing to do.
The inspiration for the movie's idea came from a reoccurring nightmare Corrigan had when he was younger. Fathered by a Circuit court judge, at the time, his dad worked in juvenile court meaning most cases presented issues of child abuse, child abandonment, or child neglect.
Depending on one's genes, just due to puberty and the rapid change and development of the human body and brain, it can leave someone more susceptible to gaining a mental illness, like schizophrenia for example. However, something like dissociative identity disorder (DID) — also known as multiple personality disorder — doesn't quite fit into the possible results from more natural developments like such.
The enduring of severe traumatic events as a child often can result in DID due to the brain utilizing its form of a defense mechanism. Where in turn, a new personality can be mentally split into its own but still hide the memories from the trauma. Being as complex as it is, many sufferers of the illness aren't even aware of their issue until they get some kind of therapeutic help. Specifically for DID, there is the treatment of Eye Movement Desensitization and Reprocessing (EMDR) which is shown in Huracán.
Having seen the heartbreaking and heavy cases his father had to deal with during his time as part of the Circuit court, Corrigan saw how many of them had to deal with mental illnesses like these. Two specific instances stood out to him during this time, but it was one that connected with his nightmare that further inspired his creation of Huracán.
Along with the mental aspects, which are a key part of the story, Corrigan also has the elements of culture and sport. Those spotlights, of course, being shined on MMA, and the Latino communities.
"The family and the culture that I kind of grew up with and was exposed to, especially being from Miami was one that I was always very close with," he shared, "And I felt as a storyteller, I saw that there was an opportunity, because of the lack of representation, it combined with the misrepresentation of Latinos in film and TV.
"I just felt, that's one way that for myself as a storyteller, I can be making an impact and I could be doing something that I don't see other people doing. And on the psychology side, for me, it felt really important. It felt really interesting, which I would say is the first thing that stuck out was like, man, mental illness and abnormal psychology for me are so intriguing and so thought-provoking that I've always felt like they make for good subject matter for a movie. Then the more I dove into sort of my dad's world of juvenile court and started getting to know the court-appointed therapists, seeing the halfway houses, meeting the peer counselors, that's really where I saw that so many, like… it sounds like a cliche, people say hurt-people, hurt people, you know — and sort of tracing the lineage of trauma."
When it comes to something like professional fighting, there's absolutely no secret that it takes a very unique individual to make that walk. At the very least, it requires an extreme mental capacity and willingness to take and deliver damage.
Having followed the sport and done his share of training in the arts, Corrigan began to notice the relations that everything around him had. And while he does hope and plan to have an amateur bout someday for the experience, he's terrified of the thought because he knows just what it takes and how committed the athletes making it their career are.
"I think MMA and fighting happen to uniquely maybe attract people who have been through traumatic situations only because to fight requires such an extreme mindset, such an extreme psychological makeup," Corrigan detailed, "And I have so much respect for fighters. That's why I try to make it clear, I love MMA and I'm a martial artist, but I'm not a fighter. I don't compete in MMA because I think it's really important that the people who do are given the respect that they deserve for putting their health on the line. And really for me, it was like, especially once we did our first screenings and film festivals, people reached out to me, whether it's local sort of unknown fighters, people reached out to me and said, 'Man, it was crazy for me watching your movie because in some ways it felt like I was watching my own story.'"
It's natural to be afraid of things, and fighting another human in hand to hand combat being one of those isn't uncommon.
As much of a task as film making can be its own right, acting is another. And while that was a department that Corrigan had experience in and was comfortable with, it wasn't at all his intention to star in his first movie.
But with such a unique premise, to make the film as perfect as it could be, it demanded a specific range. Thus making it a lot harder to find worthy candidates to play the main character, Alonso Santos.
In the end, Corrigan embraced the fear and took on the challenge himself.
"As we got further and further along in the process, the challenge of casting that role became more and more apparent," he recollected, "And on the one side, the lead actor would have to be credible as someone suffering from a severe mental illness. That for me, the authenticity of bringing the emotional truth of that illness to life, that was the number one most important thing in the movie was that the actor was able to deliver on that. And that's already a very difficult and high bar to set, but then separately that same actor also had to be credible as an amateur fighter becoming professional, which is not the same as a UFC fighter, which is not the same as somewhat of an actor who we give three months of kickboxing classes to, it had to be someone who had put in a couple years, to be realistic as someone making that leap.
"So it just happened that I had the experience on the MMA side and I had been studying acting for long enough as a director that I sort of intuitively knew that my very limited range as an actor, this role happened to fall in that range. So I made the horrifying, f*cking terrifying decision to also act in the movie and, man, thankfully — luckily we've been rewarded for that."
The interesting and important spin on the life of a fighter should be enough to entice fans to see Huracán. But if that isn't enough, they'll also be treated to some familiar faces making their silver screen debuts.
In 2017 ahead of UFC 217, Corrigan would connect with veteran welterweight sensation, Jorge "Gamebred" Masvidal. The event would be Corrigan's first UFC event that he attended live. Unfortunately for Masvidal, he fell short that night to Stephen "Wonderboy" Thompson via unanimous decision.
By now, most everyone in the MMA community following Masvidal knows that this is where his story began to take a drastic turn — or perhaps a resurrection.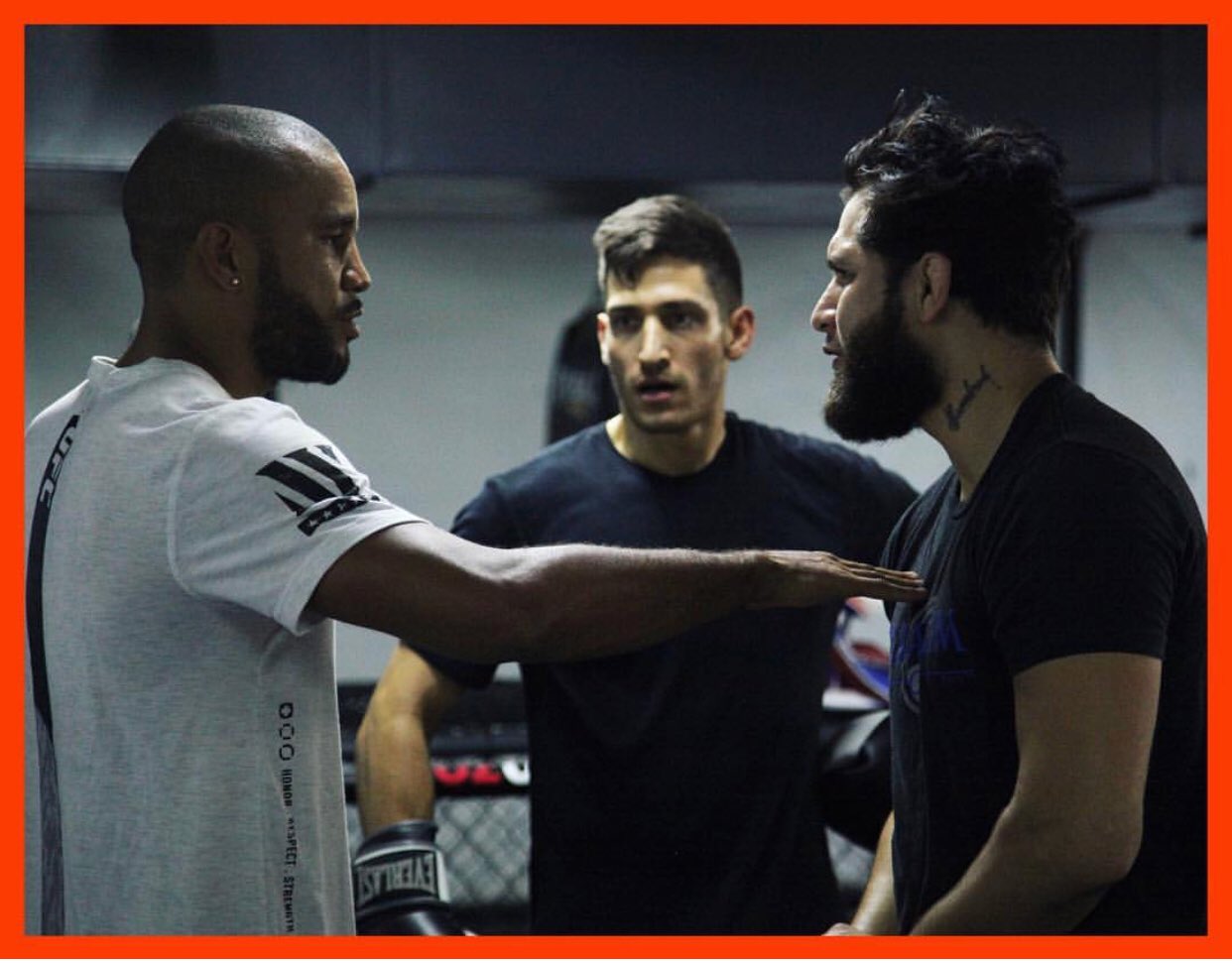 Having lost two fights in a row for only the second time in his 45-fight career, Masvidal would then disappear for a period of time to seek rejuvenation. He would find that by participating in the Spanish adventure game show, Exatlon Estados Unidos… but not before helping out Corrigan by playing Alonso's big rival, Cain Colón in Huracán.
"I was lucky to have the opportunity to meet him at this point," Corrigan said of Masvidal, "He was kind of really determining what his next steps were going to be, he had the time to help support our movie and bring more authenticity and visibility to it.
"So I think at the end of the day, why he agreed to be in it, why he agreed to put his name on it — and he's an executive producer now alongside his manager, Abe Kawa — it's because he saw that I, as a Miami guy, trying to make a passion-driven movie set in Miami, Latino driven story, touching on important and difficult issues like mental illness, and the Latino community… I think he saw an opportunity to help support this project, and to help support me. For me at the time, even it was so humbling because this is late January 2018. When we shot his scenes, he wasn't a superstar that he is today, but in my mind, he was already, he was such a star in my mind cause he was the real deal."
Since Masvidal's participation in Huracán, he's gone on to become one of the biggest stars in MMA. Once he returned to action in March 2019 for the first time since the Thompson loss, he would rattle off a highlight-filled three-fight winning streak. That, of course, culminating with his crowning as the Baddest Motherf*cker champion at UFC 244.
As Corrigan prepares for the world to see his film, he does hope to give Masvidal a bigger role in a future project. Getting to work with him as much as he did, however, was a priceless experience that helped elevate the movie in unique ways that won't be seen in other action or fighting themed films.
"One of the really cool takeaways for me as both a filmmaker and as a martial artist was the experience of moving with him in the cage and sparring with him and all of that," Corrigan began, "Like no matter how many years, I think that you've trained in martial arts, there was just something different when moving with someone like Jorge. [Someone] who's such a world-class athlete and fighter that it really just shows you the levels of his technique, of his control of his touch, of his precision. Those things really stood out to me and he could have very easily at any point, knocked me out unconscious.
"It would've been so easy for him to have done that. And then boom, my movie's f*cked, our shooting day's ruined. You know what I mean? And he feels great about himself, but thank God he did not do that. He was able to show so much restraint that one of the pieces of feedback we get when people watch our movie is they love the action. The action feels so visceral. It feels so immediate. It feels so different from most movies because we didn't have a stunt coordinator. So it's not like someone was coming in and it was like, 'Okay, this is how we're going to fake that and fake this.' It was like, no, we were filming sparring. That's why it feels different. That's why it looks different. And thankfully we had a world-class fighter like Jorge who was able to make contact without inflicting irreparable damage."
As expected, this is just the beginning for Corrigan in terms of what's to come.
Obviously, the COVID-19 pandemic has presented its fair share of problems in many, many more ways than one. Those in the movie and TV industry have felt that in a big way and for Corrigan, it has slowed his next project. That being Colossus, an MMA series that will take place in Brazil and Ireland. Working on it in the ways that he currently can, Corrigan promises it will be the definitive MMA series — think equivalent to Game of Thrones for MMA.
Until then, we'll be enjoying Huracán on HBO.