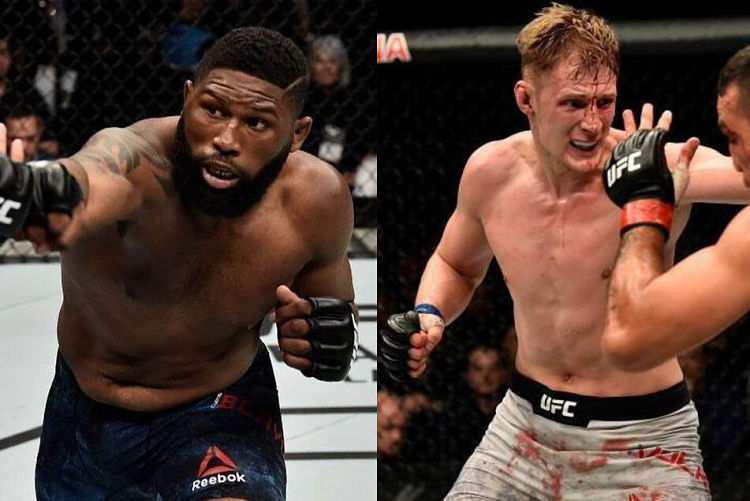 We have an epic heavyweight clash going down this weekend, as the No. 3 ranked UFC heavyweight contender Curtis Blaydes takes on the No. 7 ranked UFC heavyweight contender Alexander 'Drago' Volkov. Both of these giants are better than they've ever been, and both are looking to continue climbing the heavyweight ladder in order to secure a title shot. Now that Miocic versus Cormier III is finally happening, the division can continue moving and the winner of this fight will be that much closer.
Volkov has been at the game a bit longer than 'Razor' Blaydes, starting his career off in 2009, while Blaydes didn't make his professional debut until 2014. However, Blaydes did start fighting as an amateur in 2012, and compiled a perfect 8-0 record before turning professional. 'Razor' quickly went 5-0 in smaller promotions before making his UFC debut just two years into his professional career. He's mirrored that success in the UFC, going 8-2 (1 NC), and only having lost to one opponent, Francis Ngannou. His no contest was also a TKO victory, it was later overturned because he tested positive for marijuana.
'Drago' fought many of his first fights in and out of the M-1 Global promotion, making it to 16-3 before joining the Bellator roster. Volkov quickly became the Bellator Heavyweight Champion just three months after joining the promotion, going 3-0 in three months. After capturing the title, he didn't fight again until eleven months later, where he was TKO'd by Vitaly Minakov in round one.
Volkov won his next three fights with Bellator, two knockouts and one submission, before leaving to fight for smaller promotions. That only lasted for two fights, both of which he won, and he returned to Bellator. Only this time when he returned, he went 0-2 before going back to M-1 Global. Volkov won the M-1 Global Heavyweight Championship immediately after leaving Bellator via submission (triangle choke), and defended it once via KO (punches) before coming over to the UFC.
Once coming to the UFC, 'Drago' won his first four fights with the promotion, two decisions initially, followed by two knockouts. He then fought Derrick Lewis, and while he dominated the entire fight, he didn't stay on his bike the entire time, and he was KO'd with just eleven seconds left in the fight. Another thirteen months later, Volkov returns to face Greg Hardy, who he defeated via unanimous decision.
Blaydes may not have that extensive of a mixed martial arts career, but he has been wrestling for a good amount of time. During his senior year of high school, 'Razor' went 44-0, winning the state championship. His overall high school record was 95-18. Blaydes had a record of 19-2 during his freshman year of college, before transferring schools. After transferring, Blaydes won the NJCAA National Championship, before pursuing mixed martial arts.
Curtis Blaydes (13-2) 1 NC vs. Alexander Volkov (31-7)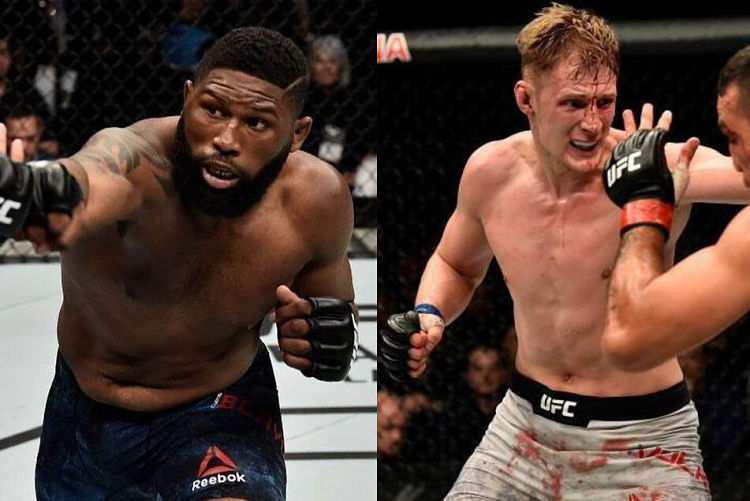 Both of these men are huge heavyweights. Blaydes stands 6'4" and has an 80" reach, while Volkov stands 6'7" and has an 81" reach. They both usually weigh in at about the same weight, in between 245 lbs and 250 lbs. Volkov is one of the best strikers in the heavyweight division, particularly with his hands, he has great boxing, and hasn't been out-struck yet in his 5-1 run with the UFC. He also has good takedown defense, but he has been taken down before. If anyone can take their opponent down, it's Blaydes. A really insane stat that Blaydes has, he's the most prolific takedown artist in UFC heavyweight history.
A division that's had guys like Cain Velasquez, Brock Lesnar, Randy Couture, Stipe Miocic, Daniel Cormier, that's really something, though Cormier has only fought at heavyweight five times in the UFC, and Lesnar only had nine fights in the UFC. However, Velasquez had 15 UFC fights and scored 34 takedowns, Couture had 16 UFC fights at heavyweight and scored 25 takedowns, and Miocic has had 16 UFC fights, where he's also scored 25 takedowns. Both Velasquez and Miocic are NCAA Division I wrestlers, as is Couture, along with being an Olympic alternate for Greco-Roman wrestling.
However, despite having the most takedowns in UFC heavyweight history in only eleven UFC fights, Blaydes wasn't able to take Junior dos Santos down in his last fight. He attempted six takedowns against the former UFC Heavyweight Champion, but wasn't able to secure a single one. He was however able to finish him with his striking, something we hadn't seen from Blaydes up until then. We knew his takedowns were on point and that his ground-and-pound is vicious, but that was the first time we got to see him score a finish with his hands.
There are really one of two ways this fight goes. Either Blaydes is able to take Volkov down and pound on him until all five rounds end, or the referee stops it, or Volkov will be able to stuff Blaydes' takedown attempts and out-box him on the feet. With the threat of the takedown, Blaydes should also be able to open up in the striking more, like he did in his last fight. Volkov may stuff most takedown attempts, but with this smaller cage the UFC has been using, plus his lanky dimensions, it may be near impossible for him to not get taken down, especially fighting someone like Blaydes.
Who wins this epic heavyweight showdown?
I became a fan of combat sports when I was 12 years old. I was scrolling through the channels and landed upon versus, where WEC was televised. Urijah Faber fought Jens Pulver for the second time that night. That's the first fight I saw, and the fight that got me hooked on the sport. Since then, the sport has grown so rapidly, and my goal is to enlighten everyone on what's going on in the sport today.