BLUE CHIP PROSPECTS ED RUTH & TYRELL FORTUNE SET FOR BELLATOR MMA DEBUTS AS TRIO OF PRELIMINARY BOUTS COMPLETE STACKED 'BELLATOR 163' CARD
UNDEFEATED NEIMAN GRACIE CHALLENGES 30-FIGHT VETERAN RUDY BEARS IN CATCHWEIGHT BOUT
SANTA MONICA, CALIF (October 6, 2016) –Two of Bellator's highly touted wrestling prospects Ed Ruth and Tyrell Fortune will make their eagerly anticipated mixed martial arts debuts against Mark Mangiardi (Debut) and Cody Miskell (Debut) during the stacked card of "Bellator 163: McGeary vs. Davis" on November 4 at Mohegan Sun Arena in Uncasville, Conn.
In addition, Neiman Gracie (4-0) will look to remain undefeated to begin his professional career in a catchweight bout against Rudy Bears (16-14). All three of these contests will air on the Bellator.com-streamed preliminary card beginning at 7:50 p.m. ET/5:50 p.m. CT.
The newly announced tilts complete a card headlined by a light heavyweight world title fight that pits champion Liam McGeary (11-0) against Phil Davis (16-3). In the co-main event, a welterweight showdown pitting Saad Awad (19-8) against Brennan Ward (13-4) will go down, while a heavyweight bout between Sergei Kharitonov (23-5) and Javy "Eye Candy" Ayala (9-5) will also be featured on the main card. Lastly, Paul Daley (38-14-2) and the always-exciting Derek Anderson (14-2) faceoff in a welterweight clash, while female featherweights Marloes Coenen (23-7) and Talita Nogueira (6-0) round out the live and free action on SPIKE.
Tickets for "Bellator 163: McGeary vs. Davis" are on sale now at Bellator.com, as well as the Mohegan Sun Box Office and Ticketmaster. The event can be seen live and free on SPIKE at 9 p.m. ET/8 p.m. CT, while preliminary action will stream on Bellator.com and the Bellator Mobile App.
When looking up the word "prospect" in the dictionary, there should be a photo of Ed Ruth placed next to the definition. The three-time national champion joined a plethora of blue-chip amateur wrestling prospects on the Bellator MMA roster last year and now will make his long-awaited debut at 185-pounds on Nov. 4. An attendee of the world-renown Blair Academy in Susquehanna Township, PA, where he was the top-ranked recruit in the nation for his weight class, Ruth elected to stay local and attend wrestling powerhouse Penn State University where he went on to add three National Championships and four All-American accolades to his trophy room while wrestling with the Nittany Lions. Now, Ruth's chase for mixed martial arts gold begins –
Fighting out of Pennsylvania, Mark Mangiardi will have his hands full when he makes his professional debut against Ruth. With four amateur bouts already under his belt, the 28-year-old has tasted competition on the MMA scene unlike his Nov. 4 opponent. With his first sanctioned bout taking place in 2012, this will be the first bout outside of his home state of Pennsylvania.
Another one of Scott Coker's high profile wrestling signings, Fortune attended high school at Lakeridge in Oregon, where he won state championships in nearly every national age-group in both freestyle and Greco-Roman wrestling. The accolades didn't stop there, with Fortune accepting an offer to wrestle at Ohio State University, before ultimately settling in at the highly acclaimed Grand Canyon Universities program. Since graduating college, Fortune represented Team USA in Olympic style wrestling, where he also experienced success. Splitting time between wrestling training in Arizona alongside fellow "Bellator 163" competitor Ed Ruth and mixed martial arts training with the Blackzilians in Florida, Fortune has spent a great deal of time honing his striking talents and submission defense.
Miskell has competed in both heavyweight and super heavyweight contests during his seven-fight amateur stint, accruing a record of 5-2. Now, the Kentucky native – who's finished each of victories – looks to parlay his success into a run under the bright lights of Bellator MMA's heavyweight division. It's safe to say that Miskell's wrestling pedigree will be challenged early and often when he meets Fortune during the Bellator.com-streamed prelims.
The Gracie name is synonymous with the sport of mixed martial arts, and once again another Gracie will now take center stage for Bellator MMA. This time it is Royce Gracie's cousin Neiman, who will compete for the third time under the promotion's banner. After beginning his career with back-to-back submission victories, Gracie made his Bellator MMA debut at "Bellator 134," where he defeated Bobby Flynn with a first round submission. The Brazilian Jiu-Jitsu Black Belt followed up the win with a win over Roger Carroll, and now looks to remain undefeated when he enters the Mohegan Sun Arena for the second time of his budding MMA career.
A 37-year-old Missouri native, Bears began his combat sports training in high school. Fighting professionally since 2007, Bears has appeared eight times previously under the Bellator MMA banner and now returns to the promotion after his appearance against Michael Page at "Bellator 140: Koreshkov vs. Lima." Nicknamed "Bad News," Bears has competed against MMA notables the likes of Zak Cummings, Paul Daley, Jason High, Ryan Jensen, Isaac Vallie-Flagg and Tyron Woodley, and the aforementioned "MVP."
Complete "Bellator 163: McGeary vs. Davis" Main Card:
Light Heavyweight World Title Bout: Liam McGeary (11-0) vs. Phil Davis (16-3)
Welterweight Co-Main Event: Saad Awad (19-8) vs. Brennan Ward (13-4)
Welterweight Feature Bout: Paul Daley (38-14-2) vs. Derek Anderson (14-2)
Heavyweight Feature Bout: Sergei Kharitonov (23-5) vs. Javy Ayala (9-5)
Featherweight Preliminary Bout: Marloes Coenen (23-7) vs. Talita Nogueira (6-0)
Complete Preliminary Card:
Middleweight Preliminary Bout: Ed Ruth (Debut) vs. Mark Mangiardi (Debut)
Heavyweight Preliminary Bout: Tyrell Forune (Debut) vs. Cody Miskell (Debut)
Catchweight Preliminary Bout: Neiman Gracie (4-0) vs. Rudy Bears (16-14)
Heavyweight Preliminary Bout: Josh Diekmann (15-7, 1 NC) vs. Tyler King (11-4)
Featherweight Preliminary Bout: Blair Tugman (8-6) vs. Walter Smith-Cotito (4-4, 1 NC)
Middleweight Preliminary Bout: Michael Zichelle (8-4) vs. Tim Caron (5-0)
Welterweight Preliminary Bout: Ilya Kotau (1-1) vs. Carlos Corriea (1-0)
Flyweight Preliminary Bout: Sarah Payant (1-3) vs. Hannah Regina (Debut)
Welterweight Preliminary Bout: Keenan Raymond (3-3) vs. Kastroit Xhema (Debut)
Featherweight Preliminary Bout: Thomas English (6-6) vs. Christopher Foster (9-4)
Welterweight Preliminary Bout: James Boran (6-0) vs. Vinicius De Jesus (4-1)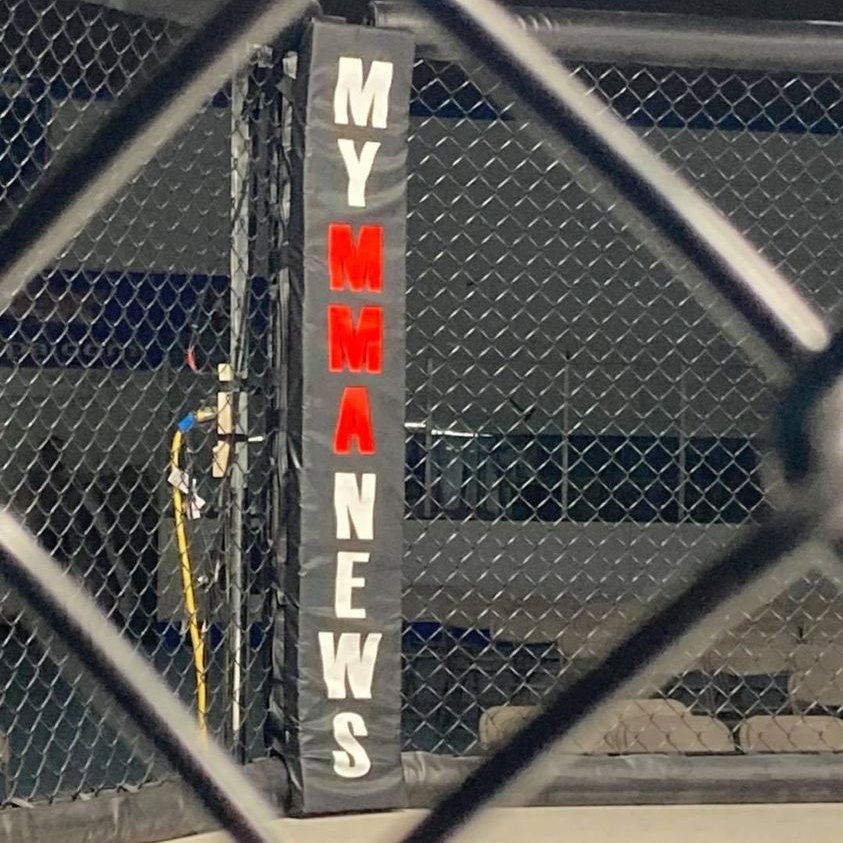 MyMMANews.com – We cover everything from MMA, BJJ, Bare Knuckle, Wrestling, Boxing, Kickboxing, and Judo
News, Opinions, Videos, Radio Shows, Photos and more.