Felice Herrig's creepy fanmail of the day – You have to see this
Felice Herrig's creepy fanmail of the day – You have to see this
Felice Herrig receives a lot of fan mail, A LOT.  But that's what happens when you are a star.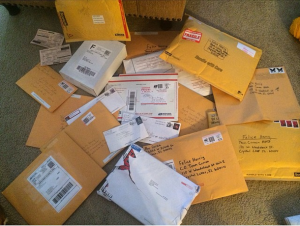 Not one to shy away from her fans, Lil' Bulldog, who was a star on TUF 20 will publish the mailing address where fans can send pre-paid and self-addressed stamped envelopes with items to be signed.
She receives all sorts of weird requests, sometimes even sexual in nature to which either she or her manager will carefully dismiss.  Remember fans, be respectful and fighters will treat you with respect in return.
Today however Herrig may have received the creepiest letter of them all.
"#creepymessageoftheday via fan mail … No David I will not put money on this pre-paid credit card for you to travel and see me and pay your cell phone bill"
Seems the fan asked Felice to pretend to be his daughter as well.
Follow MyMMANews.com on Social Media
The following two tabs change content below.
Founder of MyMMANews.com - After writing for Ultimate MMA magazine and serving as the editor for U.S. Combat Sports, both of which went on hiatus, I decided to venture out on my own and enlist a staff of writers and photographers that could help me achieve my goal of telling stories that would otherwise go untold. We pride ourselves in taking a deeper look into the fighter, and understanding what makes them tick. - #1 Dad, Marine Corps Veteran, 80's and 90's Pro Wrestling Fan, MMA Commentator, Beer Lover, and avid movie watcher. Seriously..... I watch a lot of movies.
Latest posts by Eric Kowal (see all)