First UFC Gym in Silicon Valley to host grand opening Saturday
FIRST UFC GYM IN SILICON VALLEY TO HOST GRAND OPENING CELEBRATION IN SUNNYVALE SATURDAY, JANUARY 31
UFC® Stars Urijah Faber, Chad Mendes, Travis Browne and Josh Thomson to Make Special Guest Appearances
San Francisco, CA – UFC GYM®, known for its unique TRAIN DIFFERENT® approach that combines the world of mixed martial arts (MMA) and fitness, will celebrate the grand opening of its newest gym in Sunnyvale, CA on Saturday, January 31, beginning at 9:30 am PT.UFC GYM Sunnyvale, located at 733 S. Wolfe Rd., Sunnyvale, CA 94086 (corner of S. Wolfe & Old San Francisco Rd.), is the first UFC GYM in Silicon Valley. Open 24 hours, Sunnyvale joins more than 100 UFC GYM clubs and 100,000 members worldwide.
The 30,000 square-foot facility features a 30 foot Octagon, Brazilian Jiu-Jitsu studio, bag room, top-of-the-line strength training and cardio machines, battling ropes, agility ladders and other functional training equipment for dynamic workouts. The gym's explosive workout environment uses cutting-edge training techniques inspired by UFC athletes and provides members with everything needed for the entire family to sweat, move, live and TRAIN DIFFERENT.
UFC superstars Urijah Faber, Chad Mendes, Travis Browne and Josh Thomson will be in attendance for the grand opening celebration. UFC GYM executives, Sunnyvale Chamber of Commerce representatives and Sunnyvale Mayor Jim Griffith will take part in the ceremonial ribbon cutting at 9:30 am.
"As the first UFC GYM in Silicon Valley, the Sunnyvale location is truly an incredible facility and we are thrilled to showcase all the features and amenities to the local Sunnyvale community," said Adam Sedlack, President UFC GYM. "Our Grand Opening celebration will give the entire community a chance to experience what makes our gyms different. Tens of thousands of members have gone through transformations, learned powerful techniques and re-defined how fitness and training should be experienced."
Throughout the day, UFC GYM will host a variety of activities. UFC fighters will sign autographs inside the Octagon® and participate in Q&A sessions with fans. Additionally, fitness demonstrations will take place, including UFC FIT®, Muay Thai, kickboxing and Daily Ultimate Training® (DUT). There will also be giveaways for fans including UFC GYM prize packages and UFC tickets for an upcoming event.
The full schedule for the grand opening is available below. Activities are free and open to the community.
GRAND OPENING FULL SCHEDULE
(All times PT and subject to change)
9:30 am GRAND OPENING officially begins with music, food and festivities, including UFC GYM fitness demonstrations and complimentary tours
9:30 – 10:00 am CEREMONIAL RIBBON CUTTING featuring Sunnyvale Mayor Jim Griffith, UFC GYM executives and Sunnyvale Chamber of Commerce representatives.
10:30 am – Noon BJJ SEMINAR hosted by Mauricio Mariano
10:45 am -12:15 pm AUTOGRAPH SESSION with Urijah Faber and Josh Thomson
11:00 am – 1:00 pm 99.7 NOW RADIO LIVE REMOTE with Strawberry
12:30 -1:30 pm UFC GYM CLASS DEMONSTRATIONS (Octagon)
1:00 – 2:30 pm STRIKING CLINIC hosted by Krzysztof Soszynski
1:45 -3:15 pm AUTOGRAPH SESSION with Travis Browne and Chad Mendes
3:30 – 5:00 pm RAFFLE
UFC GYM membership includes unlimited access to UFC Gym's signature classes such as Daily Ultimate Training (DUT), Muay Thai, women's self-defense and Brazilian Jiu-Jitsu to name a few. Group Fitness classes including Zumba, Power Yoga, Hot Hula, Cycle Circuit, UFC FIT and more are included.
A team of elite Personal Coaches helps members achieve indisputable results through individual and group training. The new location features a UFC GYM retail store and UFC GYM Kids' private training area offering specialized youth fitness classes and mixed martial arts.
UFC GYM Sunnyvale joins the nine UFC GYM signature clubs located in Concord, Rosemead, Corona, South Corona and Torrance, CA; Long Island, NY; Honolulu and Waikele, HI and Sydney, Australia. UFC GYM offers the unique opportunity to own and operate a UFC GYM franchise domestically and internationally. For franchise information, visit www.ufcgym.com/franchising.
For more information about UFC GYM Sunnyvale, visit www.ufcgym.com/sunnyvale. Like us at www.facebook/ufcgymsunnyvale or follow us at https://twitter.com/UFCGymSunnyvale.
# # #
About UFC GYM®
UFC GYM® is the first major brand extension of the Ultimate Fighting Championship®, the world leader in the sport of mixed martial arts (MMA). In alliance with New Evolution Ventures™ (NeV), developers of many of the world's most successful fitness brands, the UFC GYM brand gives UFC enthusiasts and fitness seekers of all ages the opportunity to practice the training techniques of famed UFC athletes. Offering a full-range of group fitness classes, private MMA training, personal and group dynamic training, plus MMA style youth programming, UFC GYM creates something for all ages and fitness levels. As the first to combine the world of mixed martial arts and fitness, UFC GYM's TRAIN DIFFERENT® approach has developed an atmosphere where members can see immediate results. UFC GYM is the ultimate fitness experience. The brand is not what you expect, and more than you can imagine, aiming to continue revolutionizing the fitness industry. For more information, please visit www.ufcgym.com. Like us at www.facebook.com/ufcgym or follow us at www.twitter.com/ufcgym or www.instagram.com/ufcgym.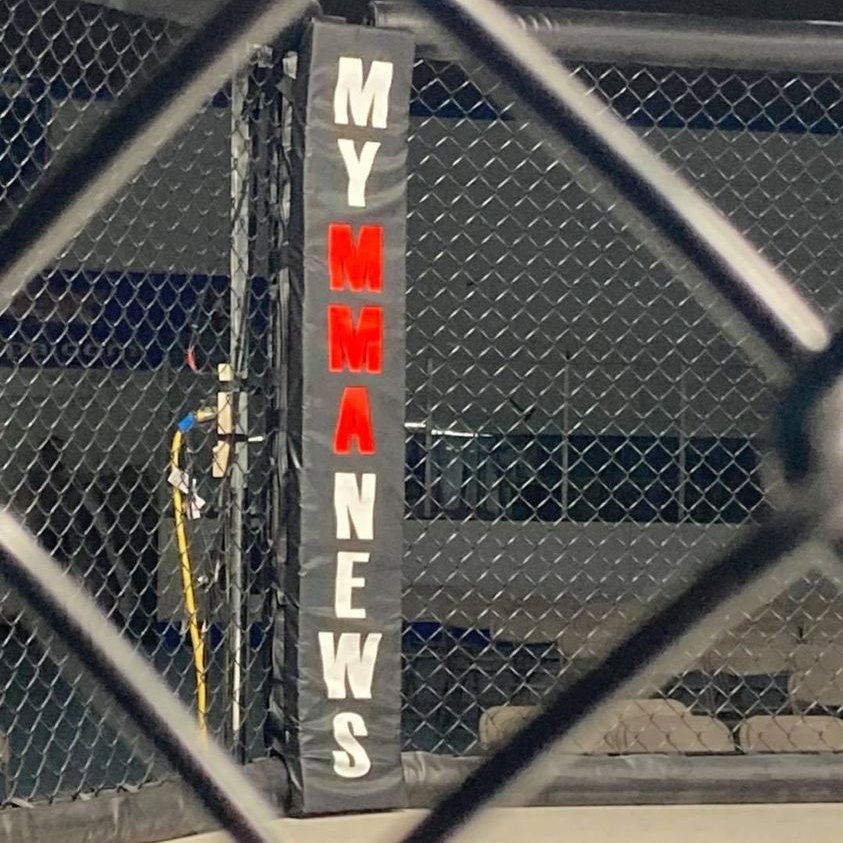 MyMMANews.com – We cover everything from MMA, BJJ, Bare Knuckle, Wrestling, Boxing, Kickboxing, and Judo
News, Opinions, Videos, Radio Shows, Photos and more.