I know what you are thinking…. Why is a mixed martial arts news site featuring a story about a restaurant?  Well…. Truth be told, just like you, we eat food too.  Lots of it.
Long story short, Garlic Restaurant and Bar is owned by Michael Tepedino, a long-time friend of MyMMANews before MyMMANews was MyMMANews.  Lost yet?
Food Fight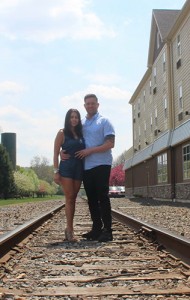 I met Tepedino roughly a decade ago while watching a UFC pay-per-view.  Watching the fights together became routine and while I was writing for U.S. Combat Sports, together we covered the only mixed martial arts event to be held at Six Flags Great Adventure in Jackson, New Jersey.  The event was Steve Rivera's Elite Wrestling – MMA Mayhem.  Former UFC lightweight champion Frankie Edgar, Kimbo Slice, and Matt Serra were there.  The card was headlined by Ultimate Fighter contestants, Dante Rivera and Dan Cramer.
Tepedino would start in the restaurant business through the role of a bouncer; the guy who would toss you out on your rear end if you started any shenanigans.  Years later, he worked his way up the proverbial corporate ladder to the owner of several highly frequented and reputable restaurants in the Poconos.

Trackside Station Grill & Bar is one of his staple restaurants.  Located on Crystal Street in East Stroudsburg, Trackside is the perfect stop to enjoy a lite bite to eat, a hearty meal, or simply a cocktail with friends. With an exceptional menu boasting classic pub fare and new takes on traditional favorites, Trackside prides itself on creating exceptional dining experiences in a lively and fun-filled atmosphere.  They also have more than a dozen flat screen TVs on which you can watch every major free UFC event.
Tepedino also occasionally brings in mixed martial artists for event signings and meet and greets.  Fighters such as Jessica Eye, Claudia Gadelha, Matt Hamill, Ashlee Evans-Smith, and others.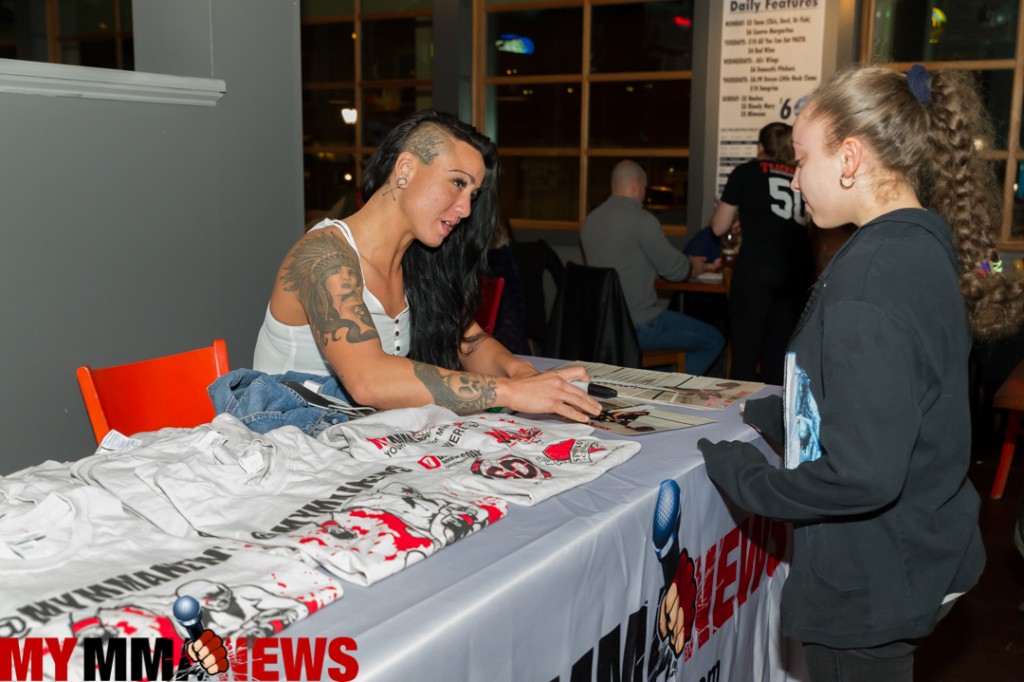 Garlic Restaurant
So, back to the reason we are here. I recently visited Garlic for an evening of fine dining with my wife and the experience left a good taste in my mouth, in more ways than one.
Let's start the ambiance.  As soon as we walked in we were immediately greeted and seated by the host and restaurant owner himself, Tepedino.
Professional Staff
We would learn throughout our experience that Sunday night that our waiter, Kyle, was arguably one of the best waiters we have ever had at any dining experience.  Not only was he extremely professional but you could tell by his demeanor, tone, and overall presence that he had company history, meaning he had been employed there for quite some time.  As time passed it became more and more evident that he thoroughly enjoyed coming to work and improving the dining experiences for Garlic patrons.
Giving Back to the Community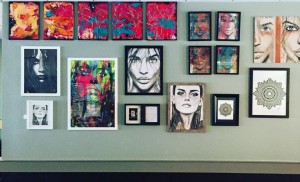 Then there was the décor.  The entire restaurant was filled with eye-catching paintings, portraits, drawings, sculptures and other intriguing pieces of artwork.  Kyle then explained that Tepedino had invited local artists to submit pieces to be hung.  Either item is numbered and can be purchased by Garlic diners.
Upon hearing this I said to myself, "Wow, that is pretty generous of Mike to do that."  Then, that immediately sparked a reminder to something I had seen earlier in the day that I wanted to ask him about.  I was perusing the Garlic Facebook page earlier in the day and stumbled upon the reviews.  Nearly every comment made was an honestly genuine compliment about the taste, presentation, and atmosphere that diners had enjoyed at Garlic.  But one comment truly stood out.
A woman had posted that she was purchasing groceries at the local Shoprite when a man she did not know paid for her order.  I had to find out more.  So, while at Garlic I asked Tepedino about this generous act.  He told me that he randomly paid for about $2,000 worth of groceries for random strangers in the community.
But enough about Michael Tepedino being a positive community leader, back to to the food.
Cocktails
In order to take in the full dining experience, we had to have a cocktail before the meal….. for research purposes. Garlic has 18 signature martinis on the menu.
I had the Bourbon Bear which consists of Knob Creek, Barenjager honey, pear nectar, pineapple and lemon.  My drink was mixed perfectly tableside by our waiter and went down smooth thanks to the honey.  The wife ordered a Grapefruit Basil which is a combination of grapefruit vodka, campari, basil, Barenjager honey, honey syrup, and grapefruit juice.
"It was light, refreshing, and really tasty," she said of the Grapefruit Basil.
You can also choose wine from the glass or bottle.
Share Plates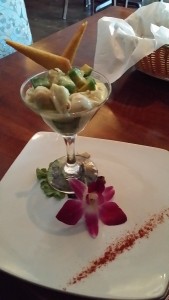 At Garlic, you can choose from one or more of 13 appetizers on the menu.  They are called "share plates" at Garlic because that is what people do, they share.  There is a little bit of everything.
We chose opposite spectrums, although I would have picked all 13.
The wife went with seafood while I went with a play on traditional pub food, although if we had to pick a favorite it would be impossible to do.  This is where I chose wisely and decided to pair what I was about to eat with one of the beers that Garlic has on tap.
She chose the Crab Avocado Martini which is jumbo lump crab meat and avocado in a sweet tequila cream garnished with golden brown pita points.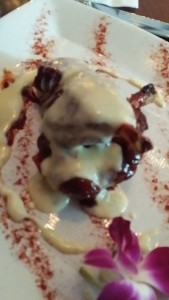 The crab was so delicate and the sauce so flavorful that you almost didn't want to eat it.  It was too perfect.
I chose the Hog Wild Wings.  Imagine wing sauce but on slow roasted petite pork shanks cooked so perfect they melt off the bone.
Drizzle bleu cheese and buffalo style wings sauce over the shanks and you have one of the most amazing starters you will ever taste.
Other share plates that might peak your interest:  Lobster Mac & Cheese, Fried Mozzarella Pinwheel, Tempura Shrimp, Bacon Wrapped Scallops, Chicken Wellington, Chicken Spring Rolls, Calamari Fritti, Baked Brie, Clams or Mussells, Calamari Fra Diavolo or 4 oz Grill Filet Mignon with Gorgonzola cream cheese, fresh arugula, spicy cherry pepper relish and toasted crostini bread.
Entrees
If you have room for more, there are 12 entrees on the menu from which you can choose.  I chose the most popular item on the menu, Seafood Garlic.
Seafood Garlic paired well with a glass of Pinot Grigio.  The meal consists of Jumbo Shrimp and Scallops cooked to perfection.  The two were paired with crab and tossed in a rich lemon butter cream sauce served over your choice of pasta.  I chose linguini.  This meal was to die for.
My better half chose the Eggplant Parmesan Stack which pairs perfectly with a Merlot.  The portion was so large that she did not finish and even I had to take a nibble….. also for research purposes.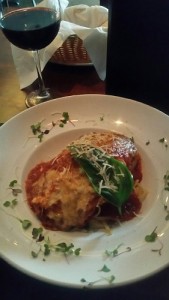 Other entree options that Garlic affords (besides daily specials not included on the menu):  Half Roast Chicken, Gourmet Burger, Fettuccini Alfredo, Cheese Ravioli, Chicken Parmesan, Penna a la Vodka, Lasagna, Stuffed Lobster Tail, Grilled Salmon, and Filet Mignon.
There are also Thin Crust Flat Breads from which a diner can choose.  There is the Chef's Signature Flat, the Margherita, and the Cajun Ranch Chicken Bacon Flat.   Mmmmmmmm!!!
Dessert
Once again, if for some reason you still have room in your belly, you didn't fully commit this pleasurable dining experience so you will have to come back and try it all over again.  However, if you do have room, Garlic has a pastry chef on staff and they bake all their desserts in house.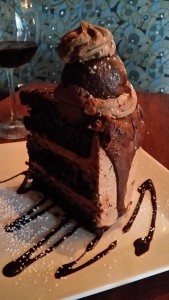 While everything that Kyle rattled off to us sounded extremely delightful we chose only one, expecting that it would be small enough for each of us to get a small taste.
Instead, when the 6-layer chocolate cake with chocolate ganache arrived at our table I thought there was a mistake. The slice itself appeared to be as large as a normal size cake.
We each took turns trying this soft chocolaty treat, but in the end we succumbed to the cake and we could eat no more.
After Dinner Cocktails and Sips
I am a firm believer in having an after dinner cocktail when you are experiencing fine dining.  So I chose a mix of Dewars and Amaretto, otherwise known as "Godfather."
There are eight other unique in-house cocktails to choose from, as well as a laundry list of Kentucky Bourbons, Single Malt Scotch, Cognac, Port and Cordial Wines and Spirits.
Garlic is located at 907 Main Street, Suite 101, Stroudsburg, PA

Visit them on the web at garlicrestaurantbar.com or call 570-476-6555.

Hours of operation:  Monday-Saturday:  4:30 p.m. – close, and Sundays: 4pm – close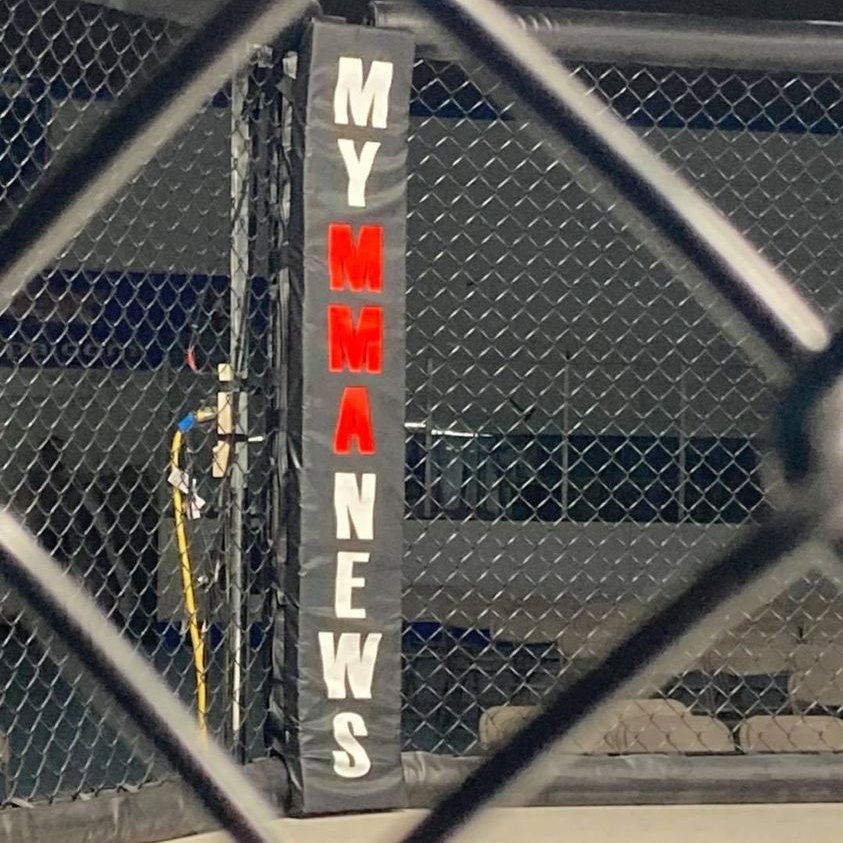 MyMMANews.com – We cover everything from MMA, BJJ, Bare Knuckle, Wrestling, Boxing, Kickboxing, and Judo
News, Opinions, Videos, Radio Shows, Photos and more.