Carroll's Corner MMA Podcast Ep13: Sam "The Marine" Hoenig of ATT Whitestone Joined us Live
On Tuesday night, Sam "The Marine" Hoenig joined us on Carroll's Corner MMA Podcast episode 12. Hoenig is an amateur fighter with a 2-0 record headed into his third bout on April 2nd, at New York Fight Exchange event in Jamaica, Queens.
"The Marine" seeks his third amateur victory on April 2, against Mason DiGiacopo. The two fighters will battle at the 145-pound (featherweight) weight class.
During the interview we talked to Hoenig about his background in combat sports, training, and dieting, why he fights, and how he got into MMA. Hoenig travels everyday from Huntington to the gym in Whitestone, to work in Carle Place and back to the gym.
The 30 year-old translated the discipline he learned in the Marines to his everyday life and training. Hoenig discusses his friends that lost their lives while serving with him in the military. He mentions how every time he enters the cage, he's fighting for more than just himself.
His coach, Jay Issac Bruce also hopes on the line for a couple minutes to tell us what makes Hoenig a great student. Tune in below to listen to the show. Be sure to get tickets by going to visit NYFE for Hoenig's fight on April 2nd, 2016, in Jamaica, Queens, NY.
http://www.bootsonthegroundny.com/
http://www.woundedwarriorproject.org/
National Veterans Foundation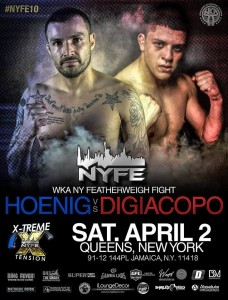 Kyle Carroll is a Long Island, N.Y. native and avid MMA and amateur wrestling fan. He has been a part of the wrestling community for nearly 20 years. Carroll has six years of experience coaching high school wrestling. His father coached high school wrestling over 35 years, passing on his strong knowledge. Carroll has been reporting MMA news since January 2011. The former wrestler's coverage includes the 2012 U.S. Olympic Wrestling Team Trials, 2013 & 2016 NCAA D1 Wrestling Championship, and numerous MMA events (Bellator MMA, King of the Cage, North American Fighting Championship, and Glory).