Garry Tonon vs Rousimar Palhares set for Polaris Professional Jiu Jitsu Invitational 3
Two of the world's most dangerous grapplers will meet face-to-face April 2 in the United Kingdom.  Former World Series of Fighting and UFC star, Rousimar Palhares will face Garry Tonon at Polaris Professional Jiu Jitsu Invitational 3.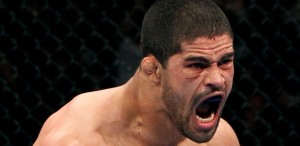 Palhares has been the subject of several controversial submission finishes in both the UFC and WSOF, even being stripped of his WSOF belt after failing to release a submission hold in a title defense against Jake Shields.  15 of his 18 MMA victories coming via submission, nine of them via heel hook, one of the scariest submission holds a fighter can apply because of the amount of damage that can be done to an opponents leg in a matter of seconds.
What makes this contest even more intriguing is that Tonon, also known as "the Lion Killer" is no stranger to leg lock submissions.  Tonon is a BJJ black belt under Tom DeBlass and Ricardo Almeida, winning titles at the IBJJF World and Pan American Championships.

Polaris 3 takes place April 2 at Poole's Centre For The Arts in Dorset, U.K. For more information or tickets visit polaris-pro.org.
THE RULES
Illegal Methods / Movements
Eye gouging or fish hooking
Grabbing fingers, ears, hair, toes, or other extremity
No posting on faces / one-handed windpipe grip
Slamming above 50cm (high amplitude throws / takedowns will not be penalised)
Legal Techniques
Chokes (except using fingers to crush windpipe)
Joint locks involving shoulder, elbow, wrist, knee, ankle
Illegal in gi: Spine / neck locks, heel hooks
General Rules
Winner is signified via tapout, verbal submission (voluntary or involuntary), or being unable to continue the bout due to injury
15 minutes time limit
No points will be scored during the bout
If there is no submission the bout is declared a draw
In no-gi bouts the athletes must not grip any clothing
Referee will be on stage to officiate the bout, ensure rules are followed and advise fighters when they get too near the edge of the mat, in which case they will be paused and returned to the centre of the mat in the same position. If no agreement on positioning can be made the athletes will be stood up at the centre of the ring
Overall a high standard of sportsmanship is required before, during and after the fights.