Invicta FC 21 Results: Megan Anderson vs. Charmaine Tweet
Invicta FC 21 Results:  Megan Anderson vs. Charmaine Tweet
Invicta FC returned to the Scottish Rite Temple in Kansas City for Invicta FC 21, headlined by 26-year-old featherweight contender Megan Anderson (7-2) squaring off against veteran Charmaine "Not So Sweet" Tweet (9-5) for the interim Invicta FC featherweight championship.
A massive ice-storm that swept Kansas City and the region did not keep fight fans from coming out.  More than 40 million Americans were affected by the storm, but the fights went on.
The seven-fight card streamed live and exclusively via UFC Fight Pass at 8 p.m. ET / 7 p.m. CT.
#AndNew
Megan Anderson opens up the fight with two short jabs to the face of Charmaine Tweet, followed by a head kick that connected.  Megan continued to be relentless with the attack but got caught in the process which resulted in a bloody nose.  Megan did not like that and began to light Charmaine up like a Christmas tree with her punches.  Charmaine now bloody herself.  The ladies are continuing to trade leather.  Anderson gets a takedown to finish the first round.
Anderson presses forward to start second round.  Each lands an elbow across their opponent's face.  Anderson pouring it on Tweet who is a bloody mess.  Anderson finishes the fight with a head kick that forced Tweet to turn her back and then Anderson followed up with a punch and the contest ended via TKO.  Anderson is the new Invicta FC interim featherweight champion.
Raquel Pa'aluhi submits Pannie Kianzad
Raquel Pa'aluhi caught a kick thrown by Pannie Kianzad, tripped her, and took her down to the canvas shortly after the one minute mark in round number one.  From there is was all Pa'aluhi.  She took back control, sunk her hooks in, then a body triangle, back to hooks, and sunk in a rear-naked choke forcing Kianzad to tap in the first round.
Knockout of the Night – Aspen Ladd KO's Elizabeth Phillips
Invicta FC newcomer and Wisconsin Air National Guard member Leah Letson found her way on to this card just three days ago going up against UFC Veteran Elizabeth Phillips and WOW….. what a performance.
Letson knocked Phillips out with a head kick followed by punches before the referee called an end to the contest just after a minute into the first round.  Letson said that she would like to move down to bantamweight following this win so she can get in a full camp.
Aspen Ladd Remains Undefeated
These ladies exchanged shots back and forth the better part of the first round before it went to the ground where Ladd worked for a submission.  Eubanks slammed Ladd down somewhat reminiscent of of a Rampage slam while Ladd held onto a choke, but the round would end shortly thereafter.  In round two the two women stood and banged it out nearly the entire round much to the delight of the crowd who cheered them on.  In the final five seconds of the second round Eubanks landed a head kick and Ladd retaliated with strikes of her own.  After the bell sounded the combatants took a second to stare each other down before walking to their corners.
Eubanks made an attempt to get the judges' nod in the third round working a bit more in a dominant position on the ground than in previous rounds but it was not enough to hand Ladd her first loss.  Aspen Ladd remains undefeated with a unanimous decision win.
KGB is Back
Andrea 'KGB' Lee made extremely quick work of her opponent Jenny Liou defeating her via TKO at 1:14.  Liou didn't even have a chance.  It looked as if she didn't even want to be in the cage with KGB.  Will be interesting to see who Lee is paired up against next.
OUTstanding performance – Haga chokes out Montenegro, but did it matter?
Celine Haga had Amy Montenegro in trouble from the very first moment the ladies went to the canvas.  Haga fought for position and submission control through the entire round, from a rear-naked choke, to head and arm, into armbar.  The round ended with a submission attempt in process and for a moment it was unclear if Montenegro had tapped or not.
The tide changed at the start of the third round as Montenegro now has the dominant position on the ground and is working in punches as she stretches her opponent out.  Throughout the round Montenegro worked in chokes and when she wasn't choking she was bashing the face of Haga.  Round two goes to Montenegro. The third and final round will decide the fight.
WOW!!! What a fight.  Amy Montenegro seemed to be in full control of this fight and en route to a unanimous decision win all of a sudden Haga applied a choke from an extremely difficult position and almost immediately Montenegro went to sleep.  To everyone in attendance it sounded as if the bell came after she was asleep, but the referee said the bell came first.  It appeared as if Haga would be declared the victor however the fight went to Montenegro as a result of a decision.  The crowd at the Scottish Rite Temple let the official know their feelings on the call with a sea of boos.  The boos then turned to cheers as Montenegro was gracious in her post-fight win speech.
Ferea Has Fight
The first fight of the night was Rachel Ostovich going up against Invicta Fighting Championships newcomer Christina Ferea.  The two ladies felt each other out with a series of short jabs and leg kicks before Ostovich went in for a takedown.  Both went down to the mat, but Ferea was first to her feet.  Once both were vertical again Ostovich continued to attempt several more takedowns but was unsuccessful with both.
In the second round Ostovich scored a huge takedown and took back control sinking both hooks in before relentlessly working for punches to her opponent's head and face.  Ostovich eventually worked in a rear-naked choke and Ferea shouted to her corner asking for the time.  When the announcement of 1:26 came from her corner, she continued to hang and work out of the choke where the round ended.
What an impressive third round for Ferea who started off with a massive right hand that backed Ostovich up into the back pedaling process.  Ferea then followed up with a big head kick and more punches that resulted in Ostovich attempting a shoot for a takedown but Ferea just followed up with a flurry of punches and knees to the body before Ostovich laid flat on her back.  Ferea swarmed in and the referee called a halt to the contest at 1:29 of round three.
INVICTA FC 21 RESULTS:
Interim Featherweight Title: Megan Anderson defeated Charmaine Tweet via TKO – Round 2, 2:05
Bantamweight: Raquel Pa'aluhi defeated  Pannie Kianzad via submission (rear-naked choke) – Round 1, 3:40
Featherweight: Leah Letson defeated Elizabeth Phillips via KO – Round 1, 1:18
Bantamweight: Aspen Ladd defeated Sijara Eubanks via unanimous decision (30-27, 30-27, 29-28)
Flyweight: Andrea Lee defeated Jenny Liou via TKO – Round 1, 1:14
Strawweight: Amy Montenegro defeated Celine Haga via unanimous decision (29-28, 29-28, 29-28)
Flyweight: Christina Ferea defeated Racael Ostovich via TKO – Round 3, 1:29
Invicta FC 21 was originally scheduled as an eight-fight card, but a 120 pound catchweight bout between Jodie Esquibel and Kali Robbins was canceled after Esquibel weighed in at 118.8 pounds and Robbins missed weight at 126.4 pounds. Esquibel will receive her show money.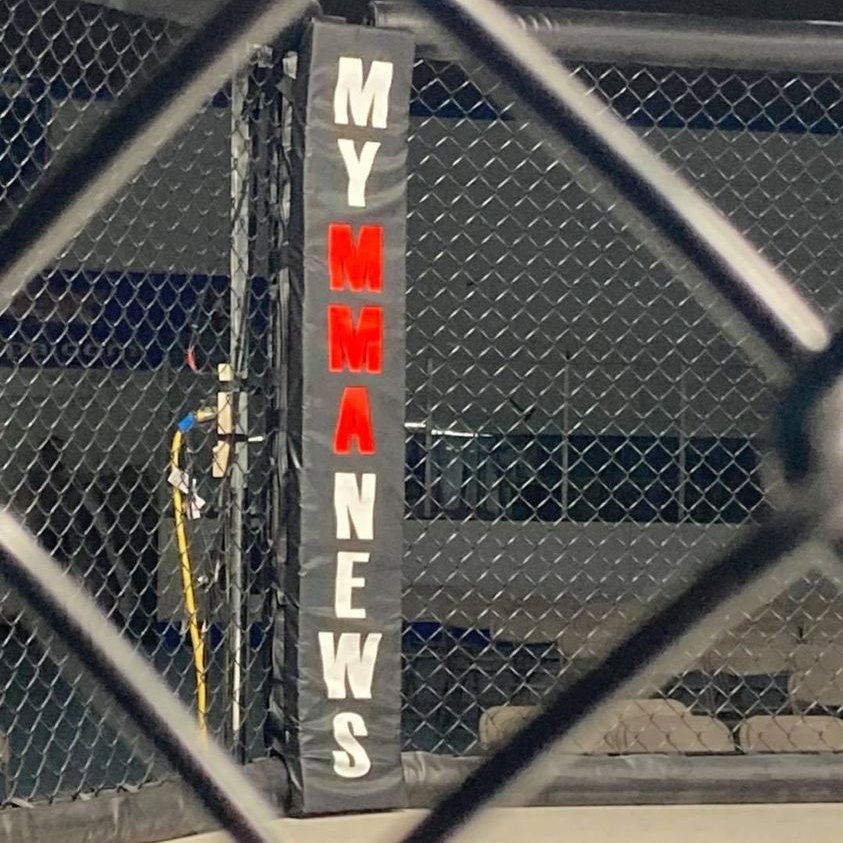 MyMMANews.com – We cover everything from MMA, BJJ, Bare Knuckle, Wrestling, Boxing, Kickboxing, and Judo
News, Opinions, Videos, Radio Shows, Photos and more.