As mixed martial arts continue to grow on Long Island, the amateur scene has been doing quite well. In Queens, Aggressive Combat Championships continues to raise the bar for amateur promotions in New York. On Long Island, MMA Platinum Gloves continues to deliver excellent events with exciting bouts. Both promotions are sanctioned events under the U.S.M.T.A. -Muay Boron league.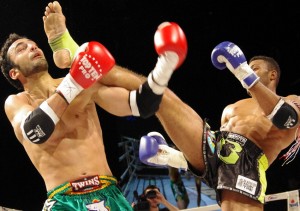 At MMA Platinum Gloves 12, American Top Team – Whitestone fighter, Codie Payne delivered a great deal of pain to his opponent. Payne fought up in weight during a catchweight bout. After concentrating on Muay Thai, Payne has now turned his focus towards MMA. The extremely athletic fighter fought in his first MMA bout in over a year, due to opponents backing out.
If you've ever seen the movie 'Fury' with Brad Pitt, you'll notice some similarities between Payne and the film. In the movie,Pitt, a battled-hardened Army Sergeant named "Wardaddy" commands a Sherman tank. Across the barrel of the cannon in white paint reads 'FURY'.  This tank unleashed fury on the Nazi soldiers. This tank moved well, dancing around enemies. It jabbed the opposition by peppering them with high volume of shots. It packed a damaging blow as it released haymakers out of its canon, and was controlled by an individual with an extremely high battle IQ that brought fury on its enemies delivering a great deal of pain.
When Payne enters the cage he wastes little time getting to work. In his bout against Roan Allen, at Mpg 12, the ATT fighter blasted Allen with devastating leg kicks. To close out the round, the lightweight caught his foe with a head kick dropping Allen to the canvas. After being saved by the horn, Payne didn't allow for that to happen for a second time, as he swarmed his opponent on the ground, finishing him in the second round Payne earned the victory in Round 2 at :10 with a TKO finish, improving his record to 1-1.
Payne trains out of American Top Team – Whitestone, which has become an emerging gym in the New York area for amateur fighters. Fighters at the gym include Nathaniel King, whom just won his pro debut over the weeknd in kickboxing, with a first round TKO and female fighter Paige Lian, whom is tearing up the amateur circuit as well. Amateur fighters should be standing-in-line to fight a person with Payne's skill set, because once they go pro, they won't want to face his level of talent inside the cage.
The lightweight fighter has an arsenal of weapons available for his offense, and is comfortable where the geography of the bout takes him. Since having a strong wrestling background, that many are unknown of, Payne sprawls very well, keeping the fight standing, this is where he finds himself at home.
Payne plans to leap back into the cage on January 16, 2016, at the New York Fight Exchange promotion. His opponent is still unknown and may change several times before they find a lion with courage to enter the battle zone. Be sure to keep an eye out for him as he is a rising star that will keep all fans smiling and craving more of him.
Follow Payne on Instagram @Kayocodie and you can find him on Facebook here https://www.facebook.com/codie.payne.
Be sure to follow My MMA News on Social Media @mymmanews for future updates and news about "Kayo" Codie Payne.