AXS TV FIGHTS: Legacy 53 | 9/8c
You're up Atlanta!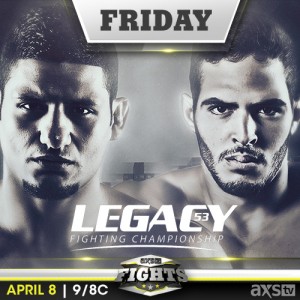 Judges typically have it easy during Legacy Fighting Championship events, will that be the case again tonight? Legacy returns to Atlanta tonight with fight card full of prospects including former "TUF" Finalist Dhiego Lima (10-4) and 6'5″ welterweight Antonio Trocoli (9-1). Expect these two to slug it out in the night's main event!
Legacy 53 also features "The A-Town Ogre" Dave Vitkay (16-12-1) versus Cody Wilson ( 9-1) in the co-main event. Both men are riding lengthy win streaks, who's will come to an end? Legacy's return to Atlanta also includes C.J. Hamilton (7-4), Amir Dadovic (2-2), and Chazz Walton (3-0)
The Main Card on AXS TV begins at 9/8c featuring commentators Michael Schiavello & UFC Hall of Famer Pat Miletich
Main Card Match-ups and Weigh-in Results for Legacy 53 are Below:
Middleweight: Adam DeHart 5-5 (187.6) vs. Amir Dadovic 2-2 (186.2)
Light Heavyweight: Zachary Klouse 4-2 (205.0) vs. Devorious Tubbs 2-0 (204.6)
Lightweight: Wesley Golden 4-5 (155.4) vs. Chazz Walton 3-0 (155.2)
Lightweight: Nathan Williams 1-0 (155.0) vs. Jonathan Cobb 1-0 (155.0)
Stay tuned after the fights for Rafael Dos Anjos, Demetrious Johnson, and BJ Penn on an All New Inside MMA!
Tweet along with the action using #Legacy53