Long Island MMA's Chris Wade Fights Mehdi Baghdad on FS1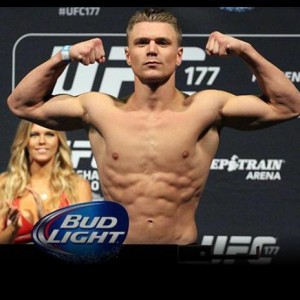 On Sunday evening, Chris Wade of Long Island MMA will be battling Mehdi Baghdad on Fox Sports 1 at the TD Garden in Boston, Massachusetts. Wade was originally scheduled to battle Mairbek Taisumov after he replaced injured Beneil Dariush. Baghdad will face Wade in his UFC debut on UFC Fight Night – DILLASHAW VS. CRUZ. The two fighters are scheduled to appear in the second bout on Fox Sports 1, with the prelims starting at 8 p.m. EST. The early prelims begin at 6 p.m. EST on UFC Fight Pass. The main card is set to start at 10 p.m. EST on Fox Sports 1.
Wade enters this bout with a 10-1 overall record and 3-0 in the UFC. The Long Island MMA fighter has avoided 100% of the takedowns attempted by his opponents, while being successful on 53% of his takedowns since entering the UFC. He has also landed 64% of his strikes and avoided 58% of the strikes thrown against him while inside the octagon.
The Islip, Long Island native's opponent, Mehdi Baghdad, debuts in his UFC bout with an 11-2 record. Standing at 6'1″ tall, with a 75″ reach, Baghdad has a five inch reach advantage and a three inch height advantage over the Long Island fighter. Baghdad hails from La Seyne-sur-mer, France,and is fighting out of Los Angeles, California, with Team Quest. Team Quest is most notable for their leader, Dan "Hendo" Henderson.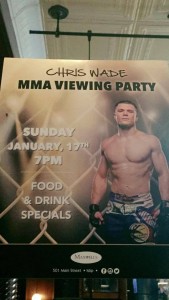 Wade is on a five fight win streak and his opponent, Baghdad is on a seven fight win streak. Both fighters were champions of their respective fight promotions before entering the UFC. Wade was the lightweight (155-pounds) Ring of Combat champion. Baghdad was the Resurrection Fighting Alliance (RFA) lightweight champion.
The New York resident has an extensive and successful career in wrestling. In high school, Wade was a two-time Section XI (Suffolk County) finalist, and a champion. In addition, He was a New York State high school champion. In college he was a JUCO National Finalist at 165 lbs, placed 5th at the D-III National Wrestling Championships at 174-pounds. He is also an Amateur Kickboxing Champion.
The French native is a world champion in Muay Thai, and a World Kickboxing Corporation (WKBC) champion. He was also on Team McGregor on TUF 22.
This should be an exciting match up between two lightweight fighters. On this UFC Fight Night 81 card, there is three additional lightweight bouts. Paul Felder vs. Daron Cruickshank on the UFC Fight Pass early prelims. Ross Pearson vs. F. Trinaldo on the main card, and the Former UFC lightweight champions Anthony Pettis fights for the first time since losing his belt against Eddie Alvarez in the co-main event.
Wade and Baghdad will deliver the fans in Boston a great show standing up as they exchange strikes. Since both have a strong background in kickboxing, expect Wade to use his superior grappling skills to take this fight to the ground, where he will find great success to end the evening early for the UFC newcomer.
There will be a viewing party for the fights in support of Chris Wade in his home town at Maxwell's in Islip. Food and drink specials will be going during the fights.
The main event of the evening will be a title bout between former UFC bantamweight champion Dominick Cruz and current UFC champion T.J. Dillashaw. Cruz lost his belt after suffering multiple knee injuries. Dillashaw defeated the Brazilian Renan Barão twice, whom remained undefeated for nearly ten years and was the UFC champion before losing to Dillashaw.
A quick view of the UFC FN 81 fight card is below, which includes a free title bout.
               UFC UFN 81
Fox Sports 1 – Main Card – 10 p.m. EST.
Fox Sports 1 – Prelims – 8 p.m. EST.
UFC Fight Pass -Early Prelims – 6 p.m. EST.
Here is a full fight video of Chris Wade while fighting in the Ring of Combat.
No Description
Kyle Carroll is a Long Island, N.Y. native and avid MMA and amateur wrestling fan. He has been a part of the wrestling community for nearly 20 years. Carroll has six years of experience coaching high school wrestling. His father coached high school wrestling over 35 years, passing on his strong knowledge. Carroll has been reporting MMA news since January 2011. The former wrestler's coverage includes the 2012 U.S. Olympic Wrestling Team Trials, 2013 & 2016 NCAA D1 Wrestling Championship, and numerous MMA events (Bellator MMA, King of the Cage, North American Fighting Championship, and Glory).