Mayhem Miller comes in 24-pounds over weight for title fight
Mayhem Miller comes in 24-pounds over weight for title fight
Tomorrow night from Italy, Jason Mayhem Miller was supposed to return to mixed martial arts action in the co-main event of Venator 3.
Miller was to challenge for the organization's middleweight title against former UFC fighter Luke Barnatt.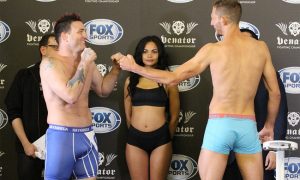 Instead Miller, who flew from California to Italy for the fight, came exceeding more than a light heavyweight would for a schedule bout.  The maximum weight Miller was to come in at was 185-pounds. Instead, he hit the 209-pound mark.  Light heavyweight caps out at 205-pounds.
Stefan Croitoru now takes Miller's place.  Croitoru's originally scheduled opponent, Mattia Schiavolin, is now without opponent and off the card.
In the video below you will see Mayhem step on the scale and act surprised that he is "slightly" overweight.  He then takes off his shorts hoping to shed 24-pounds in the process.