FANS ATTENDING 'BELLATOR 153: KORESHKOV VS. HENDERSON' WILL HAVE THE OPPORTUNITY TO MEET LEGENDARY BELLATOR MMA FIGHTERS ROYCE GRACIE & WANDERLEI SILVA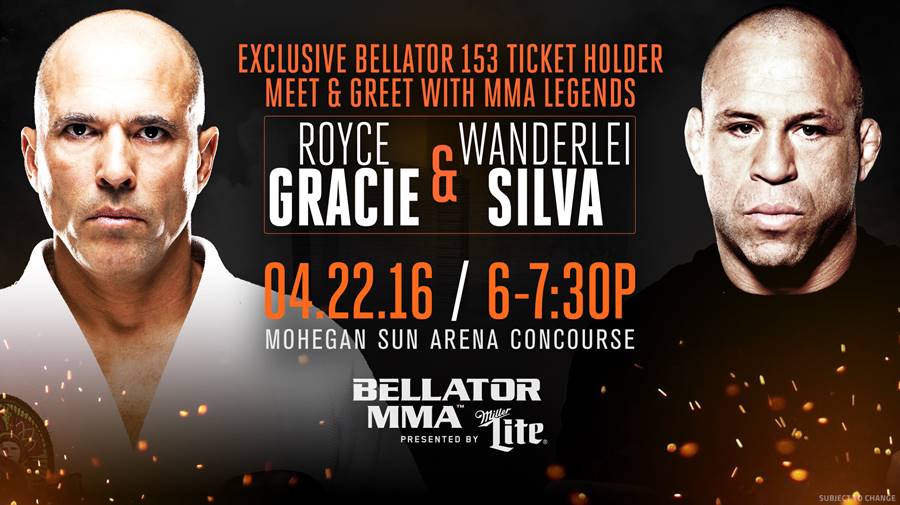 SANTA MONICA, CALIF. (March 30, 2016) – Fans attending "Bellator 153: Koreshkov vs. Henderson" on April 22 at Mohegan Sun Arena in Uncasville, Conn. will be able to meet two of the sport's most popular athletes: Royce Gracie and Wanderlei Silva. 
The two legendary Brazilian superstars will be participating in an exclusive meet and greet for ticketholders on the Mohegan Sun Arena concourse beginning at 6 p.m. ET.
The highly anticipated event features the debut of Benson "Smooth" Henderson (23-5), as he challenges welterweight champion Andrey Koreshkov (18-1) for his belt. Former featherweight titlist Patricio "Pitbull" Freire (24-3) meets John "Macapa" Teixeira (19-1-2) in the co-main event while other bouts on the card include Connecticut's own "Irish" Brennan Ward (13-3) and British striking sensationMichael Page (9-0) fighting Evangelista "Cyborg" Santos (20-16) and Jeremie Holloway (7-1) respectively in welterweight attractions.
Tickets for "Bellator 153: Koreshkov vs. Henderson" start at just $30 and are on sale now at Bellator.com, Ticketmaster.com and the Mohegan Sun Box Office. The event airs live and free on SPIKE at 8 p.m. ET/7 p.m. CT, while preliminary bouts will stream live on Bellator.com and The Bellator Mobile App. The broadcast will be immediately followed by the groundbreaking, inaugural "Bellator Kickboxing: Torino" event.
The name Gracie is synonymous with MMA, and that is largely in part to Royce Gracie, the man who is considered to have invented the sport as we know it today. The winner of the first several UFC events, Gracie would dismantle multiple opponents in a single night, many of whom were much larger than him. For many years there was no answer for the Gracie Jiu-Jitsu technique that he brought into a fight, today, it's hard to find an MMA fighter who hasn't trained in the art of jiu-jitsu. This past February, Gracie defeated Ken Shamrock in a record-shattering fight that was witnessed on Spike by over 3.5 million viewers.
Having first fought in the sport almost twenty years ago, very few men have a more legendary resume than Wanderlei Silva, who was recently signed to a Bellator MMA contract. "The Axe Murderer" is a Pride and UFC veteran, who brings an intimidating and imposing presence with him every time he steps into the cage. Silva hopes of adding to an already-impressive list of wins that include: Guy Mezger, Dan Henderson, Kazushi Sakuraba, Ricardo Arona, Kazuyuki Fujita, Michael Bisping, Cung Le, Brian Stann and Quinton "Rampage" Jackson (2x).
Complete "Bellator 153: Koreshkov vs. Henderson" Fight Card:
Bellator MMA Welterweight World Title Bout: Andrey Koreshkov (18-1) vs. Benson Henderson (23-5)
Bellator MMA Featherweight Co-Main Event: Patricio Freire (24-3) vs. John Teixeira (19-1-2)
Bellator MMA Welterweight Feature Bout: Brennan Ward (13-3) vs. Evangelista "Cyborg" Santos (20-16)
Bellator MMA Welterweight Feature Bout: Michael Page (9-0) vs. Jeremie Holloway (7-1)
Bellator MMA Lightweight Feature Bout: Brent Primus (6-0) vs. Gleristone "Toninho Furia" Santos (27-5)
Preliminary Card:
Bellator MMA Welterweight Preliminary Bout: Chris Honeycutt (6-1) vs. Matt Secor (7-2)
Bellator MMA Welterweight Preliminary Bout: Djamil Chan (11-2) vs. Richard Patishnock (6-3)
Bellator MMA Lightweight Preliminary Bout: Sam Watford (1-0) vs. Dean Hancock (2-0)
Bellator MMA Featherweight Preliminary Bout: Chris Foster (8-4) vs. Felipe Lavandoski (5-0)
Bellator MMA Lightweight Preliminary Bout: Jason Bakanowski (3-2) vs. T.J. Hepburn (4-2)
Bellator MMA Featherweight Preliminary Bout: Pete Rogers (2-3) vs. Mike Mangan (0-3)
Bellator MMA Light Heavyweight Preliminary Bout: Mike Zichelle (7-4) vs. Joe Cronin (19-16)
Bellator MMA Featherweight Preliminary Bout: Matt Bessette (17-7) vs. Keith Richardson (14-6)
Bellator MMA Middleweight Preliminary Bout: Tim Caron (3-0) vs. Justin Sumter (0-0)
Bellator MMA Bantamweight Preliminary Bout: Blair Tugman (7-6) vs. Jay Perrin (2-1)