MMA Gym Serves Veterans And Homeless
By QUINTON CHANDLER
KBBI.ORG
Six members of the LFS Kali Fight Team are warming up for their evening training at the Homer Gym. They're going through the motions of a typical "ground and pound" scenario often seen in Mixed Martial Arts bouts.
"Today is a ground fighting day. We're going to work on maneuvering while on the floor. Some jujitsu, some judo, some ground and pound so to speak," said Kurt Leffler.
Kurt Patrick Leffler is an army veteran currently serving in the Alaska Army National Guard.  He is co-owner of the Homer Gym and coach of its fight team.
Homer Gym is a martial arts school with a free weights gym. It's also the home of the Alaskan Warrior Class, a program trying to connect Homer vets with the rest of the community.
"We focus on service projects, mentoring and just something to do for veterans of this generation," said Leffler. "So [what] we're trying to do is bring the two communities together and play with each other so to speak. And just be more cognizant and aware of a lot of the issues here; such as veteran suicide, homelessness and the fact that we're in this community."
It can be hard for veterans in remote rural Alaskan communities like Homer to get help from the Department of Veterans Affairs, which is mostly based in Anchorage. The VA launched a stopgap measure, the Veteran's Choice Program, in 2014 to make services easier to get to. But, many Alaskans are frustrated and feel the program hasn't accomplished enough.
Leffler says the Alaskan Warrior Class is doing its part on a local level. The program started a canned food drive for veterans last fall. Right now he says they have 10 duffel bags two boxes of food. He says the food is to give away to veterans and any homeless person.
"The other thing that we're doing is something called 96 hour care kits. Basically if there's a homeless veteran, or a homeless teenager for that matter, this gives them a full pack of food for four days, some winter clothing, some basic toiletry essentials and something that's their own," said Leffler.
Leffler hopes to eventually provide a bunk house for the homeless in Homer.
According to the U.S. Census Bureau there were 528 veterans in the Homer area between 2009 and 2013. That is more than 10% of Homer's estimated population. Leffler says the number of veteran gym members is also well over 10%. He says working out can be great therapy for veterans.
"We all have pent up aggression [and] pent up pain. I'm not a doctor. I'm not a psychiatrist, but the fact is I understand people have trauma [and] they have issues. What better way to expel that energy [than] to put it forth in something productive," said Leffler.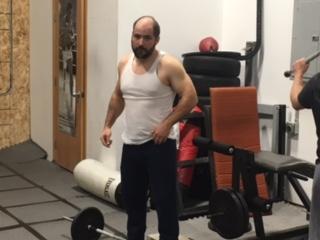 Chad LeBlanc is taking a break from the weights. He retired from the army as a Sergeant First Class after 16 years.
Chad LeBlanc: "I lift weights and I help out with the Alaskan Warrior Class quite a bit. Because I was a wounded warrior and I like doing that stuff, helping other people when I can," said LeBlanc.
Quinton Chandler: "You said you're a wounded warrior. Do you want to go into that anymore?"
Chad Leblanc: "I got blown up in 2007. I was in the hospital for six months. It was pretty intense," said LeBlanc.
LeBlanc agrees that working out in the gym is a great way to work through emotions, but he also wants people to understand not every veteran has emotional problems.
He says he enjoys coming to the gym for the camaraderie. He says some veterans just want to work out but others want to talk.
"It's good to converse with somebody that knows the lingo. It's hard to deal with civilians sometimes that don't understand certain things [that] you do in the military. I help when there are guys coming in that just want to talk. We just talk for hours if that's what they want. It's kind of awesome I think," said LeBlanc.
And if veterans want help with services they're happy to help.
"Kurt has lots of resources due to [the] VA. He has pamphlets and numbers and who to call. A lot of the older vets don't know those things because they don't get out like they should. They get stuck in Homer. So, it's good that's here for them," said LeBlanc.
Leffler says he wants the program to encourage people to help solve problems facing veterans and the homeless in Alaska.