Mousasi challenges Belfort for September showdown in Japan
Mousasi challenges Belfort for September showdown in Japan
The UFC will make it's return to Japan on September 27 for UFC Fight Night 77. The event will be held at the Saitama Super Arena in Saitama, Japan. Number seven-ranked UFC middleweight Gegard Mousasi did what seems to be the norm today with social media, and challenged Vitor Belfort.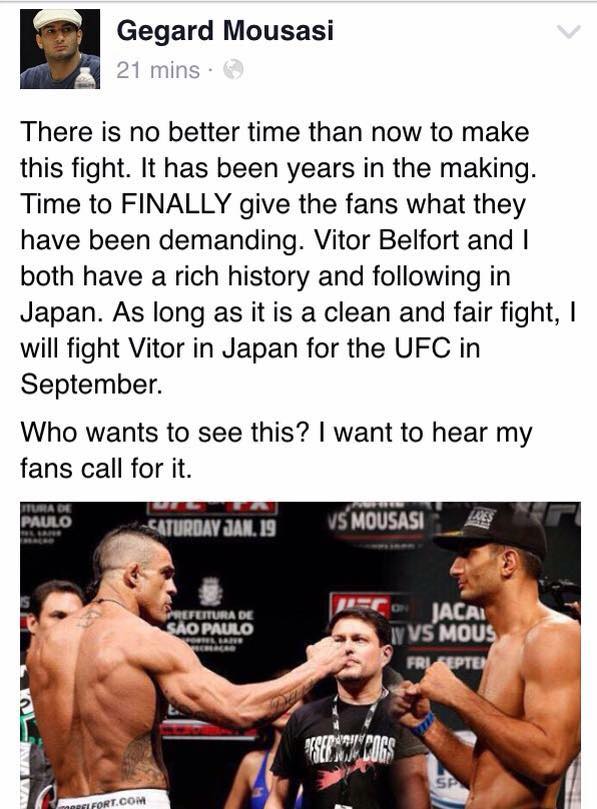 Both Belfort and Mousasi have found great success in their mixed martial arts careers in Japan, and a showdown between both in the 'Land of the Rising Sun' would be a huge draw. Mousasi (37-5-2) has rebounded from his September loss to "Jacare" Souza by winning his last two fights over Dan Henderson and Costas Phillipou.
Belfort was stopped in the first round by Chris Weidman over the weekend at UFC 187. At one point in the fight, Belfort launched an attack on the feet which cut the champion open and had Weidman in some trouble. Weidman would secure a take down and it was all over for Belfort from there.
At 38 years old, Belfort may not have many fights left in him, and a fight with Mousasi in Japan would be a huge draw for both fighters with high rewards. Below was the "challenge" by Mousasi.
From Gegard Mousasi @mousasi_mma
@vitorbelfort & I both have a following in Japan. As long as we have a clean fight, I'm in! Time is now!