Single mom of 4, Nadeia Thiel, undefeated in MMA
By Anthony Allred
From WFLA
TAMPA, Fla. (WFLA) – In between running her own business, Sunshine Chauffeur, and being a single parent, Nadeia Thiel finds time to train and fight in MMA tournaments.
"I am a single mom and it keeps me sane because I have four kids at home and they can drive you crazy sometimes, and I go train and I feel better. I feel like it makes me a better person, a better friend and most importantly a better mother," Nadeia said after winning her third amateur Mixed Martial Arts career fight at the DoubleTree Tampa.
Nadeia is undefeated. She beat her last opponent less than two minutes into the first round at World Class Fight League 14.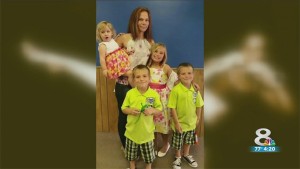 "I get this feeling when I step in the cage and it's a feeling I don't get anywhere else until I step into that cage. It's a sense of empowerment," Nadeia said.
Nadeia's fight was one 18 in front of a sold-out crowd of more than 1,000 people. Rafael Garcia owns the World Class Fight League. Garcia said MMA is popular in Tampa because all the fights are action-packed.
"MMA to me is a little more exciting. It's not just standing up. You can take the fight to the ground and you are working your wrestling, Jiu Jitsu. You are working your boxing, kickboxing, Muay Thai. It's got a little bit of everything," Garcia said.
MMA fans agree and say they would like to see more fights come to the Tampa Bay area.
"I think it takes it to a whole other level. Growing up I never seen women fighting. It was only men boxing. Now you have everything, and I think it's good to see both male and female fighters," Melodi Lawson said.
"Boxing has gotten a little bit boring for us. We want to see them get down. We want to see the action and that's what this is about. This is all about the action," Gene Farmer said.
Nadeia has a couple more amateur fights before she's eligible to turn pro but she's not in a hurry. She's having fun taking it one fight at a time.
"Women's MMA fighting is amazing. It gives us freedom. It gives all women the opportunity and strength to do things they only said men could do," Nadeia said.
Follow MyMMANews.com on Social Media
The following two tabs change content below.
Founder of MyMMANews.com - After writing for Ultimate MMA magazine and serving as the editor for U.S. Combat Sports, both of which went on hiatus, I decided to venture out on my own and enlist a staff of writers and photographers that could help me achieve my goal of telling stories that would otherwise go untold. We pride ourselves in taking a deeper look into the fighter, and understanding what makes them tick. - #1 Dad, Marine Corps Veteran, 80's and 90's Pro Wrestling Fan, MMA Commentator, Beer Lover, and avid movie watcher. Seriously..... I watch a lot of movies.
Latest posts by Eric Kowal (see all)