Official 'Bellator 147: Thomson vs. Villaseca' Weigh-in Results
JOSH THOMSON-PABLO VILLASECA PREPPED FOR MAIN EVENT CLASH AT 'BELLATOR 147'

SAN JOSE, CA. (December 3, 2015) – Bellator lightweight Josh "The Punk" Thomson's (21-8, 1 NC) return home to San Jose has driven headlines in the mixed martial arts world this week, as he prepares to make his Bellator MMA main event debut against Pablo Villaseca (10-1). Following a third-round arm-triangle choke submission of Mike Bronzoulis on September 19, the former American Kickboxing Academy standout looks to continue his hometown success in the main event of "Bellator 147: Thomson vs. Villaseca."  The 29-year-old Chilean, best known as "El Gallo," will be seeking his first Bellator MMA victory, after suffering the lone defeat of his young career against Bobby Cooper at "Bellator 139: Kongo vs. Volkov."

In addition, the co-headliner of "Bellator 147: Thomson vs. Villaseca" will feature a marquee featherweight matchup, when Georgi "Insane" Karakhanyan (24-4-1) faces off with Daniel "The Weasel" Weichel (35-9). At only 30 years of age, Weichel has already amassed 35 victories, stopping his opponent in 26 of them. The remaining contests rounding out the main card include a light heavyweight bout pitting Virgil Zwicker (14-4-1) against Brian Rogers (11-8), and two lightweight bouts featuring Patricky Freire (14-6) versus Derek Anderson (12-2, 1 NC) and Adam Piccolotti (6-0) taking on Mario Soto (6-1). Rogers will be moving up in weight classes when he enters the fray on Friday, making the jump from 185 to 205-pounds. Currently in the midst of a two-fight winning streak, Zwicker now has his sights set on the elite of the light heavyweight division, which a win over Rogers could bring to fruition.

The preliminary portion of the card is set to produce numerous dynamic bouts as well, led by undefeated top featherweight prospect A.J. McKee (2-0). The budding star will go toe-to-toe with JT Donaldson (1-0), as he looks to build off of his impressive stoppage of James Barnes at "Bellator 141: Guillard vs. Girtz." James Terry (16-8) returns to the Bellator MMA cage to face Nick Barnes (9-1) and American Kickboxing Academy product Thomas Diagne (5-4-1) battles Erick Sanchez (5-2) in a featherweight bout. Plus much more.

"Bellator 147: Thomson vs. Villaseca," takes place tomorrow at the San Jose State University Event Center in San Jose, CA, and airs live on SPIKE at 9 p.m. ET/8 p.m. CT, while preliminary bouts will stream on Bellator.com at 4:40 p.m. PT.
Main Card: (Live on SPIKE – 9 p.m. ET/8:00 p.m. CT)
Bellator Lightweight Feature Bout: Josh Thomson (155.4) vs. Pablo Villaseca (155)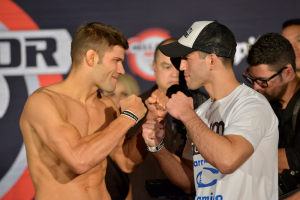 Bellator Featherweight Feature Bout: Daniel Weichel (144.8) vs. Georgi Karakhanyan (146)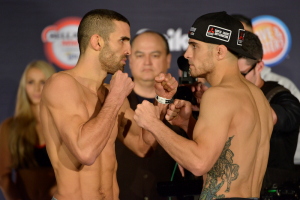 Bellator Lightweight Feature Bout: Derek Anderson (155.8) vs. Patricky Freire (155.6)
Bellator Light Heavyweight Feature Bout: Virgil Zwicker (207.2)* vs. Brian Rogers (205.8)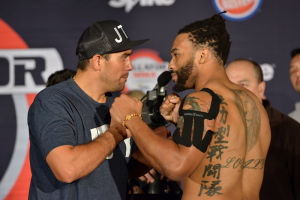 Bellator Lightweight Feature Bout: Adam Piccolotti (155.8) vs. Mario Soto (155)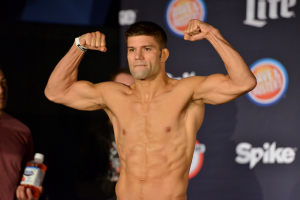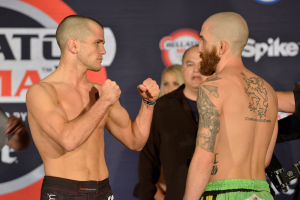 Preliminary Card: (Spike.com – 7:40 p.m. ET/4:40 p.m. PT)
Bellator Featherweight Feature Bout: A.J. McKee (145.6) vs. JT Donaldson (145.8)
Bellator Middleweight Feature Bout: Idris Wasi (185.8) vs. Bramdon Hester (185.6)
Bellator Bantamweight Feature Bout: Khomkrit Niiimi (136.0) vs. Gabriel Carrasco (135.4)
Bellator 175 lb. Catchweight Bout: James Terry (174.8) vs. Nick Barnes (174.9)
Bellator Featherweight Feature Bout: Thomas Diagne (145.4) vs. Erick Sanchez (145.8)
Bellator Bantamweight Feature Bout: Alvin Cacdac (136.0) vs. Jeremiah Labiano (136.0)
Bellator Bantamweight Feature Bout: Jose Perez (136.0) vs. Bronson Mohika (135.4)
Bellator Featherweight Feature Bout: Adin Duenas (145.6) vs. Anthony Taylor (145.8)
Bellator Flyweight Feature Bout: Anthony Do (124.2) vs. Dustin Moore (121.6)