Penn State Makes Statement at Big Ten Wrestling Championships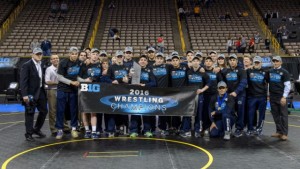 Penn State demonstrated this weekend why they are the number one team in NCAA wrestling. The Nittany Lions took home another Big Ten Conference title after putting six wrestlers in the finals and three wrestlers taking home gold. The Big Ten Conference is easily recognized as the toughest conference in NCAA wrestling. Cael Sanderson's Nittany Lions captured the Big Ten championship with a 22.5 point margin over Tom Brands' Iowa Hawkeyes.
Penn State put six wrestlers in the finals. Nico Megaludis at 125, Jimmy Gulibon at 141, 149-pounder Zain Retherford, Jason Nolf at 157, Bo Nickal at 174, and Morgan McIntosh at 197. Iowa placed four wrestlers in the finals, Cory Clark at 133, Brandon Sorenson at 149, Sammy Brooks at 184, and Nathan Burak at 197. Ohio State and Illinois each sent three wrestlers to the finals and Michigan, Nebraska, Rutgers, and Wisconsin each placed a single wrestler in the finals.
Behind Big Ten Champions Zain Retherford, Bo Nickal, and Morgan McIntosh, Penn State took a commanding lead over Iowa. Sending four to the finals, Iowa went 2-2 in the finals as Cory Clark at 133 defeated Zane Richards of Illinois and Sammy Brooks won a decision over Nebraska's TJ Dudley. Ohio State's returning national champion Nathan Tomasello went into overtime with Nico Megaludis before winning the bout with a takedown. Kyle Snyder, returning national runner-up at 197 and world champion defeated Michigan's returning national runner-up Adam Coon to take home the conference title.
Seven of the ten bouts in the finals were won by three or less points, and three of which were decided in overtime. Returning national champion Tomasello needed overtime and a takedown to defeat the three-time all-American of Penn State. Clark of Iowa won a tight overtime bout with a 2-1 victory.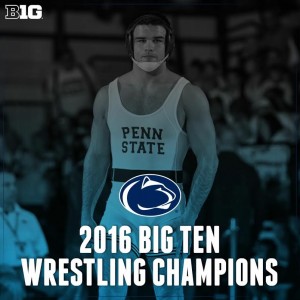 The match of the night honors would have to be awarded to Illinois returning national champion and Penn State's freshman. Isaiah Martinez won a 4-3 UTB (Ultimate Tie Breaker) thriller against the man who ended his winning streak, Jason Nolf. Earlier in the season during PSU and Illinois dual-meet, Nolf caught Martinez on his back ending his 54-match win streak and undefeated career. Martinez avenged his loss after winning another thriller to capture his second straight Big Ten title.
At 165, cousins Isaac Jordan of Wisconsin and Bo Jordan of Ohio State met again in the Big Ten Championships finals for the second year in a row. Last year Isaac Jordan won 3-2, due to a riding point. This year Isaac Jordan once again defeated his cousin with another close score of 3-1. Both Jordan's are Redshirt sophomores and wrestled together in high school at St. Paris Graham in Ohio. Isaac's father Jim Jordan was a four-time OSHAA champion with a record of 150-1 in high school before becoming a two-time NCAA national champion at Wisconsin and holds the school record for wins with 156. Jim Jordan is also a congressman of Ohio since 2007. Bo's father, Jeff, is the head wrestling coach at St. Paris Graham high school and a two-time NCAA all-American.
Zain Retherford of Penn State keeps his train steaming forward towards the NCAA championships in New York City after he defeated Iowa's Brandon Sorenson 4-0 in the finals. Retherford is a returning all-American. The No. 1 ranked RS sophomore heads to Madison Square Garden with an overall record of 29-0 on the season. Retherford claimed his first Big Ten title, becoming the 22nd Penn Stater to win a Big Ten Crown.
Rutgers' No. 5 Anthony Ashnault won the university's first Big Ten title. Ashnault had a dominating 9-0 win over Penn State's No. 21 Jimmy Gulibon. Rutgers and Maryland became the 13th and 14th teams to join the Big Ten conference.
The one of two Ohio State Buckeye champions, Kyle Snyder, defeated Michigan's heavyweight Adam Coon 7-4 in the finals. Both wrestlers entered the match as returning national runner-ups. Snyder finished last season at 197, and Coon returning to heavyweight. Although Snyder's record doesn't represent the amount of experience he has, the Buckeye has been competing on the senior freestyle circuit. After defeating the former Olympic gold medalist Jake Varner, Snyder went on to become the freestyle world champion.
Penn State was able to reach 150.5 team points as they had three wrestlers take gold, three claimed silver, and Senior Jordan Conaway taking fourth at 133, Sophomore Matt McCutcheon placed fifth, Junior Geno Morelli placed eighth, all 10 wrestlers contributed to claiming another conference crown.
The Nittany Lions went 28-12 overall, picking up 29 bonus points off six pins, two tech falls and eight majors. Cael Sanderson's troops recorded an impressive 71-22 takedown advantage over the course of the tournament.
Penn State head coach Cael Sanderson was named Big ten Coach of the Year for the fifth time in his seven years as Penn State's head coach.
The NCAA national championships take place in New York City's Madison Square Garden for the 2016 season. The championships begin on March 17-19, 2016. The three day event starts at 11 a.m. on St. Patrick's Day. Finals Begin Saturday March 19, at 7 p.m. EST.
Wow, that was fun! Isaiah Martinez avenges only loss en route to claiming back-to-back #B1G crowns. Watch more highlights " http://wp.me/p1MmDU-2xQx
Final Team Scores:
Penn State 150.5
2. Iowa 127.0
3. Ohio State 126.0
4. Nebraska 117.0
5. Rutgers 106.5
6. Michigan 89.5
7. Illinois 88.0
8. Wisconsin 67.5
9. Minnesota 51.5
10. Purdue 34.0
11. Indiana 30.5
12. Northwestern 11.5
13. Michigan State 10.5
14. Maryland 7.5
Finals Results:
125: Nathan Tomasello, OSU dec. Nico Megaludis, PSU, 3-1 OT
133: Cory Clark, IOWA dec. Zane Richards, ILL, 2-1 OT
141: Anthony Ashnault, RUT md. Jimmy Gulibon, PSU, 9-0
149: Zain Retherford, PSU dec. Brandon Sorenson, IOWA, 4-0
157: Isaiah Martinez, ILL dec. Jason Nolf, PSU, 4-3 UTB
165: Isaac Jordan, WISC dec. Bo Jordan, OSU, 3-1
174: Bo Nickal, PSU md. Zach Brunson, ILL, 17-9
184: Sammy Brooks, IOWA dec. TJ Dudley, NEB, 6-4
197: Morgan McIntosh, PSU dec. Nathan Burak, IOWA, 3-2
285: Kyle Snyder, OSU dec. Adam Coon, MICH, 7-4
Semifinal Results:
125: Nathan Tomasello, OSU dec. Tim Lambert, NEB , 10-5
125: Nico Megaludis, PSU dec. Thomas Gilman, IOWA, 4-3 OT
133: Zane Richards, ILL dec. Eric Montoya, NEB, 5-1
133: Cory Clark, IOWA dec. Ryan Taylor, WISC, 10-7
141: Jimmy Gulibon, PSU dec. Javier Gasca, MSU, 6-5
141: Anthony Ashnault, RUT dec. Danny Sabatello, PUR, 8-4
149: Zain Retherford, PSU fall. Alec Pantaleo, MICH, 2:46
149: Brandon Sorenson, IOWA fdec. Jake Sueflohn, NEB, 5-2
157: Jason Nolf, PSU tf. Edwin Cooper, IOWA, 21-3
157: Isaiah Martinez, ILL dec. Brian Murphy, MICH, 5-4
165: Isaac Jordan, WISC inj. def. Anthony Perotti, RUT
165: Bo Jordan, OSU md. Steven Rodriguez, ILL, 10-2
174: Bo Nickal, PSU fall. Myles Martin, OSU, 2:28
174: Zach Brunson, ILL fall. Alex Meyer, IOWA, 2:00
184: Tim Dudley, NEB dec. Dominic Abounader, MICH, 4-1
184: Sammy Brooks, IOWA dec. Matt McCutcheon, PSU, 6-1
197: Morgan McIntosh, PSU dec. Aaron Studebaker, NEB, 8-2
197: Nathan Burak, IOWA dec. Brett Pfarr, MINN, 3-1 OT
285: Adam Coon, MICH dec. Mike Kroells, MINN , 3-2 OT
285: Kyle Snyder, OSU tf. Colin Jensen, NEB, 24-9
Quarterfinal Results:
125: Nathan Tomasello, OSU tf. Sean McCabe, RUT, 20-5
125: Tim Lambert, NEB md. Elijah Oliver, IND, 14-1
125: Nico Megaludis, PSU md. Johnny Jiminez, WISC, 10-2
125: Thomas Gilman, IOWA md. Conor Youtsey, MICH, 14-4
133: Zane Richards, ILL dec. Rossi Bruno, MICH, 10-3
133: Eric Montoya, NEB dec. Geoff Alexander, UMD, 6-3
133: Ryan Taylor, WISC dec. Jordan Conaway, PSU, 10-5
133: Cory Clark, IOWA dec. Johni DiJulius, OSU, 7-3
141: Jimmy Gulibon, PSU dec. Micah Jordan, OSU, 3-2 OT
141: Javier Gasca, MSU dec. Jameson Oster, NW, 7-2
141: Anthony Ashnault, RUT dec. Anthony Abidin, NEB, 5-2
141: Danny Sabatello, PUR dec. Tommy Thorn, MINN, 11-6
149: Zain Retherford, PSU md. Jake Short, MINN, 14-4
149: Alec Pantaleo, MICH dec. Jason Tsirtsis, NW, 3-2
149: Jake Sueflohn, NEB md. Luke Blanton, IND, 11-2
149: Brandon Sorenson, IOWA md. Cody Burcher, OSU, 12-2
157: Jason Nolf, PSU tf. Brandon Kingsley, MINN, 21-5
157: Edwin Cooper, IOWA dec. Jake Ryan, OSU, 2-1
157: Brian Murphy, MICH dec. Richie Lewis, RUT, 2-1 OT
157: Isaiah Martinez, ILL dec. Tyler Berger, NEB, 14-11
165: Isaac Jordan, WISC fall. Patrick Rhodes, IOWA, 6:36
165: Anthony Perotti, RUT fall. Chad Welch, PUR, 4:49
165: Steven Rodriguez, ILL dec. Austin Wilson, NEB, 3-1
165: Bo Jordan, OSU dec. Geno Morellii, PSU, 3-2
174: Bo Nickal, PSU md. Phil Bakuckas, RUT, 15-2
174: Myles Martin, OSU dec. Nate Jackson, IND, 8-2
174: Zach Brunson, ILL dec. Micah Barnes, NEB, 6-2
174: Alex Meyer, IOWA tf. Nick Wanzek, MINN, 16-0
184: Dominic Abounader, MICH md. Ryan Christensen, WISC, 9-1
184: Tim Dudley, NEB dec. Nick Gravina, RUT, 8-2
184: Sammy Brooks, IOWA dec. Kenny Courts, OSU, 8-3
184: Matt McCutcheon, PSU dec. Jeff Koepke, ILL,6-2
197: Morgan McIntosh, PSU fall. Jacob Coper, MSU, 1:41
197: Aaron Studebaker, NEB tf. Max Huntley, MICH, 17-2
197: Nathan Burak, IOWA dec. Mark Martin, OSU, 6-2
197: Brett Pfarr, MINN md. Hayden Hyrmack, RUT, 13-1
285: Adam Coon, MICH fall. Brock Horwath, WISC, 0:38
285: Mike Kroells, MINN dec. Billy Smith, RUT, 3-3 OT (RT)
285: Colin Jensen, NEB md. Sam Stoll, IOWA, 14-5
285: Kyle Snyder, OSU tf. Brooks Black, ILL, 26-11