Porn star accused of exposing actors to STDs goes after Bellator MMA
Porn star accused of exposing actors to STDs goes after Bellator MMA

Adult film star James Deen has filed a complaint against Bellator MMA as he tries to validate an argument against California's division of occupational safety and health (Cal/OSHA) for what he calls "unfair persecution of the adult industry."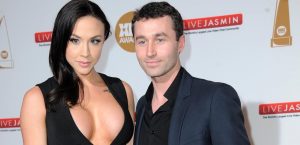 Deen, who has no connection to the sport of mixed martial arts was issued fines by the state in March claiming that his adult film production company violated condom and workplace regulations which may have exposed actors to sexually transmitted infections and diseases.
Deen states that the new actors willingly chose not to wear condoms and that they all tested negative for any infections.  In an attempt to demonstrate how regulators pick and choose who they target, Dean filed a complaint against Bellator MMA and their owner, Viacom.
The actor states that Bellators and Viacom have violated the same HIV regulations for which he was reprimanded.
"You can't pick and choose how to enforce the law," Deen said in a statement Tuesday. "Sex workers should not be held to different standards under the same regulations as their mainstream counterparts."
His company added in a press release: "While both the adult film and professional fighting industries require their performers to undergo testing for HIV/AIDS, Hepatitis, and the like, only the adult industry is being fined and reprimanded."
Thus far the tally of penalties issued against Deen's company, Third Rock Enterprises, have risen to $77,875.
"He's violated the law, and that's why they're going after them. He's just trying to change the subject," said Michael Weinstein, founder of the Aids Healthcare Foundation. "I don't know what the rules are as it relates to mixed martial arts. I think that Cal/OSHA should try to protect people in the sport as much as possible."
Deen was also the subject of several accusations of sexual assault last year.
Follow MyMMANews.com on Social Media
The following two tabs change content below.
Founder of MyMMANews.com - After writing for Ultimate MMA magazine and serving as the editor for U.S. Combat Sports, both of which went on hiatus, I decided to venture out on my own and enlist a staff of writers and photographers that could help me achieve my goal of telling stories that would otherwise go untold. We pride ourselves in taking a deeper look into the fighter, and understanding what makes them tick. - #1 Dad, Marine Corps Veteran, 80's and 90's Pro Wrestling Fan, MMA Commentator, Beer Lover, and avid movie watcher. Seriously..... I watch a lot of movies.
Latest posts by Eric Kowal (see all)