Randy Couture Makes Snohomish County Sports Hall of Fame
Randy Couture Makes Snohomish County Sports Hall of Fame

UFC and mixed martial arts legend, Randy Couture can now add another item to his already illustrious résumé.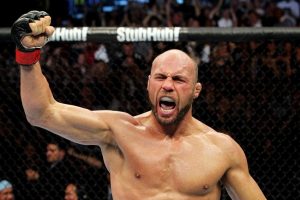 Already, a member of the UFC Hall of Fame, Couture will now be inducted into Snohomish County Sports Hall of Fame at a ceremony later this year.
Snohomish County is located in the U.S. state of Washington. As of the 2015 census, the population was 772,501, making it the third-most populous county in Washington.  Couture was born in Everett, Washington, part of Snohomish County.
'The Natural' has stepped away from the cage in pursuit of some acting roles.  During his tenures in the UFC, Couture became a three-time UFC heavyweight champion, two-time UFC light heavyweight champion, an interim UFC light heavyweight champion and the UFC 13 Heavyweight Tournament Winner. He is the first of only two fighters to hold two UFC championship titles in two different divisions (along with B.J. Penn).
The 2016 Class of five athletes, one coach, one sports contributor and two teams, announced on Wednesday, will be formally inducted at a Hall of Fame banquet on September 28.
The Class of 2016 will raise the total number of Hall of Fame inductees to 40 athletes, 17 coaches, seven contributors (includes executives and media), and 11 teams.
The induction banquet is scheduled for Xfinity Arena's Edward D. Hansen Conference Center in Everett. An announcement of ticket sales is expected later in the summer.