Royce Gracie defensive tactics seminar for police/military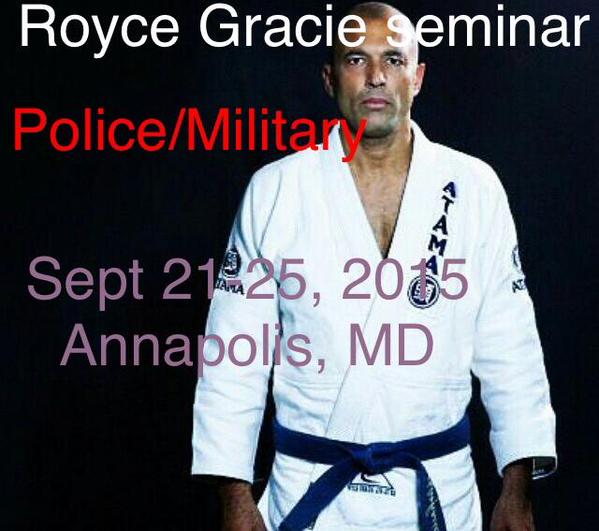 G.R.A.C.I.E™ is the defensive tactics and weapons retention course created by the legendary Royce Gracie, 3-Time Ultimate Fighting Champion. Royce earned his title by defeating his opponents using Gracie Jiu-Jitsu, proving the effectiveness of leverage and technique over strength and size. Royce has incorporated these defensive tactics into a comprehensive training course specifically designed for law enforcement. Like many skills, defensive tactics are perishable, therefore the G.R.A.C.I.E™ program teaches simple and automatic, rapid yet smooth actions. The G.R.A.C.I.E™ program is the "only" defensive tactics program that truly prepares officers to properly defend their weapons in any and all altercations.
Many Defensive Tactics Programs available today are ineffective and officers resort to using brute strength and sheer will power to overcome a suspect/criminal, resulting in potential loss of weapon or serious injury to an officer. Technique is emphasized instead of strength. "ALL" officers can accomplish this no matter size, strength or gender. Automatic rapid response needs to be made in an altercation. Offensive vs. defensive mindset is emphasized before, during and after the altercation.
Course Highlights
* Standing up in Base
* 4 Angles Defense against weapons
* Headlock (standing or against a wall) defenses
* Drop and Draw – 21 FT. Rule
* Standing Weapons Retention – PEO Strike
* Take downs from behind
* Weak Hand Grabs Prisoner/Suspect Compliance
* Strong Hand Grabs
* Multiple Suspects or Altercation Encounter
* Two Hand Grabs
* Mental Offensive and Defensive Mindsets
* Rear Weapon Grabs
* Mounted (Officer on his back)
* Escapes from the Mounted position – Guard Work – Fighting Position
* Guard Work – Time and Defend (or) hold position
* Escape Side ground Headlocks
* Handcuffing Procedures
* Two Man Takedowns
* Mounted Weapons Retention
* Guard Weapons Retention
The G.R.A.C.I.E. course consists of over 30 stand up and ground techniques that are taught in 30 hours over a consecutive 5-day period. It is intended for DT Instructors or entire departments.  At the conclusion of the course instructors must be able to demonstrate and teach the moves in order to receive certification.  Certification is valid for one year however re-certification can be obtained in a 2-day condensed course. Open only to active duty Law Enforcement/Military personnel with very few exceptions.
Course is September 21-25, 2015 (9 am to 5 pm daily).
1825 George Avenue Suite C&D, Annapolis, Maryland.
Course Cost: $750/officer
Contact:  RoyceSeminar@gmail.com