Sarah Thomas of Long Island MMA fights in Golden Gloves boxing bout
Sarah Thomas of Long Island MMA fights in Golden Gloves boxing bout
Tonight in Harlem, New York, Sarah Thomas, an amateur Mixed Martial Artist (MMA) will be entering the ring for her first boxing match in a Golden Gloves promotion. She accepted this fight on only a few days' notice, and enters this bout blind, not knowing her opponent until she arrives at the venue. The amateur boxing bout will be held at the PAL in Harlem.
Thomas is a bantamweight female fighter on Long Island and has struggled to find competition. The lack of women fighters has limited her to only one amateur MMA bout. Thomas shows her maturity and desire to grow within the sport as she seeks experience by competing in as many Jiu Jitsu tournaments and all stand up competition she can receive.
"I have a very hard time finding MMA fights," Thomas said. Since the difficulty of finding MMA fights, she decided to turn to various disciplines of mixed martial arts to learn on the mat and in the ring, through competition, which is a great setting to learn. Her dedication to elevating her skills is shown by taking blind fights on only a couple of days' notice.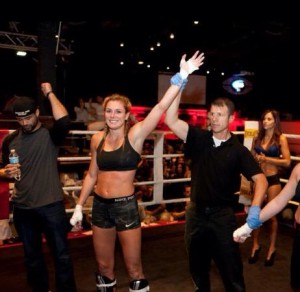 The Hofstra University graduate is excited for her bout tonight. "Boxing is my favorite part of MMA," Thomas said. Thomas appreciates boxers hand speed and finds a quality striker aesthetically pleasing to watch. "I also like the history. Plus, I'm tall and long, so I have the most fun boxing,"
Standing 5'10", Thomas is a tall and lean 135-pounder that uses her reach advantage very well. Tonight she will be entering the ring for a 141-pound matchup. The long Island MMA fighter moves extremely well using her effective jab to dictate the pace of the bout. Keeping her opponent at an arm's length away with a stiff jab, she picks her foes apart with heavy hooks and crisp straights.
Graduating in the Top 5 percent of her college peers, Thomas transitioned that same determination from the classroom to the sport she is so passionate for which shows recently when the St. Dominic  high school graduate took only a week off after getting a hole in her right eye's retina fixed, she was back training.
Aside from her week off healing, she has been in camp for nearly a year waiting upon receiving an opportunity to fight. Thomas has resembled her striking style after fellow Long Island native, Chris Algieri, whom recently fought Manny Pacquiao in China. "He's built exactly like me," Thomas said. "He loves jabbing. And he's a slow starter," In addition to Algieri, She finds Pernell Whitaker videos exciting to view.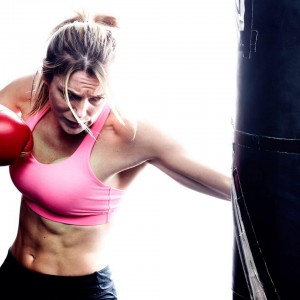 Keep an eye out for Sarah Thomas as her ambition to thrive in MMA is unparalleled. She took the Victory Combat Sports bantamweight champion, Katalina "Kick-Kat" Morales the distance in a tight decision during an Aggressive Combat Championship fight, and punched through her opponent in a Kickboxing bout at Mulcahy's Pub in Wantagh, New York. She has the raw talent and potential to become Long Island's first female MMA star.
For results of tonight's Golden Gloves action taking place at the PAL in Harlem, New York, check back late this evening on My MMA News.
Below is a video of a Jiu Jitsu match Sarah Thomas recently participated in.
Kyle Carroll is a Long Island, N.Y. native and avid MMA and amateur wrestling fan. He has been a part of the wrestling community for nearly 20 years. Carroll has six years of experience coaching high school wrestling. His father coached high school wrestling over 35 years, passing on his strong knowledge. Carroll has been reporting MMA news since January 2011. The former wrestler's coverage includes the 2012 U.S. Olympic Wrestling Team Trials, 2013 & 2016 NCAA D1 Wrestling Championship, and numerous MMA events (Bellator MMA, King of the Cage, North American Fighting Championship, and Glory).