Second Bellator Kickboxing Card Complete with Two Exciting New Bouts
Second Bellator Kickboxing Card Complete with Two Exciting New Bouts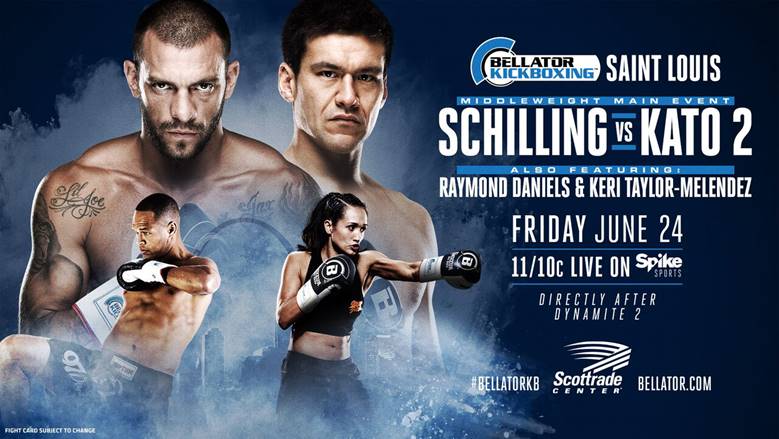 HUMAN HIGHLIGHT REEL RAYMOND DANIELS TAKES ON STEFANO BRUNO AT 'BELLATOR KICKBOXING: ST. LOUIS' ON JUNE 24 – LIVE & FREE ON SPIKE AT 11/10C 
IN ADDITION: KERI MELENDEZ-SARAH HOWELL SHOWDOWN COMPLETES DYNAMIC BELLATOR KICKBOXING CARD
SANTA MONICA, CALIF. (June 14, 2016) – The SPIKE-televised "Bellator Kickboxing: St. Louis" event on June 24 at Scottrade Center is now complete, with the addition of two fights featuring Bellator Kickboxers Raymond Daniels (11-3) and Keri Melendez (3-1), who will take on Stefano Bruno (23-2-1) and Sarah Howell (debut) respectively.
The fights join a main event that features a middleweight rematch between Joe Schilling (27-8) and Hisaki Kato (6-2), who initially competed against one another in a mixed martial arts contest that saw Kato get the better of the kickboxing ace with a "Knockout of the Year" winning superman punch.
"Bellator Kickboxing: St. Louis" will air immediately following the highly anticipated "Bellator: Dynamite 2" event LIVE and FREE on Spike at 11 p.m. ET/10 p.m. CT.Tickets for the double feature event start at just $30 and are on sale now at Ticketmaster.com and the at Scottrade Center Box Office.
A native of California, Daniels is one of the most widely known kickboxers in America, having made a splash as both and amateur and professional. "The Real Deal" went 17-0 as an amateur, with nine knockouts, finishing all 17 bouts in the first round. Daniels made his professional debut in 2007, winning each of his first four fights, three of which ended in knockouts for the 36-year-old welterweight. Daniels was also a competitor at Bellator's inaugural "Bellator Kickboxing: Torino" event in Italy this year, earning his first career victory with the Scott Coker-led promotion. The win was the eighth of his professional career and it came spectacularly 30 seconds into the first round, giving him five first-round knockouts in total.
With a stellar record of 23-2-1, Italian kickboxer Stefano Bruno will have his hands full when he steps into the ring with Daniels on the 24th of June. One half of what many kickboxing pundits considered the fight of the year in 2015 against Hosam Radwan, Bruno has competed all around the globe and has truly made a name for himself in the welterweight division.
The queen of the infamous Skrap Pack in Northern California, Melendez made her first appearance with Bellator during the kickboxing portion of "Bellator: Dynamite 1,"recording a unanimous decision victory over Hadley Griffith in front of her home town faithful. Melendez tallied a 4-1 amateur mark before taking her talents to the professional circuit, where she currently holds a 3-1 kickboxing record. The 32-year-old flyweight will look to build off her impressive debut last year, when she takes on Sarah Howell in the kickboxing portion of Bellator's "Dynamite 2" on June 24 at Scottrade Center in St. Louis.
Making your professional debut in anything is an arduous task, but making your debut against Melendez will be tougher than usual for Howell, who comes into the fight with no pro experience. Hailing from Washington – which coincidentally was the homestate of Melendez's last opponent —  the proud mother has been documenting her road to "Dynamite 2" through her blog, which can be found here.
Complete "Bellator Kickboxing: St. Louis" Fight Card:
Bellator Kickboxing Middleweight Main Event: Joe Schilling (27-8) vs. Hisaki Kato (6-2)
Bellator Kickboxing Welterweight Feature Bout: Raymond Daniels (11-3) vs. Stefano Bruno (23-2-1)
Bellator Kickboxing Flyweight Feature Bout: Keri Melendez (3-1) vs. Sarah Howell (Debut)
Follow MyMMANews.com on Social Media
The following two tabs change content below.
Founder of MyMMANews.com - After writing for Ultimate MMA magazine and serving as the editor for U.S. Combat Sports, both of which went on hiatus, I decided to venture out on my own and enlist a staff of writers and photographers that could help me achieve my goal of telling stories that would otherwise go untold. We pride ourselves in taking a deeper look into the fighter, and understanding what makes them tick. - #1 Dad, Marine Corps Veteran, 80's and 90's Pro Wrestling Fan, MMA Commentator, Beer Lover, and avid movie watcher. Seriously..... I watch a lot of movies.
Latest posts by Eric Kowal (see all)