SFLC 99: Linton Vassell, Jimmie Rivera, Chas Skelly & Lou Giordano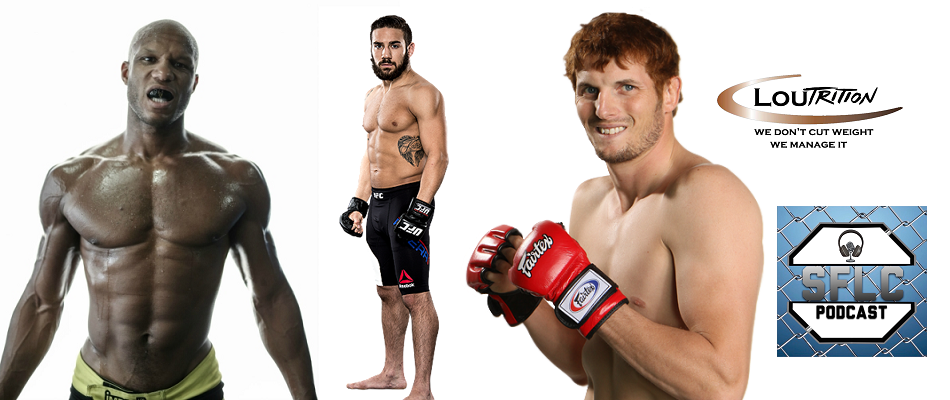 EPISODE DESCRIPTION
Brought to you by Sissy Fighting Gear! (@SissyFG) Say NO to bullying in Style! Head to SissyFG.com to get your gear, use the promo code SFLC at checkout and save 10% off of your order!
Also, by Loutrition. (@Lou_Trition) Become the healthiest version of yourself in 2016 by going to Loutrition.net and get set up with plans that are tailored to every aspect of your life, from food preferences to daily schedules, lifestyles and emotions.
Linton Vassell (@LDV_TheSwarm)is a Bellator Light Heavyweight Contender who will take on Emanuel Newton at Bellator 149 next Friday in a rematch of their LHW Title Fight from October of 2014.
Jimmie Rivera (@JimmieRivera135)is a UFC Bantamweight Contender coming off of a Fight of the Night Performance win at UFC on Fox 18 over Yuri Alcantara and has cracked the Top 15 in the Division.Find out about his great school in Manhattan as well and check it out if you're in the area.
Chas Skelly (@ChasSkelly)is a UFC Featherweight Contender who will take on Darren Elkins(#11)at UFC 196 on March 5th. He may have the best story ever on how he got signed to the UFC.
And finally, Lou Giordano (@Lou_Trition) joins us to talk about his time spent with Johny Hendricks at UFC Fight Night 82 as he helped Johny become the healthiest version of himself! He answers your questions and we have a lot of fun as always. Plus, we reveal our STACKED 100th Episode Lineup for next week!
Follow on Twitter – @SFLCPodcast
Check out our Website – SFLCPodcast.com
Find us also at MyMMANews.com