SFLC Podcast – Episode 147: Colton Smith and Mickey Gall
SFLC Podcast – Episode 147: Colton Smith and Mickey Gall
On this very special edition of the SFLC Podcast, Ultimate Fighter winner Colton Smith calls in from Afghanistan around 6:00 minute mark into the show.  Also, recently announced, UFC 203 competitor Mickey Gall who will fight former WWE star CM Punk calls in around the 35:30 mark.
Colton Smith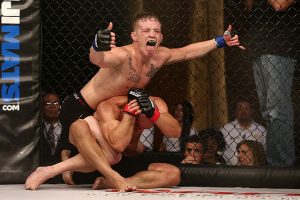 Colton Smith (@ColtonSmithMMA) is a man who does it all. Smith is a professional fighter who won Season 16 of The Ultiamte Fighter. He is now signed to an exclusive multi-fight contract with the World Series of Fighting (WSOF).
Smith is also an active duty U.S. Army Soldier currently deployed in Afghanistan. It was an honor to chat with him on a variety of topics to include his time on TUF, recent fights in WSOF, when we can expect to see him back in the cage, training in Afghanistan, and much, much more. He also gives information about how you can give back to the Soldiers in his unit, write them letters, send care packages, or just simply say hello.  Take a listen.
Mickey Gall
Mickey Gall (@mickeygall) is a man all over the MMA headlines as it was made official, that on September 10th in Cleveland, he will get the fight with CM Punk at UFC 203.
Mickey joined us to talk about what a whirlwind it has been as we approach the biggest opportunity of his young career in September.
LISTEN BELOW:
UFC 200 Viewing Party
July 9th, John "Doomsday" Howard will join us at M&M's Tap & Tavern, for a UFC 200 Viewing Party. M&M's is located at 501 US Rt.20 in New Lebanon, NY.  There will be a meet and greet, a live podcast, A&A, giveaways,  and great food and drink.  Plus, you get to hang out and watch the fights with John "Doomsday" Howard.
Ticket information will be released shortly so stay up to date on our social media platforms.