SFLC Podcast: Rob Font, UFC writer Damon Martin & Mickey Gall
Photos by William McKee, Podcast by SFLC Podcast, Information on Mickey Gall provided by Ronnie Lavigne

This episode of the SFLC Podcast brought to you by Sissy Fighting Gear! Say NO to bullying in Style! Head to SissyFG.com to get your gear, use the promo code SFLC at checkout and save 10% off of your order! Also, by Loutrition. Become the healthiest version of yourself in 2016 by going to Loutrition.net and get set up with plans that are tailored to every aspect of your life, from food preferences to daily schedules, lifestyles and emotions.
Rob Font is a UFC Bantamweight and will take on UFC Newcomer Joey Gomez at UFC Fight Night 81 in Boston next Sunday night! (@RobSFont)
Damon Martin (@DamonMartin) is the senior writer for UFC.com as well as FoxSports.com covering the UFC! He joins us to recap UFC 195 with the most in depth coverage you will find anywhere.
Also, if you watched the trailer for Dana White: Looking For a Fight, you heard a man call out Phil "CM Punk" Brooks,his name is Mickey Gall(@mickeygall), and as Martin reported on Foxsports.com yesterday, White is "interested" in making this fight happen! We bring Mickey on to have a Quasi UFC Press Conference with Damon Martin!
Is this going to be the fight the UFC books for Phil "CM Punk" Brooks? Give a listen and judge for yourself! Follow on Twitter – @SFLCPodcast
So Who Is Mickey Gall?
Below is a brief interview conducted by Ronnie Lavigne, training partner of Mickey Gall.  (Different than the above audio).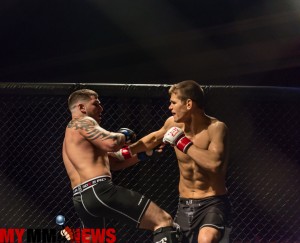 Q: Where are you from, and which teams are you affiliated with?
A: "I'm from Greenbrook, New Jersey. My teams are Gracie New Jersey, Miller Brothers MMA, and American Top Team Allentown."
Q: When did you start training?
A: "I started training Brazilian Jiu-Jitsu when I was 16 years old under Professor David Adiv at Gracie New Jersey. I began training at AMA Fight Club a little while afterwards and that's when my MMA game really began to take off."
Q: Where did you attend college and what type of degree did you earn?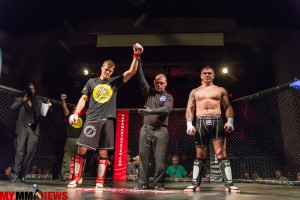 A: "I graduated from Rutgers University with a bachelor's degree in Communications."
Q: How tall are you? What weight do you walk around at?
A: "I'm 6'2" and I walk around at 185-195 lbs."
Q: Who is your strength and conditioning coach?
A: "Strength and Conditioning is with Billy Dee Williams. He's been a mentor, big brother type to me throughout my career and he's been getting me strong as heck."
Q: What is an average day in the life of Mickey Gall like?
A: "I sleep till around 11:00 a.m. because I'm a child and I go to sleep late. I practice two to three times a day. I do something, you know, in the morning which is like 1:00 p.m. for me. Then I'll do something either in the afternoon and at night or just at night. I try to eat well and relax when I can between sessions as well. Two or three practices, five days a week, especially during training camp."
Q: Outside of MMA, what kind of hobbies do you have?
A: "MMA is definitely my main focus. It's kind of sad, I don't really have any other hobbies. I have three little sisters, the youngest two are one and three years old. As much as I can I just hug them and love them like all day. I play with them so much, it's extremely relaxing to me, I just love it. I never expected having such younger siblings but it's a really fun relationship for me."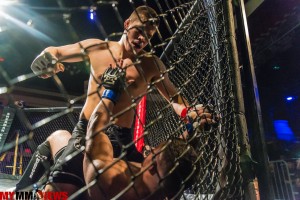 Q: What is your motivation when it comes to fighting?
A: "I try to get motivation everywhere. For myself, I want to fulfill my potential. My younger sister Jamie is my biggest fan, and my two baby sisters love me but they don't really understand MMA, obviously. I love all of my family, friends, and all of those that support me. A lot of my motivation comes straight from them."
Q: What is your end goal when it comes to fighting?
A: "UFC Champion. As far as MMA goes, I'd like to be the best of all time. It would be cool to be regarded as that. I just want to reach my full potential, I want to do everything I can. I feel as if I'm capable of that, to be the greatest of all time."
Q: If you were the UFC brass for a day, how do you book yourself versus CM Punk?
A: "UFC 200 in Vegas, I think it's July 9th or something. Main card, as deep as I can get. Honestly, you can bury it in the prelims as long as I get to fight CM Punk."
Q: Say you defeat CM Punk, how do you go on from there?
A: "I beat CM Punk, very decisively. I go to 155 lbs. and I pray to God that I get to fight Sage Northcutt. Then I'm 3-0. Sage has done some things, then I take him out and I think within a year or two I can be fighting for the UFC Championship."
Q: Why do you deserve to fight CM Punk?
A: "I'm a good dude and I want to have some fun in there. Let's have some fun, CM Punk."