The Largest Amateur MMA League in the World JUST GOT BIGGER!
The Largest Amateur MMA League in the World JUST GOT BIGGER!

 
Ken Shamrock, the "Godfather of MMA" comes to Fighters Source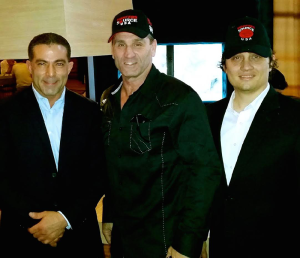 Fighters Source® (FS), the largest amateur Mixed Martial Arts (MMA) league in the world, has partnered with the "Godfather of MMA" himself, Mr. Ken Shamrock and Ken's long time business partner, Mr. Des Woodruff.  During the off season, FS has made positive strides in setting new standards for amateur MMA.  The League and its Team Owners are excited to begin the 2015 season with this new partnership.  Both Mr. Shamrock and Mr. Woodruff are passionate about the sport of MMA, especially amateur MMA, and share the same goals and vision for the sport as FS does.
"Fighters Source® is the perfect organization to lock arms with and to give me the opportunity to help many rising amateur MMA fighters," says Ken Shamrock.  Ken is a household name among the MMA community and is also an inductee into the UFC Hall of Fame.  Ken wrestled in the WWF and was the first ever Pancrase Heavyweight World Champion in Japan.  In addition to fighting, he is the founder of the Lion's Den, a renowned fighting school where some of the world's best fighters have trained.  He is truly an asset to the FS Team and a wealth of knowledge to the FS amateurs he will be closely working with.
Des Woodruff is a recognized entrepreneur, online sales strategist and business development expert.  Des was the first-ever stock trader to produce daily stock trading videos for world consumption.  Des' business savvy and love for the sport of MMA will be a valuable asset to the next generation of professional athletes.
"The FS family and I warmly welcome Ken and Des." stated Anthony Medina, CEO of Fighters Source®.  "With Ken's knowledge of the industry and Des' understanding of business and the importance of promoting oneself, these amateurs fighters will be completely well rounded and prepared to be successful, marketable professional athletes."
The strategic partnerships that have been formed in the FS off season, the ISKA, and now Mr. Shamrock and Mr. Woodruff, play critical roles in the way that the FS League can shape the future of amateur MMA, and its recognition as an Olympic Sport, which has always been one of Fighters Source® Amateur MMA League's biggest goals.