Titan FC 37 weigh-in results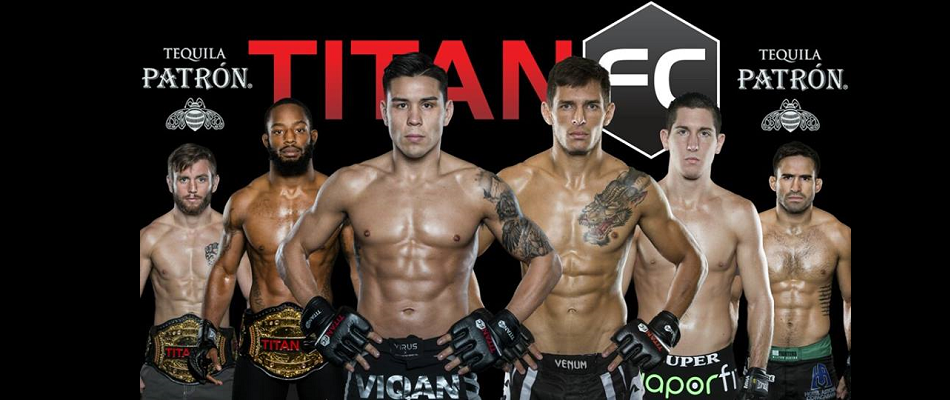 Titan FC returns to the Clark County Event Center in Ridgefield, Washington, tonight, March 4
, 
with Titan FC 37.
Below are the official Titan FC 37 weigh-in results
*Ricky Simon (134) vs Anderson Dos Santos (136.5)- Vacant BW Title- Main Event
Andre Harrison (144.5) (C) vs Steven Siler (145)- FW Title- Co Main Event
Tim Elliott (125) (C) vs Pedro Nobre (125)- Flyweight Title
Pat Healy (155.5) vs Mushin Cobbrey (155.5)- LW
Grant Dawson (155.5) vs Robert Washington (156)- LW
Jason Novelli (156) vs Zak Bucia (156)- LW
Anthony Gutierrez (139) vs Gabriel Solorio (143)- Catchweight
Ben Egli (171) vs EJ Brooks (170.5)- WW
Austin Arnett (155.5) vs Dave "The Duke" Burrow (156)- LW
Jose Torres (135.5) vs Travis Taylor (135)- BW
* Anderson Dos Santos failed to make the 135lb., bantamweight limit and therefore will not be eligible to win the Titan FC bantamweight championship.
Ricky Simon is still eligible to become the new bantamweight champion should be emerge victorious.*
Titan FC 37 will be the first of eight scheduled events for 2016 for Titan FC. All shows will be streamed live and exclusively on UFC Fight Pass. Titan FC 35 drew a record crowd when they visited Ridgefield for the first time in September of 2015. Titan will look to repeat the success they had at the Clark County Civic Center with a card that will certainly entertain the great MMA fans of the northwest.
For information on how to purchase tickets and support your favorite fighter, please visitwww.cagetix.com/titan. Select the event, Titan FC 37, then select the fighter you would like to support and then select your tickets.