Toppling Giants: Minowaman comes full circle with RIZIN debut
Weight cutting is very much the norm in Mixed Martial Arts. Whether it should or shouldn't be is a debate that will go on until the end of time. Ultimately, the fighters have their choice to shed however much they desire to compete in the division of their choosing.
In a natural combat scenario, it's fairly unlikely that the two individuals engaging in the act will end up being of the same weight. Essentially, your typical street fight is going to be what is considered an openweight matchup.
Historically, MMA has been one of the few sports to function utilizing weight divisions. Even in what many consider the sport's counterpart, professional wrestling, it thrives off of being a spectacle pitting the small vs. the large.
There have been several openweight contests throughout MMA's history to this point, but only one fighter has truly become synonymous with that type of fight. That of course is none other than the "Giant-Killer," Ikuhisa "Minowaman" Minowa.
"I didn't really have the intention of being the 'Giant Killer' when I started," Minowaman told MyMMANews on BROADENED HORIZIN. "But I always idolized pro wrestlers and that's what I wanted to be. In pro wrestling, there is no weight division. You just fight your opponent. So I had no thoughts about weight classes. Me being a pro wrestler, you fight who you're matched up against. And I've always believed that size doesn't matter, a small person can beat a bigger person. That was my mentality throughout my career. Which eventually kind of led me into these openweight fights. And the name probably came after that. But I always have been and still, I'm all about openweights. There is no weight division and that's just how I look at the sport."
The uniquely iconic career of Minowaman dates back to March 1996 when he was just 20 years old. 24 years later and the Hashima, Gifu native has put together one hell of a resume with over 100 total fights. Thus making him one of the select handful to have achieved such a milestone in MMA.
Inspired and trained by his master, the legendary Masakatsu Funaki, Minowaman has taken on all comers. No matter the shape and size.
Naturally a middleweight hitting the scales around the 185-pound mark, Minowaman has tangoed with opponents that outsize him by double his weight. Most notably, fans will remember his bouts against Hong-man Choi, Bob Sapp, and Errol Zimmerman. On the long list of names that Minowaman has squared off with, it's hard for him to pick out his favorites and who was the toughest. But legends like Wanderlei Silva and Mirko Cro Cop were two definitely worth mentioning.
As for the bouts with Sapp and Choi in particular, they happened to be back to back as part of DREAM's openweight "Super Hulk" tournament. A tournament that culminated with Minowaman walking away as the victor after knocking out his fellow PRIDE FC veteran, Rameau Thierry Sokoudjou.
"It's so hard to list a few," Minowaman said of his favorite career moments. "I can go on and on endlessly. But just right now thinking off the top of my head, my professional debut is something that comes to mind. And also winning the Hulk tournament is definitely what comes to mind but everything else, I can't specify. There's so many."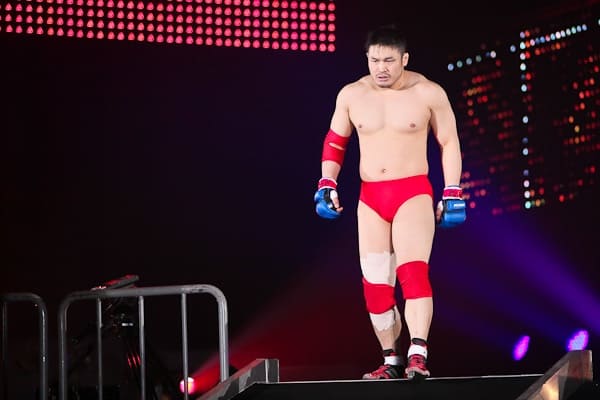 Despite having fought professionally on over 100 occasions and across the span of three decades, Minowaman isn't done just yet.
Since 2017 "The Giant-Killer" had one fight coming in 2019 but remained active. It's just been more so as a participant in pro wrestling and grappling matches rather than MMA. But as a frequent spectator of the RIZIN Fighting Federation, the timing lined up all too perfect for the 44-year old.
His time away from MMA competition was focused on recovery, but once ready to return he got the fateful call to get back in action. And on New Year's Eve 2020 at RIZIN 26, Minowaman will join the likes of Alistair Overeem and Andrei Arlovski as the rare few fighters to have fought over the course of four decades.
"I had a lot of wear and tear on my body throughout my long career," he explained. "So I used this time to nurse and heal my injuries. Throughout the process, I was thinking that I would be able to fight again around New Year's Eve of this year. That's kind of when I got the offer. Everything made sense and the timing was right so I decided to take this fight and this opportunity to fight for RIZIN.
"Ironically, about a month before I got the offer, I was kind of thinking it would be cool to fight in RIZIN. And I was thinking about it and so it was very awkward I would say, that I got the offer right after thinking about how it would be cool if I were to fight for RIZIN.
"I think this was meant to be," Minowaman continued. "Especially because it's New Year's Eve and many people watch this fight and I think I got this opportunity to showcase my life's work of what I've been working on."
For many, RIZIN is considered the reincarnate of the now-defunct PRIDE FC which once challenged the UFC in MMA supremacy during the 2000s. The comparisons are indeed justified as the ruleset is almost entirely the same among other similarities. All thanks in part to the founder of each promotion being Japan's Nobuyuki Sakakibara.
By the time that PRIDE was born, Minowaman had already had what was more than a full career for any "normal" MMA fighter. With 48 bouts under his belt, the Funaki student would make his debut in PRIDE against none other than future UFC light heavyweight champion, Quinton "Rampage" Jackson.
The bout would be the first of 16 for Minowaman inside the PRIDE ring and it would act as a period of time that really helped boost his notoriety and build his fanbase. Because who could forget his awe-inspiring showdown with Eric "Butterbean" Esch? Among several others, of course.
In a way, getting the opportunity to compete in RIZIN for the very first time is like stepping foot into a time machine for the red speedo rocking submission artist.
"It's a full circle and I'll tell you why," Minowaman began. "It's because the people who watch RIZIN — I do believe that it's the generation of the people who were watching PRIDE. And now, that generation has their kids. And I do believe that people who used to watch PRIDE and watch RIZIN now, they're gonna watch this show with their kids. So it's my opportunity to show my performance to two generations at the same time. So I think this is a perfect set up for me to show my Minowaman style. This platform is made perfectly.
"I definitely do feel the pressure but it's good, I like it. I feel like I can feed off the pressure and I've come to realize because of this whole upcoming fight, and feeling this pressure again, that's what I like. I like this. I like this pressure."
Standing across from Minowaman in his RIZIN debut will be the perfect opponent for what he represents. That being the 1-0 former Sumo superstar, Tsuyoshi Sudario.
At RIZIN 24, Sudario made his professional MMA debut in a classic Japanese heavyweight contest with the also debuting Dylan James. Australia's James is a professional wrestler and unfortunately for him, his background didn't hold up against Sudario's Sumo acumen as he was finished by TKO as the doctor called off the action between rounds one and two.
Fights like Sudario vs. James are nothing new for RIZIN as in recent memory we've seen matchups like Bob Sapp vs. Osunaarashi. However, a true openweight contest like what we're getting with Mr. Openweight himself is something relatively new for the promotion. And Minowaman wouldn't rather anyone else leads the charge.
"Like I said, I'm a firm believer that size and weight doesn't matter," he stated. "For this fight in particular, because the sport has become so popular I do believe that openweight is something that is losing its popularity. It's hard to see these openweight fights these days. And my motivation for this fight is that I want to go in there and prove they still make sense and they can still be fun. I feel like I'm obligated to prove that to everybody. So that's my motivation heading into this fight.
"For me, it's been normal. Openweight fights, I've been doing that since my professional debut. My debut was an openweight fight. So for me, it's just normal. It's not a different mentality."
A fighter as unique as Ikuhisa Minowa certainly seems like someone tailor-made for the world of MMA in Japan specifically. While essentially all of his career has taken place within the borders of his home country, he's had a few outings take place elsewhere in the world. Though in hindsight, one appearance may be a little more surprising than others despite also happening in Japan.
Prior to joining PRIDE, Minowaman actually competed inside the UFC Octagon. At UFC 25 in April 2000, Minowaman's one and only UFC appearance, he would defeat Joe Slick by second-round TKO.
During this time, the UFC wasn't the "end all be all" just yet but it was quickly being recognized as the place to be in MMA. And while that was becoming clear then and it is now, Minowaman reflects on it and does feel like he would have liked to enjoy a long successful career in the Octagon… but not for his own personal reasons.
"I wanted to," he started. "I hope and wish that the top tier promotions can do openweights. And I do believe that there's a demand and appeal for that. And if they're not gonna do it, I want to create a world that accepts openweights."
Minowaman has proudly become the personification of MMA at its core. Or perhaps a fighting mirror depicting the olden days still living on into the present. Perfectly, to close out 2020, he'll get to be on display in his full glory.
RIZIN 26 starts at 9:00 PM PST on December 30 and will be broadcast live in English here at the: link.
BROADENED HORIZIN EP. 6 AUDIO ONLY BELOW:
以下の日本語版 (JAPANESE VERSION BELOW):
Drake is an MMA writer based out of Brush Prairie, Washington, USA who specializes in feature pieces, the women's fight scene, lists, news coverage, and rankings. He has been a passionate fan of MMA ever since 2009. Drake has most notably written for BJPenn.com, FanSided, The Body Lock, South China Morning Post, MyMMANews, WhatCulture, Cageside Press, Sherdog, The Scrap, and MMA Today. He has also written for and created video content for RT Sport. As for other sports, Drake is a longtime fan of the NFL's Green Bay Packers and Jacksonville Jaguars.
You can follow him on Twitter and Instagram: @DrakeRiggs_ . Also check out all of his video content on YouTube at YouTube.com/DrakeRiggs where he uploads fighter interviews, podshows, and various other types of content.