UFC Fight Night 80 Results: VanZant vs. Namajunas
UFC Fight Night 80 was the first of a three-fight card weekend in Las Vegas.  Tonight's event took place at the Chelsea at The Cosmopolitan and streams exclusively on UFC Fight Pass.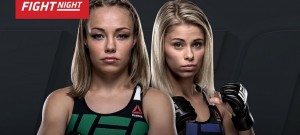 The card was headlined by a strawweight bout between Paige VanZant and number three ranked Rose Namajunas, UFC Fight Night 80 and could name the next potential challenger to the women's 115-pound title.
Never did anyone expect Paige VanZant to get bloodied in a bout.  Never did anyone expect Rose to dominate and bloody Paige the way she did.  Rose won and battered Paige in each and every single round.  She choked her, bent her limbs, cut her, and still Paige was calm, cool, and collected.  Is Paige VanZant even human?
FINALLY…… in the final round Paige submits to Rose.  FINALLY.
Also, Jim Miller made his 21st UFC appearance as he went up against Ultimate Fighter winner Michael Chiesa in a battle between two proven lightweights.   Miller, who was ranked number 14 won the first round and bloodied Chiesa in the second, yet Chiesa was able to pull out a rear-naked submission choke for the win.
Sage Northcutt sought to continue the hype as he met Cody Pfister. He was in trouble early on in the first round before the referee made the decision to stand the two fighters up and Northcutt got an immediate takedown.  It then went to the second where Northcutt scored an early submission victory to get his second UFC victory.
Elias Theodoreau suffered his first defeat at the hands of Thiago Santos in a very tough bout that went to a decision.  In the third roud Theodoreau was on the receiving end of a very bad cut and multiple close near finishes yet he kept pushing on.
On the undercard, Tim Means scored the first KO of the night with a win over John Howard, and Sergio Moraes was down possibly two rounds to none when he came back and TKO's Omari Akhmedov to get the win.
Also, Kevin Casey suffered a scary moment as he was poked in the eye early in the first round against Antonio Carlos Jr. and said that he could not see at all.  The fight was declared a no contest at just 11 seconds into the bout.
Below are the official UFC Fight Night 80 results:
Main Card (UFC Fight Pass, 10:00 PM ET)
Rose Namajunas defeated Paige VanZant via submission (rear-naked choke) Round 5, 2:25
Michael Chiesa defeated Jim Miller via submission (rear-naked choke) Round 2, 2:57
Sage Northcutt defeated Cody Pfister via submission (guillotine choke) Round 2, 0:41
Thiago Santos  defeated Elias Theodorou via unanimous decision (29-28, 29-27, 29-27)
Prelim Card (UFC Fight Pass, 6:45 PM ET)
Tim Means defeated John Howard via KO – Round 2, 0:21
Sergio Moraes defeated Omari Akhmedov via TKO – Round 3, 2:18
Antonio Carlos Jr. vs. Kevin Casey is ruled a no-contest after accidental eye poke at just 0:11
Aljamain Sterling defeated Johnny Eduardo via submission (guillotine choke) – Round 2, 4:18
Santiago Ponzinibbio defeated Andreas Stahl via TKO – Round 1, 4:25
Danny Roberts defeated Nathan Coy via submission (armbar) Round 1, 2:46
Zubaira Tukhugov defeated Phillipe Nover via Split Decision (29-28, 30-27, 30-27)
Kailin Curran vs. Emily Kagan via submission (rear-naked choke) Round 2, 4:13