Vinny Magalhaes says despite pull from WSOF 19 card, he's still signed
On again, off again.
Who knows?  But this whole situation seems fairly familiar as we are also watching the UFC and Bellator fight over who owns the rights to Quinton 'Rampage' Jackson's contract.

Read about Vinny Magalhaes' contract dispute between Titan FC and WSOF here
Now Magalhaes took to Twitter to state that despite what everyone is hearing, he is still under contract with WSOF and will compete for them at a later date.
Vinny Magalhaes tweets: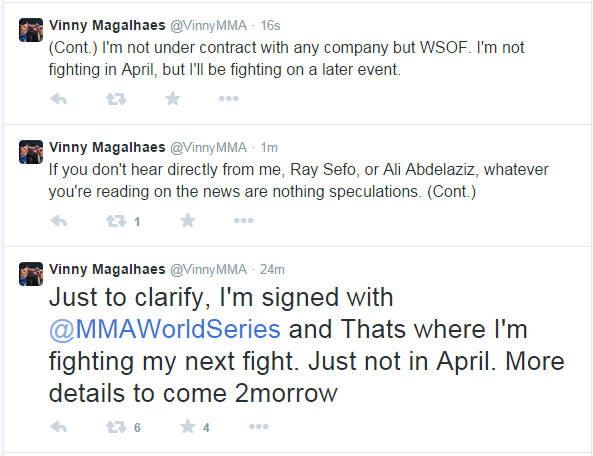 Magalhaes was a finalist in The Ultimate Fighter: Team Nogueira vs. Team Mir and has fought five times within two stints with the Ultimate Fighting Championship. He is the former Titan FC Light Heavyweight Champion, M-1 Global Light Heavyweight Champion and is also a multiple time jiu-jitsu gi and no-gi world champion. Magalhães currently fights in the light heavyweight division of the Absolute Championship Berkut.
Also known as Pezão, Vinny is one of the top Brazilian Jiu Jitsu competitors of his generation.
Some of his BJJ achievements include:
ADCC Champion (2011)
IBJJF World No-Gi Champion (2007 black belt)
IBJJF World Champion (2005** brown, 2002 blue belt)
World Masters Champion (2016 Master 1)
Pan American Champion (2002 blue belt)
Brazilian National Champion (2005* brown belt)
Pan American Championship Runner-up (2005 brown belt)
Brazilian National Championship Runner-up (2003 purple belt)
ADCC 3rd Place (2011*, 2009**)
* Absolute
** Weight and absolute