WSOF 23 PRELIMINARY FIGHT CARD COMPLETE WITH SEVEN BOUTS HIGHLIGHTED BY ISAAC VALLIE-FLAGG, CLIFFORD STARKS AND LEGION OF LOCAL PHOENIX AREA TALENT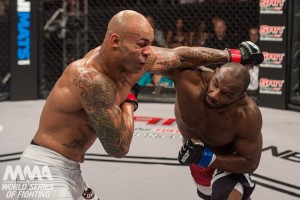 Preliminary fight card streams live on WSOF.com prior to five-bout telecast on NBCSN on Friday, September 18
LAS VEGAS (August 18, 2015) –World Series of Fighting (WSOF.com) announced today a stacked, seven-bout preliminary card for its "WSOF 23: Gaethje vs. Palomino II" world championship doubleheader mega-event at Comerica Theatre in Phoenix, Ariz. on Friday, September 18.
The preliminary fight card, which will stream live on WSOF.com prior to the five-bout, live NBCSN telecast of the event's main card, is highlighted by the promotional debut of battle-tested road warrior Isaac Vallie-Flagg, the quick return of streaking Clifford "Big Cat" Starks, the U.S. debut of undefeated finisher Vagab Vagbov and a total of nine of the Phoenix area's top professional prospects.
"This is a phenomenal assembly of up-and-coming talent from Phoenix as well as established veterans and rising stars from elsewhere around the U.S. and other parts of the globe," said World Series of Fighting President Ray Sefo.
"When we brought World Series of Fighting to the city of Phoenix for the first time earlier this year," continued Sefo, "we discovered a considerable pool of talent.  We are excited to be able to put some of this talent back in action and to deploy several new faces that we feel have earned a shot to compete in the big leagues."
Topping the preliminary bout card is a middleweight (185 pounds) matchup between Vagabov (19-0) of Dagestan, Russia and submission specialist Kelvin "The Mama's Boy" Tiller (7-1) of Topeka, Kan.
Just six weeks after he shocked the world by pulling off an upset victory over Mike "MAK" Kyle in a matchup that he accepted on less than one week's notice, Starks (12-2) of Tempe, Ariz. will re-enter the World Series of Fighting decagon cage and hunt for his fifth consecutive win when he faces another steep test in undefeated, former Bulgarian national wrestling champion Krasimir "The Wrestler" Mladenov (12-0), who is fighting out of Las Vegas.
Vallie-Flagg (15-7-1) of Santa Fe, N.M., a member of the famed Jackson-Winklejohn fight squad will make his debut under the World Series of Fighting banner in a lightweight (155 pounds) tilt against power puncher Estevan "El Terrible" Payan of Tempe.
Matthew "The Thunder From Down Under" Frincu (6-1) of Tempe via Gold Coast, Queensland, Australia will make his second start for World Series of Fighting, after scoring a devastating, second round (:14) KO on Eric Regan with a headkick at WSOF 19 on March 28.
Frincu, whose six career victories have all come by way of (T)KO or submission, will battle streaking Danny Davis, Jr. (11-8-1) of Las Vegas at welterweight (170 pounds).  Davis Jr. is a winner of his last five straight fights, including three World Series of Fighting matchups.
In one of two bantamweight (135 pounds) preliminary card bouts, Tempe-based rivals Andres Ponce (1-0) and David Nuzzo (7-1) will go to war while, in the other, Randy Steinke (15-9-1) of Phoenix will face off with Joey "The Beast" Miolla (4-1) of Mesa, Ariz.
Leading off the preliminary fight card will be a lightweight scrap between Benny "El Hijo" Madrid (7-3) of Phoenix and Jeff Fletcher (11-10, 1 NC) of Ahwatukee, Ariz.
Priced from just $39.99, tickets for "WSOF 23: Gaethje vs. Palomino II" are on sale at the Comerica Theatre box office and online at WSOF.com and Ticketmaster.com.
In the main event of WSOF 23, undefeated, reigning World Series of Fighting Lightweight (155 pounds) Champion Justin "The Highlight" Gaethje (14-0) will collide for the second time with hard-hitting rival Luis "Baboon" Palomino (23-10), after the two engaged in an all-out war, which has already been touted as a "Fight of the Year" candidate, in the main event of WSOF 19 at Comerica Theatre.
In the co-main event and inaugural World Series of Fighting light heavyweight (205 pounds) championship bout, David Branch (16-3), the promotion's reigning world middleweight (185 pounds) champion, will attempt to become the first two-division kingpin in World Series of Fighting history, when he faces off with Cinderella story Teddy Holder (9-1), whose nine career wins have all come by way (T)KO or submission.
The live NBCSN telecast of "WSOF 23: Gaethje vs. Palomino II" begins at 7 p.m. ET/4 p.m. PT.
Doors at Comerica Theatre will open at 3 p.m. MT and the first preliminary bout will begin at 3:45 p.m.
MAIN CARD
World Series of Fighting Lightweight Championship Main Event:
Justin Gaethje (Champion) vs. Luis Palomino (Challenger)
World Series of Fighting Light Heavyweight Championship Co-Main Event:
David Branch vs. Teddy Holder
Bantamweight: Timur Valiev vs. Tito Jones
Catchweight (160 pounds): Phoenix Jones vs. Roberto Yong
Lightweight: Brian Foster vs. LaRue Burley
PRELIMINARY CARD
Middleweight: Vagab Vagabov vs. Kelvin Tiller
Middleweight: Clifford Starks vs. Krasimir Mladenov
Lightweight: Estevan Payan vs. Isaac Vallie-Flagg
Welterweight: Matthew Frincu vs. Danny Davis, Jr.
Bantamweight: Andres Ponce vs. David Nuzzo
Bantamweight: Randy Steinke vs. Joey Miolla
Lightweight: Benny Madrid vs. Jeff Fletcher