WORLD SERIES OF FIGHTING FINALIZES STAR-STUDDED WSOF 26 MAIN CARD FOR FRIDAY, DEC. 18 AT THE COSMOPOLITAN OF LAS VEGAS, LIVE ON NBCSN
Featherweight Championship Main Event:
Lance Palmer (Champion) vs. Alexandre Almeida (Challenger)
Light Heavyweight Co-Main Event: Tyrone Spong vs. Jake Heun
Plus:
Lightweight: Ozzy Dugulubgov vs. Nic Herron-Webb
Bantamweight: Josh Hill vs. Bekbulat Magomedov
Featherweight: Robbie Peralta vs. Sheymon Moraes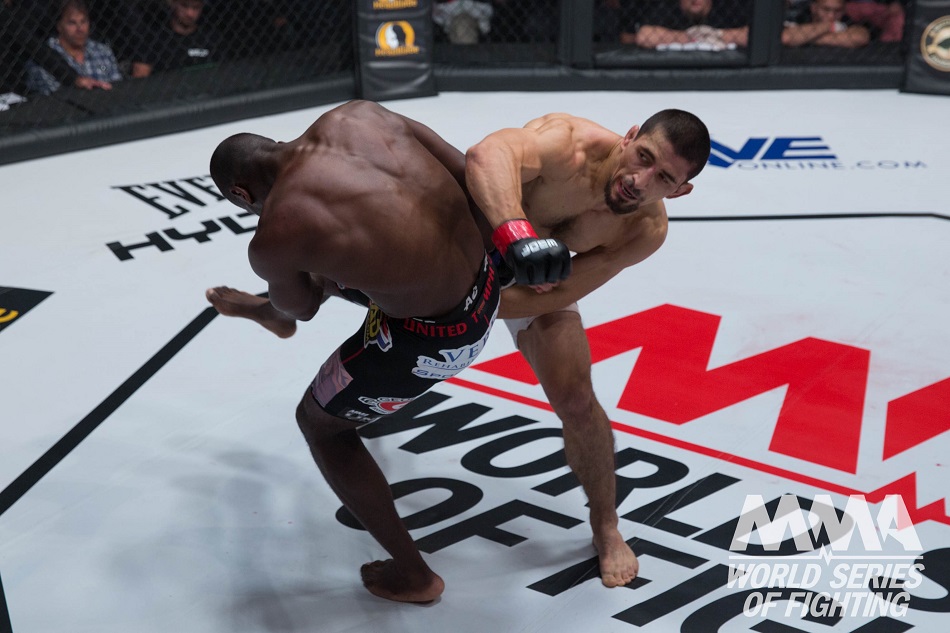 LAS VEGAS (Nov. 24, 2015) – World Series of Fighting announced today that it has added three new bouts to complete the main card for "WSOF26: Palmer vs. Almeida," which will be headlined by a world championship showdown between reigning featherweight kingpin Lance Palmer and Alexandre Almeida, at The Cosmopolitan of Las Vegas on Friday, Dec. 18, live on NBCSN, at 9 p.m. ET / 6 p.m. PT.
Joining the previously announced main event and light heavyweight co-main event between Tyrone "King of the Ring" Spong and Jake Heun, will be a lightweight (155 pounds) contest between aggressive-minded, rising star Ozzy Dugulubgov and submission wizard Nic "Naptime" Herron-Webb; a bantamweight matchup between wrestling phenom Josh "Gentleman" Hill and undefeated sensation Bekbulat Magomedov; and a featherweight (145 pounds) tilt between devastating strikers Robbie "Problems" Peralta and Sheymon Moraes.
"We are looking forward to closing out a year of incredible growth for World Series of Fighting with an exceptional lineup of world-class bouts featuring some of our most established superstars as well as several new faces that we recently welcomed to our roster and that we expect to make an immediate impact in our decagon cage," said World Series of Fighting President Ray Sefo.
Priced from $29.99, tickets are available for purchase at www.cosmopolitanlasvegas.com , www.WSOF.com or www.ticketmaster.com.
The complete WSOF26 preliminary bout card will be announced soon.  The card is subject to change.
Ozzy Dugulubgov vs. Nic Herron-Webb
The 26-year-old Dugulubgov (7-2) of Hackensack, N.J. is looking to notch his third consecutive win and second of 2015, following a first round (3:39) TKO (arm injury) of Lucas Montoya on April 10.  Prior to his latest conquest, Dugulubgov, a Renzo Gracie protégé that boasts a near-perfect record of 4-1 in World Series of Fighting competition, scored a highlight reel-worthy KO (punch) of Keon Caldwell in the third round (1:38) of their matchup on September 13, 2014.
Herron-Webb (18-6) of Anchorage, Alaska is a 25-year-old, former welterweight (170 pounds) who has been fire, winning all four of his last bouts by way of submission, to arrive at his debut with World Series of Fighting.  To date, 14 of Herron-Webb's 18 professional career wins have come by way of submission, 8 of which he produced inside the first round of battle.
Josh Hill vs. Bekbulat Magomedov
A former World Series of Fighting championship challenger, Hill (12-1) of Hamilton, Ontario, Canada went the distance with reigning bantamweight champion Marlon Moraes before finding himself on the losing end of a unanimous decision on February 12.
The 28-year-old has since re-grouped after what marked his first career defeat, and reeled off two consecutive wins outside of the World Series of Fighting decagon – a third round (2:01) submission (rear-naked choke) of Josh Rettinghouse on May 30, and a unanimous decision over Ion Vranceanu on August 31.
Magomedov (16-0) of Makhachkala, Dagestan, Russia, will risk his perfect record in the U.S. for the first time ever, after a run that has distinguished the 24-year-old Sambo champion as the number two ranked featherweight in Ukraine and the number seven ranked featherweight in Russia.
Of Magomedov's 16 professional career victories, 8 have come by way of (T)KO and 3 have come by way of submission.
Robbie Peralta vs. Sheymon Moraes
Making his World Series of Fighting debut, Peralta (18-6, 1 NC) of Escondido, Calif. has served up several memorable moments in the cage with his punching power, notching 13 of his 18 professional career wins to date by way of (T)KO.  The 29-year-old made his first big mark in the sport on April 9, 2011 when he scored a major upset over then-DREAM champion Hiroyuki Takaya by way of split decision under the promotion of the now-defunct Strikeforce.
Moraes will look to rebound after suffering his first professional defeat at the hands of reigning World Series of Fighting champion Marlon Moraes on August 1.  Prior to the title fight, the dangerous 25-year-old member of Team Nogueira had appeared to be unstoppable, scoring (T)KO wins over four of his first seven opponents.