Tonight at 7 p.m. EST. Michigan will be hosting Oregon State at the Cliff Keen Arena for the inaugural Joe Wells Classic. The No. 13-ranked Wolverines wrestling team looks to improve their (4-1, 1-0 Big Ten) record tonight at home against the Beavers before traveling south to Columbus, Ohio, to battle their No. 6-ranked rivals, Ohio State.
Match of the Night: Last season's national championship heavyweight runner-up Adam Coon, remains the only wrestler for the Maize and Blue with a perfect record at 5-0 – all in dual competition. The junior heavyweight ranked No. 4, has only battled Oregon State's No. 10-ranked Amarveer Dhesi once in college, defeating him 7-2. Though, the Canadian Dhesi, has edged the Wolverine in freestyle competition, winning on a last-second takedown 7-6, at the Junior World Championships, going on to claim silver, while Coon brought home the bronze.
The Michigan Wolverines will enter this bout tonight against Oregon State with eight nationally ranked wrestlers, four of whom are ranked in the Top-10 nationally. At 149-pounds, sophomore Alec Plantaleo, is ranked eighth in the nation. Junior Brian Murphy is nationally ranked fifth at the 157-pound weight class. Max Huntley, a senior at 197-pounds, is nationally ranked sixth. The returning 2015 national championship runner-up, Adam Coon, is the No. 4-ranked wrestler in the nation entering tonight's non-conference dual-meet competition.
The Beavers are 3-3 on the season and finished 12th place at the Midlands Championships over the holiday break. The Beavers have two nationally ranked wrestlers of their own as well – No. 6 Ronnie Bresser at 125-pounds and No. 10 Amarveer Dhesi at heavyweight. The Maize and Blue owns a 6-1 in the all-time series against Oregon State. The Wolverines claimed the most-recent meeting, 2-12, two seasons ago in Ann Arbor.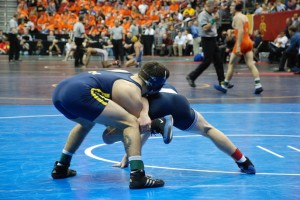 On Saturday, January 9th, 2016, Michigan will face their rivals, the Ohio State Buckeyes (5-1, 2-0 Big Ten).  The Buckeyes strut around with eight nationally ranked wrestlers themselves. Michigan owns a 39-20-4 advantage in the all-time series against their foe from Columbus. The Wolverines look to reverse last year's deficit in Ann Arbor by a score of 25-15.
The University of Michigan will honor former Wolverine assistant coach Joe Wells during tonight's dual against Oregon State. Wells, who coached at Michigan from 1979-92, served as the Beavers' head coach from 1992 until his retirement in 2006. Joe Wells passed away on April 16 after a brief battle with cancer.
Michigan's projected lineup for the Wolverines looks as follows:
| | | | |
| --- | --- | --- | --- |
| Wgt. | Name | Year/Elig. | Hometown (High School) |
| 125 | Conor Youtsey | Sr./Jr. | Parma, Mich. (Mason) |
| 133 | Rossi Bruno | Sr./Sr. | Brandon, Fla. (Brandon) |
| 141 | George Fisher | Jr./So. | St. Charles, Ill. (Marmion Academy) |
| or | Zac Hall | So./Fr. | St. Johns, Mich. (St. Johns) |
| 149 | Alec Pantaleo | So./So. | Canton, Mich. (Canton) |
| 157 | Brian Murphy | Jr./Jr. | Carol Stream, Ill. (Glenbard North) |
| 165 | Garrett Sutton | So./So. | Richmond, Ill. (Burton) |
| 174 | Davonte Mahomes | So./Fr. | Oak Park, Il. (Oak Park & River Forest) |
| 184 | Domenic Abounader | Jr./Jr. | Gates Mills, Ohio (St. Edward) |
| 197 | Max Huntley | Gr./Sr. | Emerald Isle, N.C. (Blair Academy) |
| Hwt | Adam Coon | Jr./Jr. | Fowlerville, Mich. (Fowlerville) |
Oregon State has no projected lineup for this evening's dual competition in Ann Arbor. The event can be watched on BTN Plus.