Acupuncture needle breaks off in UFC fighter's arm, sucked into muscle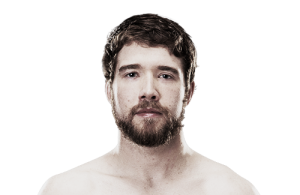 According to the Star Phoenix's Dave Deibert, UFC lightweight fighter Mitch Clarke (11-3 MMA, 2-3 UFC) has been forced off this Sunday evening's card in his hometown of Saskatoon, Saskatchewan, Canada due to a horrific acupuncture incident that has left him with partial paralysis.
The reason he's not competing on Sunday's Fight Night card, headlined by a featherweight bout between top-10 contenders Charles Oliveira and Max Holloway, is almost too bizarre to believe.
While receiving an acupuncture treatment, the needle broke off from the handle while in his arm. Making things exponentially worse, the muscle in his forearm was contracting at that exact moment. With no handle to hold on to, the needle was sucked deep into his forearm muscle. Clarke had to undergo surgery to have the needle removed.
While there is no good time for such a thing, it was especially bad for Clarke on a personal level. The acupuncture-gone-wrong in June happened the day before UFC announced the Saskatoon stop. He held out hope of recovering in time to compete, but even now he doesn't have feeling in part of his affected hand. Clarke will take part in a grappling competition on Sept. 12 in Nova Scotia, largely to see how his hand holds up in competition.
Clarke, whose two-fight winning streak was recently halted with a decision loss to Michael Chiesa in April, said he plans to attend Sunday's event as a spectator.
The full UFC Fight Night 74 lineup includes:
MAIN CARD (FOX Sports 1, 9 p.m. ET)
Max Holloway vs. Charles Oliveira
Neil Magny vs. Erick Silva
Josh Burkman vs. Patrick Cote
Chad Laprise vs. Francisco Trinaldo
Olivier Aubin-Mercier vs. Tony Sims
Valerie Letourneau vs. Maryna Moroz
PRELIMINARY CARD (FOX Sports 1, 7 p.m. ET)
Misha Cirkunov vs. Daniel Jolly
Felipe Arantes vs. Yves Jabouin
Nikita Krylov vs. Marcos Rogerio de Lima
Frankie Perez vs. Sam Stout
PRELIMINARY CARD (UFC Fight Pass, 6 p.m. ET)
Chris Beal vs. Chris Kelades
Shane Campbell vs. Elias Silverio